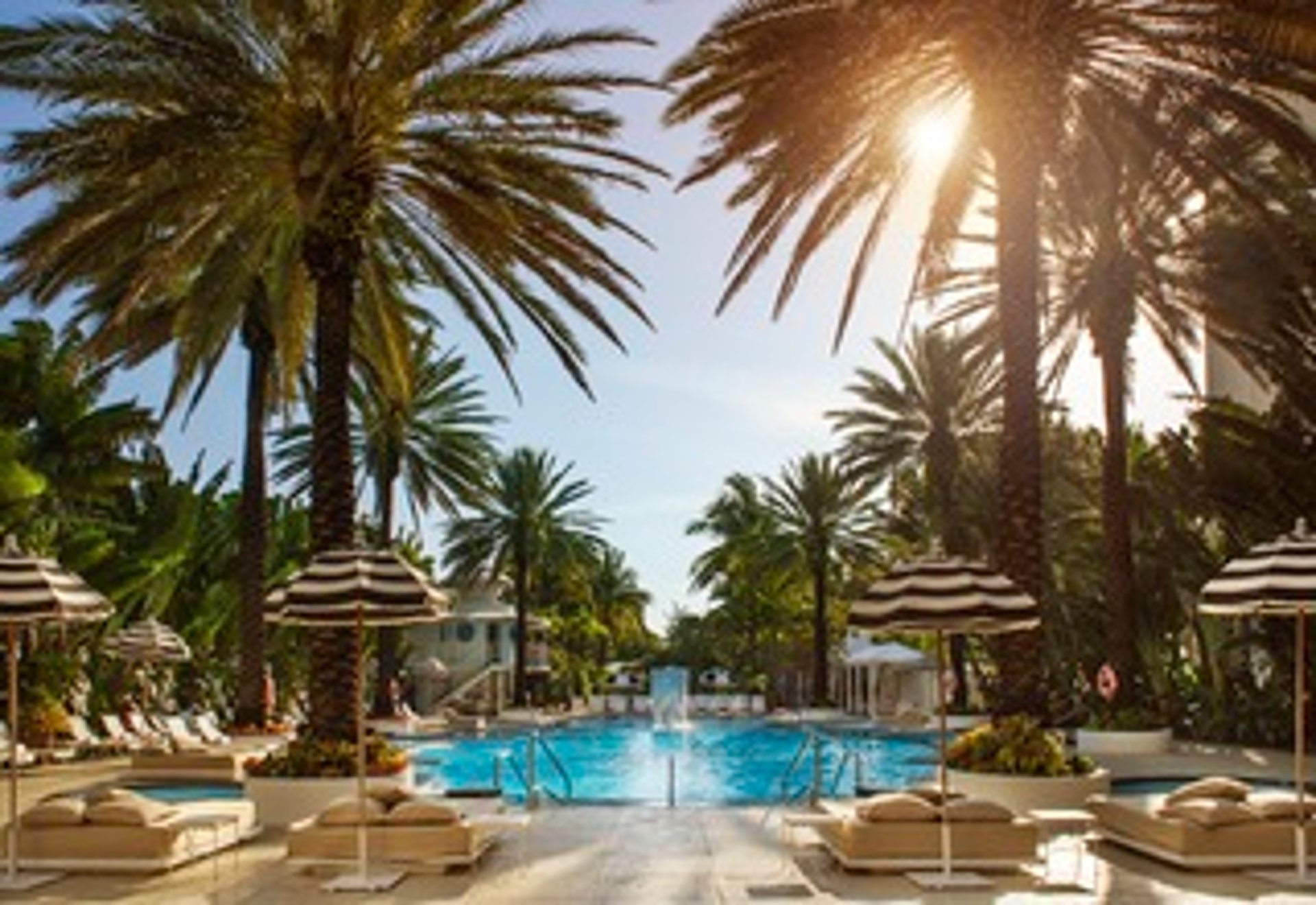 Suiteness BlogExperience The Raleigh Miami Beach PoolWritten by Divya MulanjurPublished September 30, 2016
The only place to book connecting hotel rooms and suites. Here's how.
Sustaining Art Deco at The Raleigh
Often called a "grand dame" of South Beach Art Deco by Conde Nast Traveler, The Raleigh Miami Beach hotel is a lush, tropical oasis. Because of its party central location on South Beach, the Raleigh Miami Beach pool is a popular spot for locals and travelers alike. From the moment you arrive, you step into a methodically-kept Art Deco building. This design is implemented in all facets of the hotel, starting with the vintage interior decor. As a result, it's an exclusive boutique hotel that looks as if it has maintained its image since 1940. It is a rejuvenating, upscale, and historic building that draws loyalty from its guests, whether they're coming in for a stay or a quick drink.
The rooms are all about comfort, luxury, and effortless style. iHome stereo systems, luxe bathroom products, and minibars make it a convenient and luxury experience for you and you guests. Also, with a private terrace suite option, you can relax on the daybed and catch a Miami sunrise. Overlooking the water. How's that for picturesque?
Raleigh Miami Beach pool
The most noteworthy gem here is the Raleigh Miami Beach pool. It earned a ranking for the best pool in America, way back in the 1940s. With vintage aesthetics, the iconic Raleigh Miami Beach pool is a beautiful and funky art deco design, lined with palm trees on either side, with a view of the private beach stretched out before it. It fits perfectly with the vibes and architecture of Miami. Hence, the iconic pool hosts fashion photo shoots and killer pool parties. The Martini Bar located in the pool area is a must-try for craft cocktail lovers. The bartenders here are highly qualified and are known to engage in friendly interaction with guests. Their meticulously-made drinks are curated personally for your taste and are served poolside. So, slather on some sunscreen and take a sip. Your luxury experience awaits you.