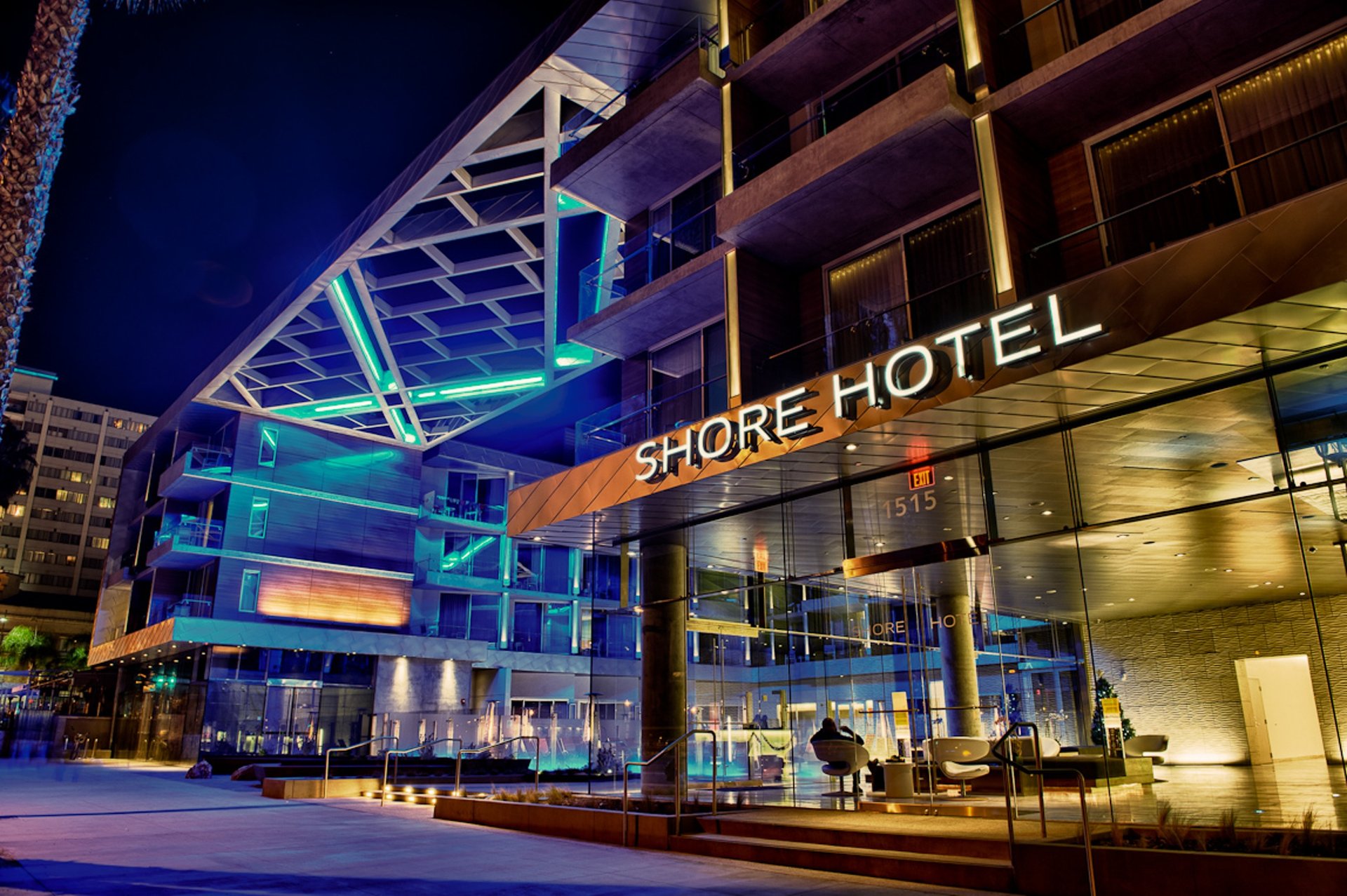 Suiteness BlogShore Hotel LA: An Eco-Friendly Hotel in Santa MonicaWritten by Divya MulanjurPublished October 11, 2016
The only place to book connecting hotel rooms and suites. Here's how.
An Eco-Friendly Hotel Retreat
This beachfront boutique combines eco-friendly practices with modern design to offer both luxury and sustainability. Shore Hotel opened it's doors in Santa Monica in 2011 with noteworthy features. For one, by using recycled materials and energy-efficient technology, it successfully met the criteria for Gold LEED certification. Half the construction waste was recycled or salvaged. Furthermore, Shore Hotel makes use of water recycling systems and room sensors that ensure that lights and air-conditioning shut off when you're not there. This and other features make it an eco-friendly hotel where guests can splurge on a clean conscience.
Located just off the famous Santa Monica Pier, this eco-friendly hotel is a prime location for luxury traveling. With the Third Street Promenade and Santa Monica Place Shopping Center just a short walk away, guests have multiple dining and leisure options. Other amenities include guest parking, a solar-heated pool and a locally sourced, on-site Mexican restaurant. Similarly, Shore Hotel's guests rooms are a unique experience. The airy, modern, eco-friendly hotel packs ocean-view suites that offer a true Los Angeles experience.
The Suites at Shore Hotel
Shore Hotel suites combine contemporary decor and an open floor design to offer a unique airy, beach vibe. Additionally, the suites offer amenities like expansive living areas, stained glass rain showers, ocean views and private balconies.
If you're looking for a true Los Angeles experience, we recommend giving Shore Hotel a try. It's prime location near the Sant Monica pier and accessibility to beachfront dining and leisure is nothing short of ideal. Moreover, it's eco-friendly practices offer guests a chance to book a guilt-free stay. As well as pleasing those of us with more particular demands. Also, if you book with Suiteness, 1% of all booking fees are donated to local charities. So staying at Shore Hotel is as rewarding for your vacation as it is for your conscience.
What a wonderful time to be alive! Also, don't forget that booking with us gives you access to our concierge services. Let Suiteness handle your stay and reservations while you just worry about getting a taste of that glamorous LA lifestyle. Current rates for Shore Hotel Suites start at $350/night. Get packing and Safe travels!