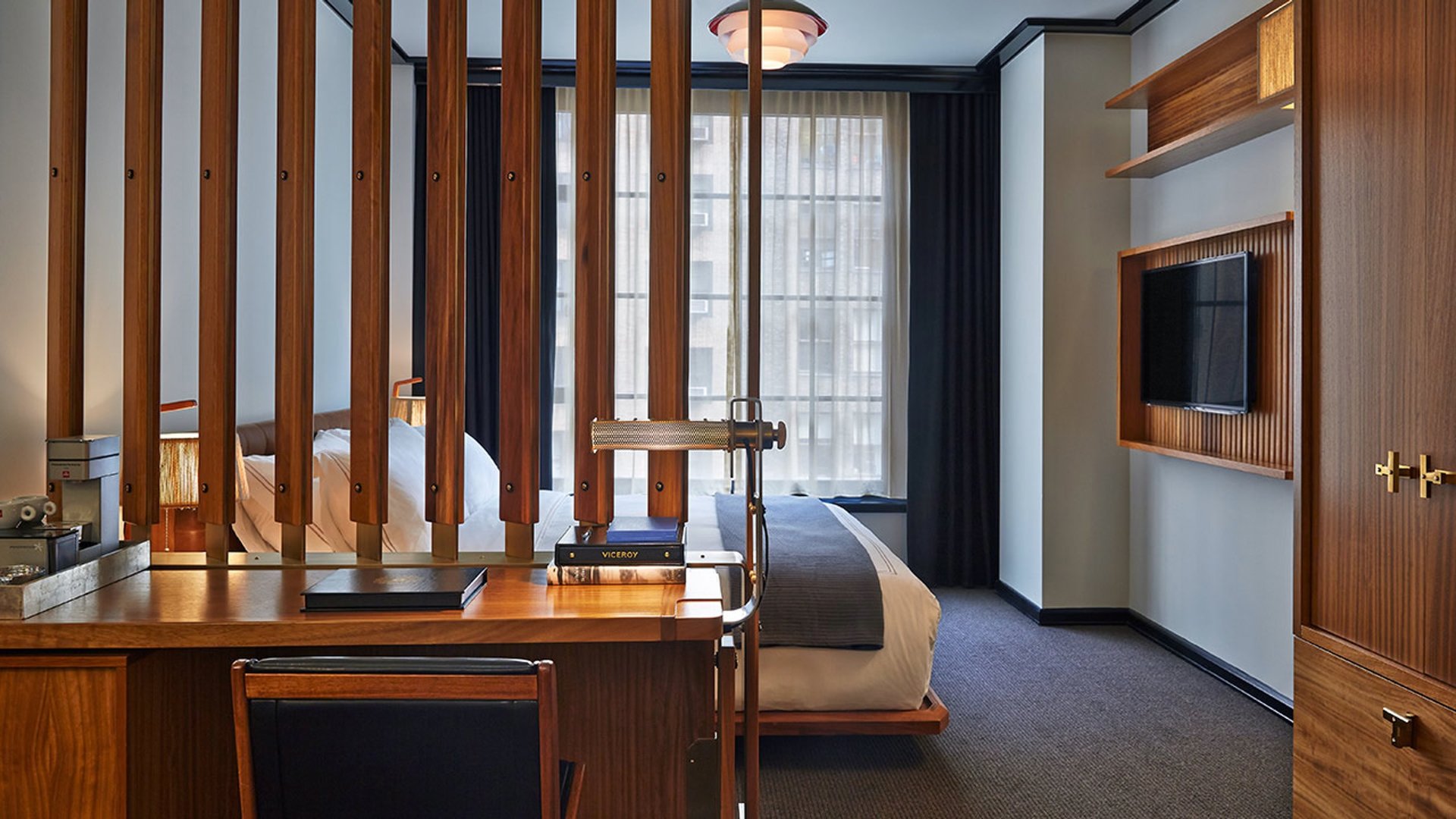 Suiteness BlogThe 'Comfortably Cool' Viceroy New YorkWritten by Divya MulanjurPublished October 4, 2016
The only place to book connecting hotel rooms and suites. Here's how.
What's Not to Love?
That's not a heading, we mean it. If you haven't already, you need to book Viceroy New York. This insanely cool hotel has a Gothamesque look that could easily house a comic book villain or set the stage for a Great Gatsby-like film. Combining art-deco vibes with bronze fixtures, marble floors and black and gold fabrics–the interiors of the hotel are stunning.
Towering the midtown Manhattan skyline at 57 floors, Viceroy's guest rooms catch gorgeous sights of Central Park. The rooms are inlaid with honey-hued woods and a midcentury air of luxury. In addition, they include custom-made iroko-wood cabinets flanking the beds, evoking a first-class cabin feel inspired by glamorous 1920's ocean liners. Other details include industrial table lamps, custom-made furnishings, vintage espresso machines and Beats by Dre bluetooth speakers.
Moreover, you'll find the hotel's suites are replete with hand-selected stacks of books about art, design and local history filed on the shelves. Cozy up in the leather seating or enjoy Viceroy's new American cuisine restaurant and bar Kingside. We guarantee, you will live like a New Yorker.
Eco-Friendly Initiatives at Viceroy New York
Also important to note, Viceroy practices a variety of eco-friendly initiatives. All guests are offered an option for a linen and towel reuse program in every room. Similarly, the hotel uses green cleaning products, has low-flow water fixtures, drip-irrigation for flowers and trees, run-off filters for the parking garage and extensive recycling programs throughout. Lastly, all hotel products are eco-friendly and locally sourced whenever possible. So, take our word on it and experience this masterpiece of a hotel. We will help you with any requests, needs and petitions you might have. So long as you book with suiteness of course. Safe travels!