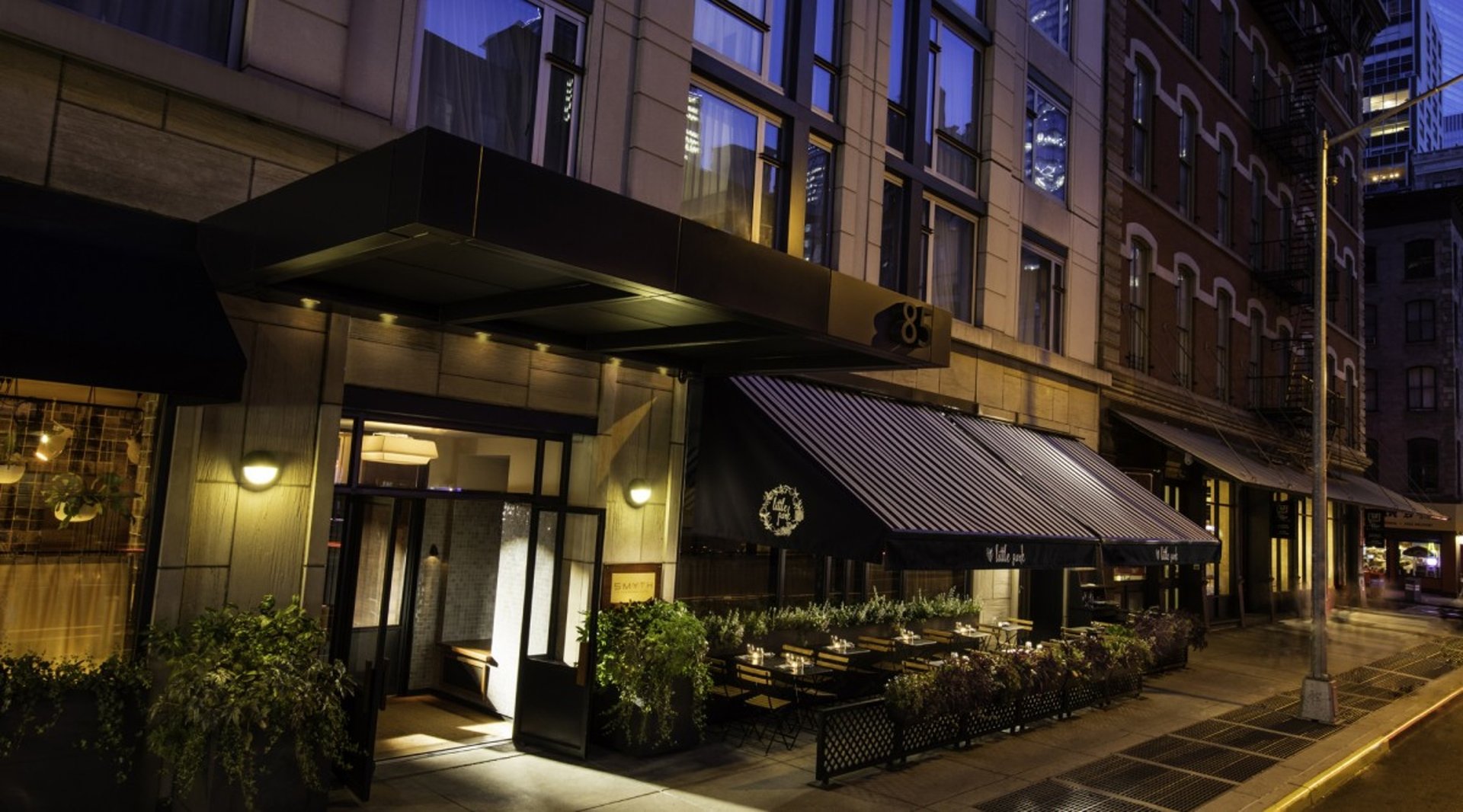 Suiteness BlogSmyth Hotel NYC Gets A Handsome RevampWritten by Divya MulanjurPublished September 21, 2016
The only place to book connecting hotel rooms and suites. Here's how.
The Fresh New Look And Feel
The once minimalist and modern Smyth Hotel is now a beautiful mix of eclectic furnishings and residential loft elegance. The revamp features new interiors by Gachot Studios that offer a cool and comfortable look. Reimagined as a 'home away from home,' the Smyth hotel resembles Tribeca in every one of its aspects. From its airy rooms and cozy lobby, paired with the new Little Park and Evening Bar from restaurateurs Chef Andrew Carmellini, Luke Ostrom, and Josh Pickard. Smyth hotel is a true neighborhood destination that offers and intimately New York experience.
Smyth Hotel's New Features
For those of you that haven't seen the fresh new changes, there are plenty of features to go around, so we'll start at the beginning—Smyth's lobby. The ground floor has been remodeled into a group of intimate spaces: Living Room, Den, Library, and Evening Bar. Just off the lobby, the Living Room and corner Library offer guests a place to unwind and relax.  Adjacent from the Living Room is the Den. The new room features a fireplace dressed in Guastavino tiles, a structural terracotta once used on the vaulted ceilings of New York City landmarks such as Grand Central Terminal and Carnegie Hall.
Cozied up behind the Den is Evening Bar, a reimagined classic hotel bar. Evening bar boasts a seasonal cocktail menu that emphasizes artisanal distilleries, organic fruit and vegetable extracts. In a similar trend, the bar's menu reflects the principles of Smyth's adjoining restaurant, Little Park. This same story of airy vibes and comfortable cool continues in the guest rooms and of course, the suites (no, we did not forget) because best for last.
The reimagined rooms sport new wears with linen draperies, wooden bed frames, vintage walnut desks and chairs. There are also bed pillows with a custom fabric designed by Gachot, custom cotton throw blankets by ALT for Living! Ceramic lamps by Stone and Sawyer and—an Eames shell chair from Modernica.
And For The Final Act…
Smyth's four suites incorporate similar tones and design elements to the guest rooms. However, the suites up the ante with their own dining and living rooms, each with vintage pieces. Additionally, living quarters boast of  black sisal area rugs by ALT for Living. Lounge chairs upholstered in a Gachot-design custom striped fabric. Custom coffee tables fabricated by Woodworks, and well, the name-dropping continues…beautiful pendant lighting, plus sofa's and custom artwork to bask in.
Finally, Smyth's Penthouse suite boasts a master bedroom, living area, full dining room and a kitchen with a wet bar for entertaining. And for those of us that can't get enough, there is an 800-square-foot landscaped terrace with a palette of wood and black accents.
The combined elements of the relaunched Smyth tell a story of the Tribeca charm. With a mix of fresh and cool relative ease, the vibes at Smyth just keep on giving. And so! If you're ever in the neighborhood, you already know where to book a suite. Safe travels!
Take the grand tour of the Smyth Suite with the Suiteness Exclusive Suite 360° Tour