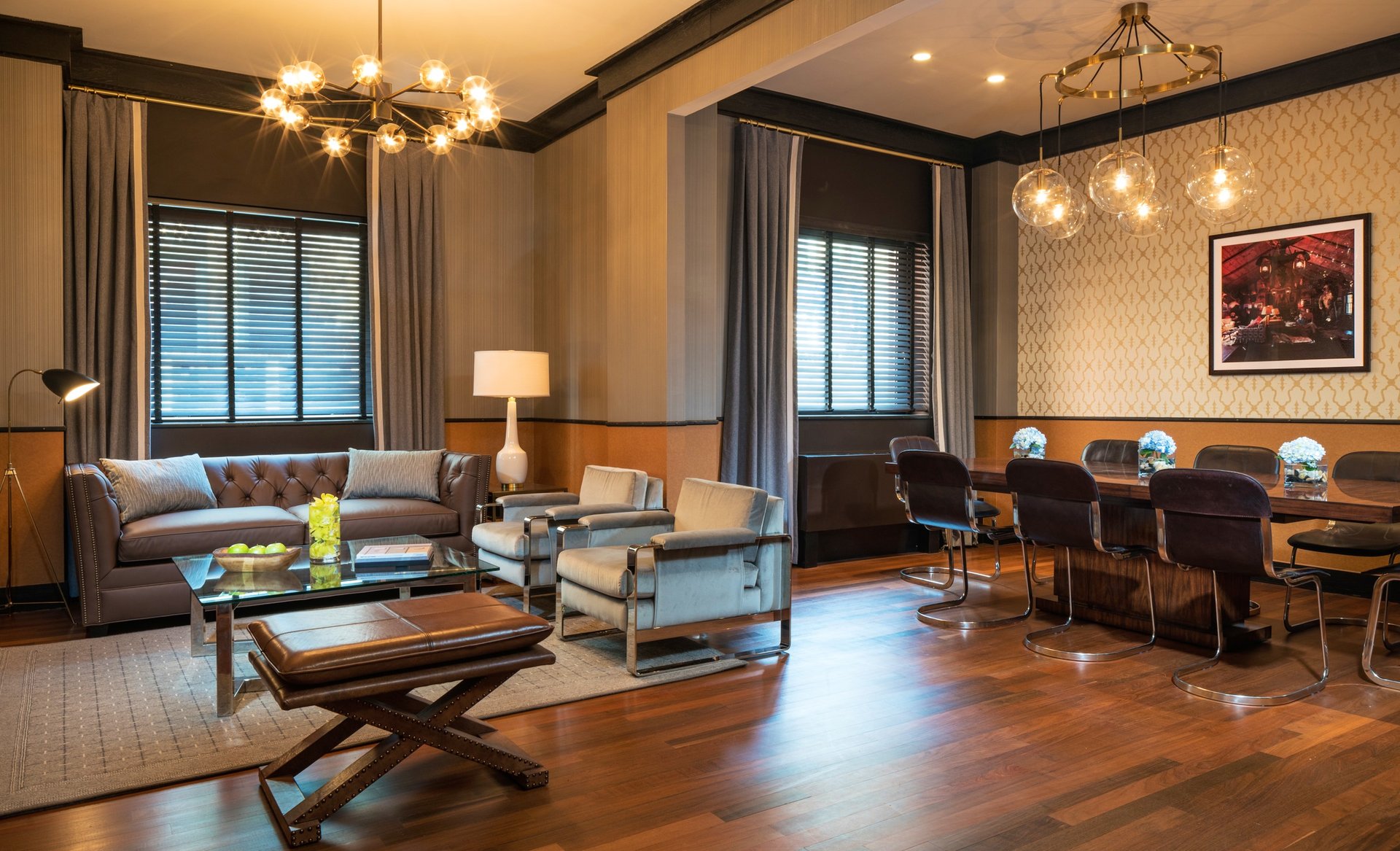 Suiteness BlogWhy You Should Stay at Gild Hall NYCWritten by Divya MulanjurPublished September 12, 2016
The only place to book connecting hotel rooms and suites. Here's how.
Gild Hall is your hip hotel destination
Located in the heart of Financial District, just four blocks from Wall St., sits Gild Hall- a trendy, sophisticated posh boutique stay.
The chic elements of worn dark leather chairs with wood and marble floorings create a luxurious contemporary ambience in their spacious rooms. A custom leather headboard and 400 count luxe lines ensure you get the best beauty sleep. Additionally, continue your beauty routine as you take advantage of their special luxe bathroom amenities, oversized plush terry cloth bathrobes, and clawfoot bathtubs for a relaxing soak. Staying in the Gild Hall Penthouse Suite? You won't even have to leave your room for a late night snack because your in-suite minibar is stocked with locally curated gourmet snacks. So put those basic travel snacks away! The expansive dining and living areas and a wet bar make it the perfect sweet spot to entertain your friends. After all, a fun night out always starts in. 
Entertainment at Guild Hall:
You won't have to go far to continue your night either; make your way downstairs in Gild Hall to their on-site gastropub whose whiskey game is on-point. Or if you'd rather opt for a quieter dinner night, their restaurant Felice 15 serves up some seriously delicious Tuscany dishes and great wine. Wake up the next morning and snuggle up in the cozy library with books from a wide selection. With a great cup of freshly brewed coffee, of course. 
*Secret tip: The hotel also offers picnic services for guests, packing heavenly and convenient picnic food for you to take to the park. How cool is that? 
It is unique and curated travel experiences like these that truly make you appreciate the characteristics of the City. Make yours happen today.