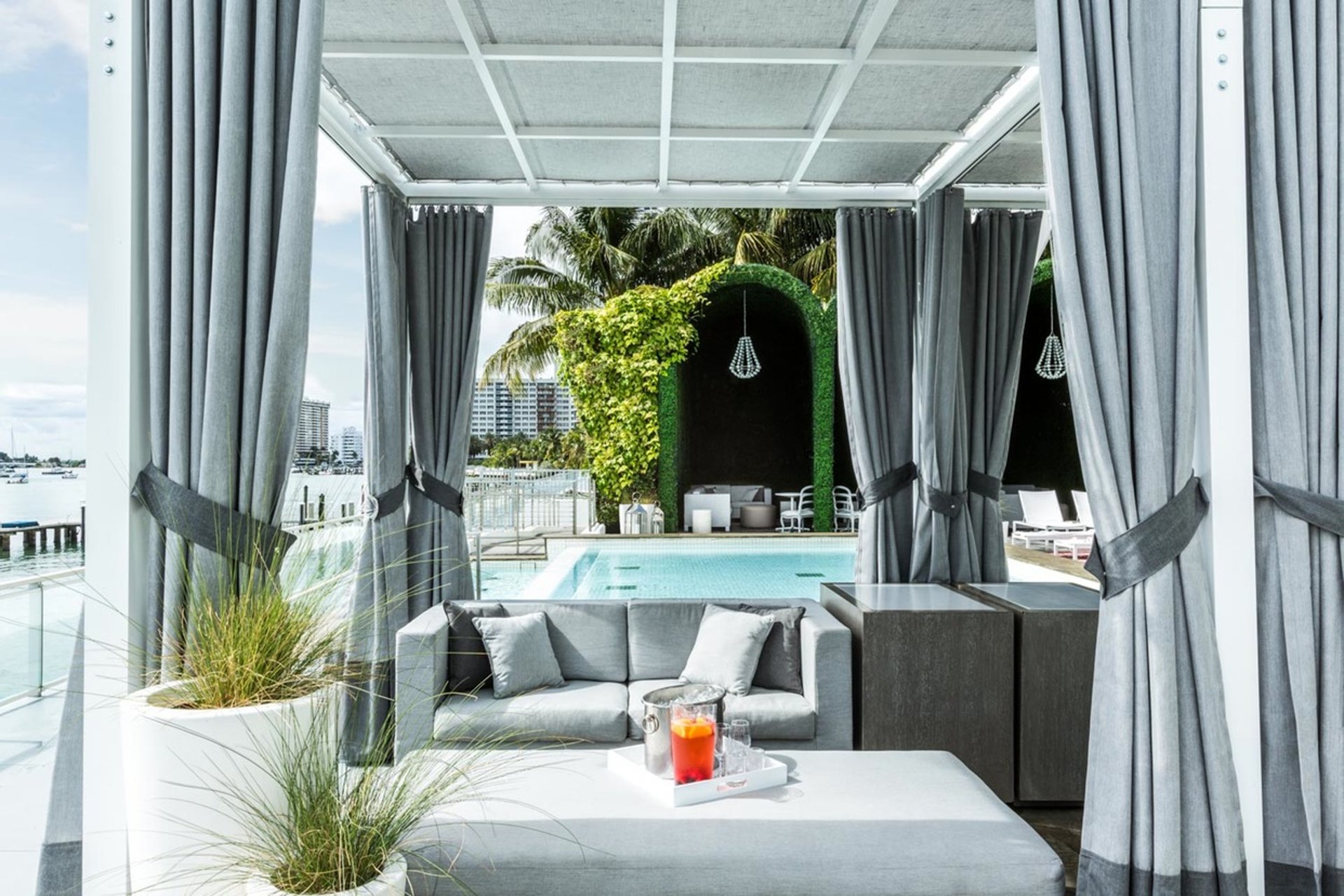 Suiteness BlogMondrian South Beach For An Endless SummerWritten by Divya MulanjurPublished September 29, 2016
The only place to book connecting hotel rooms and suites. Here's how.
Mondrian South Beach: A different side of Miami
Mondrian South Beach is unlike most other luxury Miami beach hotels in that it is slightly off-beach. A lot of people tend to think this puts them away from all the action. But let us show you what they're missing out on because they think a 5-minute taxi ride is too much.
The only hotel on South Beach that faces westward, Mondrian South Beach enjoys gorgeous sunset views. And that's just the start of the exclusivity you will experience at this luxury hotel.
A uniquely distinct design
Mondrian South Beach was designed by the visionary Dutch designer Marcel Wanders as an homage to Sleeping Beauty's Castle. Crystal chandeliers and an ornate laser-cut black staircase set against a pure white lobby add to the surreal fairytale effect. 
The same stylish and upscale monochromatic design theme runs through the modern luxury suites at Mondrian. There's something whimsical about the design; a play between the unpredictable and the expected. Take the Bay-view One Bedroom Suite with Balcony for example. The genius is in the seemingly out of place but masterfully incorporated details. The suite has an elegant living room, a private balcony, and a spacious dining area. There's also the standard luxury shades of neutral colors with an occasional pop of orange. But what gives the suite it's characteristic charm, is the trippy black-and-white wallpaper, cool infinity sinks, graphic rugs, and chandelier showerheads.




The hotel offers a quiet South Beach location, great service, suites with kitchens, separate children's pool and popular after-parties. Which is why the hotel attracts families who like a classy stay that is not too PG-13. The slightly off-location and sunset paradise also makes it  a popular romantic getaway in Miami.
The iconic Mondrian South Beach Pool
The star attraction at Mondrian South Beach is definitely its legendary pool and notable pool parties. Surrounded by shaded sun chairs, and gardens, the pool area is designed as an expansive maze. Follow the trail to explore the lounge areas and kissing corners.