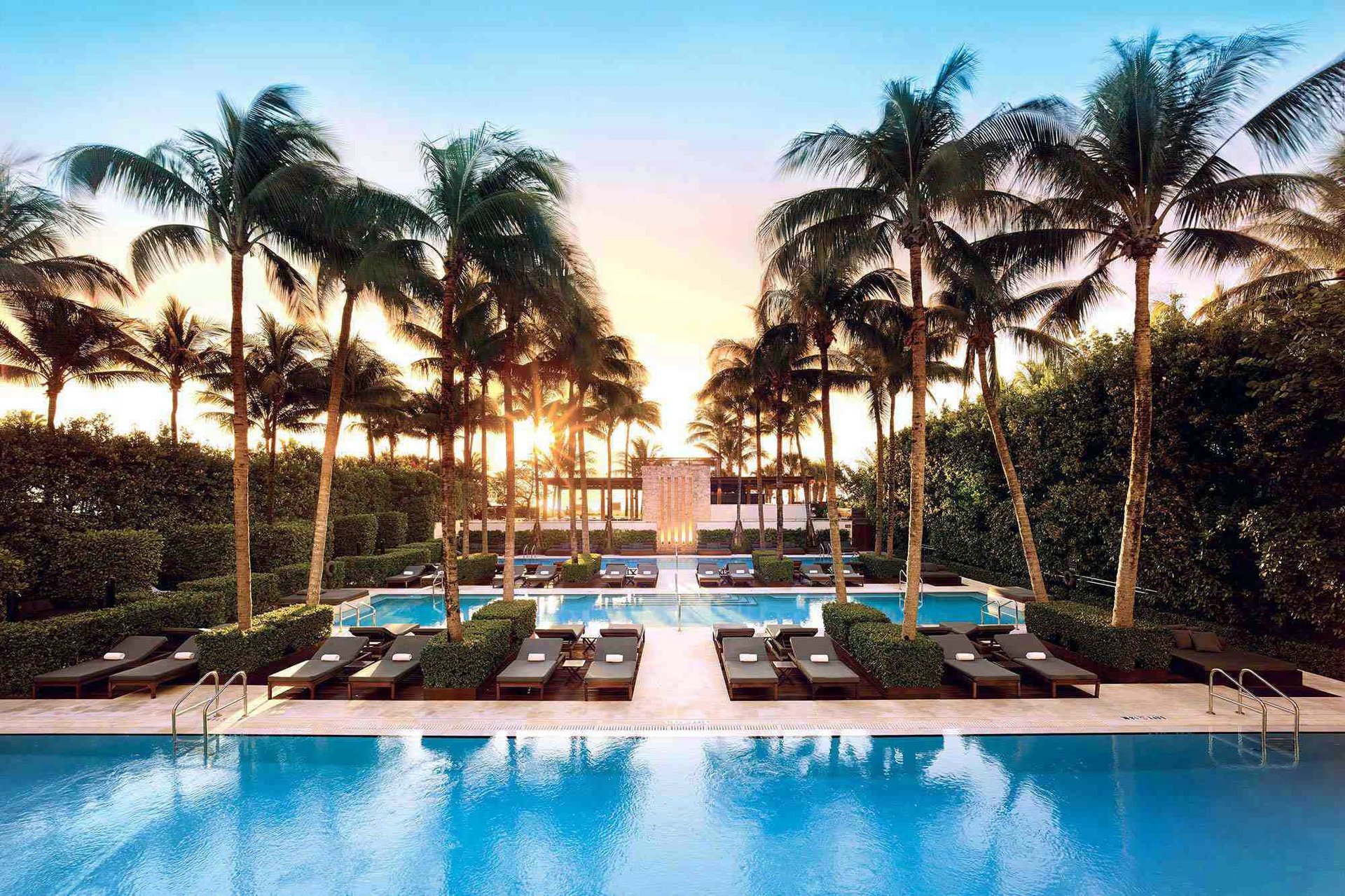 Suiteness BlogRomantic Luxury Hotels in Miami for a Suite SurpriseWritten by Divya MulanjurPublished February 12, 2016
The only place to book connecting hotel rooms and suites. Here's how.
The top 5 most romantic luxury hotels in Miami
A gorgeous suite, private ocean-front balcony, excellent room service and pampering amenities at one of the many romantic luxury hotels in Miami makes for the perfect romantic weekend getaway. For those of you looking for the best options to enjoy a magical weekend with warm weather, sun-kissed beaches, stunning sunsets and long walks on white sands – we have compiled a list of our favorite romantic luxury hotels in Miami.
The St. Regis Bal Harbour Resort
Let the ocean breeze exhilarate your senses as you unwind on your private ocean-front balcony in your luxurious suite. Away from the busy South Beach but uniquely located on a beach across the upscale Bal Harbour shops, The St. Regis Bal Harbour Resort features lavish Art Deco style rooms with balconies and offers childcare services and a children's club on-site.
Mandarin Oriental
There's a reason why Mandarin Oriental features on almost every list of most romantic luxury hotels in Miami. For starters, this magnificent work of art is positioned on its very own secluded private island! And it's almost as if Mandarin Oriental Miami was designed for lovers – a private beach, gourmet fusion restaurants, an exotic day spa, beach club with private beach and cabanas, an infinity edge pool and proximity to South Beach, Downtown and Coconut Grove – that's just some of the amenities that come with this super luxury hotel!
1 Hotel South Beach
Everything at 1 Hotel South Beach is just so gorgeous – a weekend stay at this beautiful, environment friendly hotel is sure to impress anyone! Stay in one of their luxury suites, eco-consciously designed with features like salvaged wood, plant art installations, green walls and hemp mattresses for a relaxed love-cation close to nature.
The Miami Beach EDITION
Looking for a hip vibe to your luxury love retreat in the sun? The Miami Beach EDITION is your answer! In addition to top-notch, luxury amenities and a cool contemporary decor, this relatively new property also features two lavish pools with food and drink service, beachfront with chairs and umbrellas, a hip nightlife scene with  a club, bowling alley and ice skating rink and the Matador restaurant by acclaimed chef Jean-Georges Vongerichten. And if you're staying at one of the hottest, most romantic luxury hotels in Miami, you have to make the most of it by indulging in a relaxing spa day with a lovely couples massage!
JW Marriott Marquis Miami
If it's on our list of most romantic luxury hotels in Miami, there's no doubt that the suites at JW Marriott Marquis Miami are anything less than excellent with luxury amenities like 52-inch flat-screen TVs, iPod docks, desktop computers, floor-to-ceiling windows, expansive bathrooms with showers and soaking tubs… and much more. But the JW Marriott Marquis Miami shines and scores extra points with hotel features like an indoor golf school, a virtual bowling alley, a media room with 65″ 3D screen, a billiard room and a 10,000 square foot NBA approved basketball court. Take it up a notch by reserving a table at the famous db Bistro Moderne Miami for a dinner with the perfect romantic ambiance.
Booking a suite at these four and five-star Miami hotels is easy and can now be completely done online on suiteness.com.