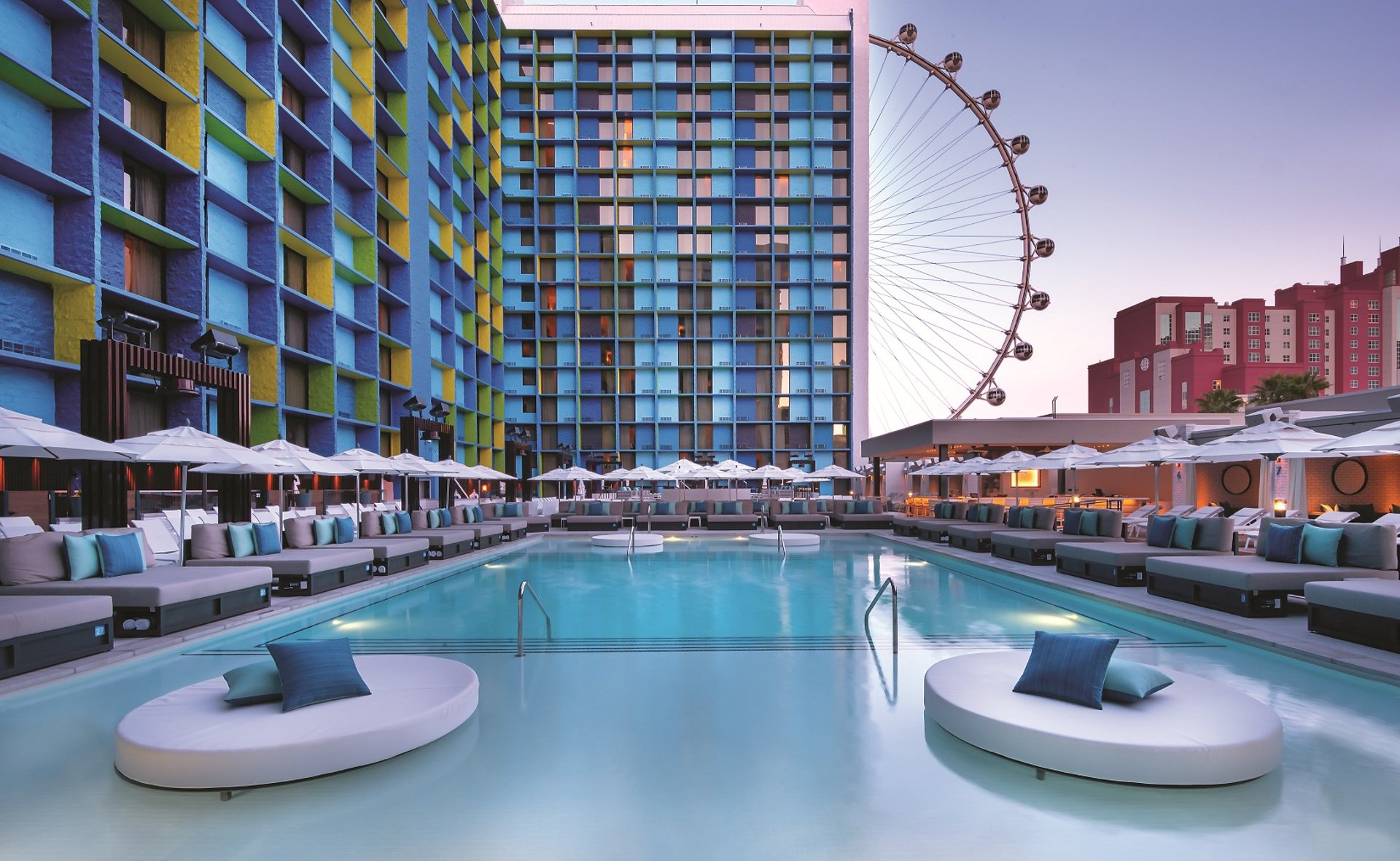 Suiteness Blog10 Reasons to stay at The LINQ Las VegasWritten by Divya MulanjurPublished December 28, 2015
The only place to book connecting hotel rooms and suites. Here's how.
A pyramid, musical fountains, an Eiffel Tower and the omnipresent neon colors of a thousand lights – a panoramic view of the Las Vegas skyline was already the perfect picture.  Add to that a 550-foot massive observation wheel carrying 28 glass-enclosed cabins that lights up after dark with 2000 LEDs in changing colors and patterns and you've got a stunning frame. The stylish makeover to the iconic Las Vegas skyline is thanks to the world's tallest observation wheel, The High Roller, the bold signature of the trendy and most tech savvy resort on the Strip – the LINQ Hotel & Casino.
The LINQ Hotel & Casino was formerly known as The Quad and prior to that, The Imperial Palace. In 2014, this Caesar property relaunched after a complete makeover with chic new suites, and a brilliantly done exterior, spa and pool area.
In keeping with the resort's fresh, clean, minimalist theme, here are 10 top reasons you should stay at the LINQ on your next Las Vegas vacation.
Conveniently located at the Centre of the Strip
In a whimsical city like Las Vegas, if you're in the right place, excitement is just around the corner. A mid-strip location, between Harrah's and the Flamingo, makes the uniquely chic LINQ Hotel & Casino a prime choice for the restless Las Vegas explorer who loves being at the heart of the hottest happenings.
Trendy, hi-tech suites with slick colorful designs offer a fresh take on lavish Vegas vacations
Boasting over 2000 rooms, the LINQ Hotel features fun, contemporary rooms and suites styled with splashes of color and geometrical patterns. Sleek, modern design elements, furnishings and wood embellishments are a breath of fresh air in the otherwise flashy Sin City.
The unique draw of this 'young' hotel is the digitally connected experience. As opposed to the typical 'one Wi-Fi hot-spot for 6-7 rooms', the LINQ is equipped with a Wi-Fi hotspot per room and offers free Wi-Fi for two devices. You can plan your entire day on the (SONIFI) flat-screen TV starting with setting an alarm to ordering room service. (And room service includes popular board-games like Cards Against Humanity!). For those of you who want to enjoy a bit of dramatic Las Vegas right from your private quarters, book a suite with a view of the Strip or the illuminated High Roller.
For the ultimate 21st century luxury party-house experience, check-in to the LINQ Penthouse. Equipped with Bose speakers, a kitchenette with a swanky bar and board games like glow-in-the-dark chess, this posh 1067 square-foot suite is an upscale Vegas abode for the new age luxury seeker. Beautiful modern art and stylish mirror decals adorn the walls of the designer suite which has perfected the 'classy greyscale with pops of color' look. The marbled bathroom is fitted a heavenly rain shower, and dual sink and vanities.
Take a stroll on the LINQ Promenade
Just outside the LINQ Casino, anchored by the High Roller, is the LINQ Promenade, a high energy, sophisticated, 200,000 square-foot market place featuring 40 shops and a selection of restaurants.
Ranging from shops like Bella Scarpa that sells stylish footwear and Goorin Bros., for fashionable hat wear to fun retail experiences like the Polaroid Fotobar that lets you turn your best captures into innovative memorabilia, shopping at the LINQ Promenade, true to the peppy theme of its neighboring namesake hotel, is an event in itself.
The stunning High Roller offers many options for an unforgettable party night.
The world's tallest observation wheel that eclipses both the London Eye and Singapore Flyer is illuminated with thousands of LEDs that change colors and patterns throughout the night. Ride one of the 28 spherical glass-cage cabins for a 30-minute, 360-degree view of Las Vegas. Each glass cabin can hold up to 40 people, and you can buy a drink at the High Roller's wheelhouse or rent an entire cabin and have a bartender aboard. Some specially designated cabins also offer 'Happy Half Hours' with an open bar inside.
Amazing fine dining and casual restaurants including Guy Fieri's Vegas Kitchen & Bar
Celebrity chef and food explorer Guy Fieri brings his signature cuisine of flavorful twists on traditional favorites to the casual dining scene at the LINQ Hotel. Enjoy your favorite American foods on a large outdoor patio overlooking the gorgeous Las Vegas Strip. Choose your drink from their 16 craft beers or from their selection of frozen tap system shot bar that dispenses eight different shots straight out of an iced dispenser.
If big portions and over-the-top 24 hour breakfast menus excite you, then you will love Hash House A Go Go, the diner that shot to national popularity when Adam Richman from Travel Channel's 'Man Vs Food', feasted on the Fried Chicken Farm Benedict.
The LINQ also offers upscale dining at the centrally located beer and bar-food serving Yard House and at Chayo Mexican Kitchen + Tequila Bar, which features a mechanical bull for those of you with a wild side.
The Brooklyn Bowl Experience
With half price happy hours, reverse happy hours, an 80000 square-foot space featuring 32 bowling lanes and a stunning music venue, Brooklyn Bowl is a raving nightlife hotspot and must visit when in Las Vegas. A branch of the famous New-York Brooklyn Bowl, the bowling alley serves American comfort food by the famed Blue Ribbon restaurant. The 2400 capacity massive concert venue features famous headliners and you can upgrade your experience by opting for VIP seating and bottle service.
The swanky LINQ pool with rentable cabanas and luxury cabana suites
Everything about the LINQ is unique and in vogue. The 21 and over LINQ pool is divided into two sections: the first-available open seating main pool with four lily pad daybed rentals and the second pool with rentable tables, accessible by an elevated deck. A 30-seater bar at the center features four flat-screen TVs and serves food, frozen drinks, draught beer and signature cocktails.
To enjoy more of the pool side life, you can rent one of their 18 cabana rooms that come with a TV, access to the patio area, sectional seating and wake-up call requests.
Up the ante by checking in to one of LINQ's deluxe poolside cabana suites that feature private patios with direct access to the pool and in-room dining served from the pool side bar. In tune with the same colorful murals, minimalist designs and sleek furnishings that run through the hotel, the cabana suites are like a private day club experience.
Visit the remodeled O'Sheas Casino
A longtime popular party destination on the Strip, the Irish pub themed casino was renovated and opened in 2014. The 5000 square-foot casino and pub features the same gaming tables, beer pong tournaments, drinks and its beloved host, Lucky the Leprechaun in a state-of-the-art, upbeat party environment.
Relax and unwind at the LINQ Spa and Las Vegas Golf
The soulful LINQ Spa stands out from regular resort spas starting from the jazz music it plays, to giving you the option to connect your player to the treatment room's speakers to bringing you exotic amenities like the Himalayan salt therapy cave.  The Spa also features separate men's and women's lounges with whirlpools and eucalyptus steam rooms.
Book a tee time with one of the top rated gold courses – Rio Secco and Cascata Golf which are easily accessible from the LINQ. If you want to brush up your skills or learn a few new tricks, you can avail personalized golf instructions from The Butch Harmon School of Golf, located at Rio Secco.
Experiment with flavorful infusions at 3535
Named after the numerical part of the LINQ's address, 3535 is Las Vegas' only infusion bar, with 35 custom-made infusions including the famous Pig Newton – a drink made of Ancho & bacon-infused Jim Beam bourbon, fig-infused Jack Daniel's Tennessee Honey, sweet vermouth and orange bitters. After all, if you're not going to experiment and live boldly in the Sin City, where else?