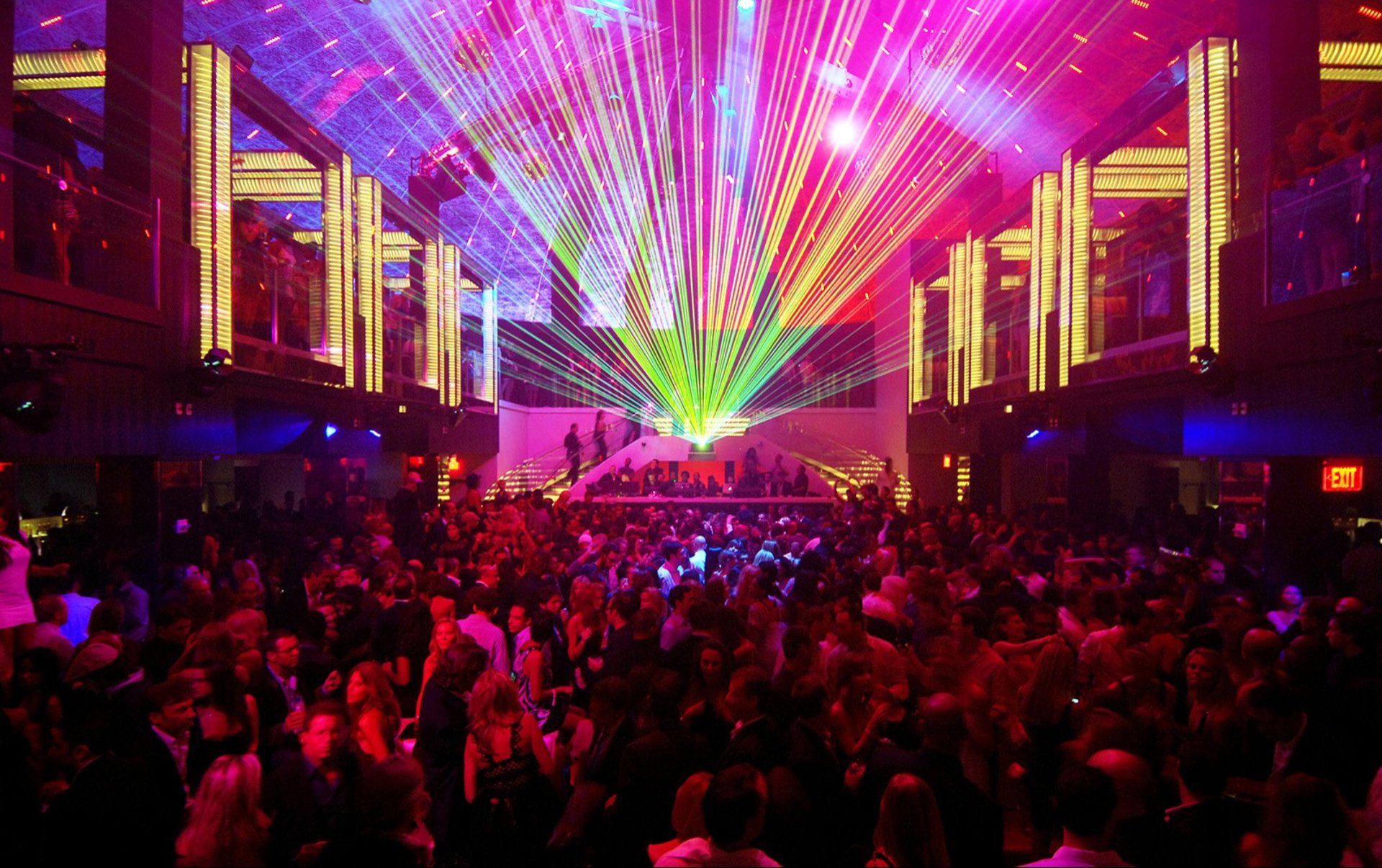 Suiteness BlogTop Vegas Hotel NightclubsWritten by Divya MulanjurPublished May 26, 2016
The only place to book connecting hotel rooms and suites. Here's how.
The 5 Best Las Vegas Hotel Nightclubs
Las Vegas is popular for its thriving nightlife. If you've been scouting for the best nightclub, we've just made your task easier. Stay at one of these fabulous hotels and you won't even have to venture out at night! Some of our favorite Las Vegas hotel nightclubs are at Nobu Hotel at Caesar's Palace, The Cosmopolitan of Las Vegas and The Skylofts at MGM Grand – so you know you're in good hands!  
Marquee at The Cosmopolitan of Las Vegas
The Nightclub: Marquee nightclub (and day club actually) at The Cosmopolitan is one of the most popular Las Vegas hotel nightclubs. Chic, and ever so slightly risqué (not unlike the hotel itself), Marquee is a great place to catch your favorite international DJ and dance to house music. The nightclub also offers a separate mixed format area and a discreet VIP hideaway called The Library for some time away.
The Hotel: The Cosmopolitan of Las Vegas offers a variety of luxuries for their hotel guests. The Cosmopolitan offers free valet parking and Limo or town car services to get around. With three outdoor pools, three tennis courts, a sauna, and spa, we understand if you wouldn't want to leave the hotel. A great night is guaranteed within the hotel itself with Cosmopolitan's bar lounge, billiards tables, Casino, and their hot nightclub.
Hakkasan at MGM Grand
The Nightclub: Hakkasan nightclub is also a lounge and eatery – so basically, if you're in Las Vegas to experience its unparalleled party atmosphere, and you're also staying at MGM, this is the whole package. Hakkasan is massive, unbeatable lively and has some of the best resident DJs – if you're about to brag to someone about having lived it up in Vegas, you better have had hit this nightclub.
The Hotel: MGM Grand Hotel offers amazing suites to spend the night once you're done partying. With a casino, live performances by the biggest Hollywood stars, an arcade and game room and multiple outdoor pools – there's plenty of options to enjoy during the day as well. If you prefer the boutique hotel experience then consider reserving a suite on the top two floors of MGM Grand at Skylofts at MGM Grand.
Tao at The Venetian
The Nightclub: What is Tao? It is a beach by daytime, one of the best Las Vegas hotel nightclubs by night and also a restaurant serving delectable Asian cuisine. You really can't go wrong at Tao or it's parent – the super romantic Venetian Hotel. Hit the dance floor till you tire yourself out, then go to the other twin dance floor and dance some more and when you absolutely can't go on, you'll have time to admire the true-to-Vegas grandiose of the place.
The Hotel: One of the most romantic hotels in Las Vegas, you cannot go wrong with the Venetian (we're yet to find someone who hasn't gasped at the splendor of the Italian architecture that meets them when they first enter the Venetian). Suites at the Venetian are drop dead gorgeous with floor-to-ceiling views and even better amenities. It's a 24-hour party at this hotel!
Drai's at The Cromwell
The Nightclub: Drai's Nightclub is a 65,000 sq. ft. rooftop party space that is beach club by day and nightclub by night and lounge once it is really late at night! Brought to life by well-known nightlife visionary Victor Drai, it features a sectioned rooftop pool with a mezzanine level, with deck furniture and cold tubs that can be rented. The hip Las Vegas hotel nightclub parties from 10:30PM to 4:00AM after which you can access Drai's Afterhours from 1AM till 10AM. Alternatively, if you'd prefer a quiet cocktail after a but of dancing, head to Interlude, the casino lounge.
The Cromwell rests elegantly on the strip across from Caesar's Palace. The beautifully designed hotel is acclaimed as the Strip's first boutique hotel. Unlike the typical Las Vegas landscape where everything is big and flashy, the Cromwell offers a more intimate experience with its suites by perfecting the little things. Convenience of location, quick check-ins, personalized services, instant valet and a welcome champagne toast – all add to the truly VIP treatment you can expect at the Cromwell.
Omnia and Nobu Hotel at Caesar's Palace
The Nightclub: If not for it being one of the most happening Las Vegas hotel nightclubs, you have to got to Omnia at Caesars Palace to behold the fascinating, humongous, trippy piece of art that they call a chandelier (or maybe they don't – breath-takers like that probably have their own name and genre). Omnia is a stunner – there's no other way to describe it. The experience and the music and the high-energy vibes around you will inspire and grow on you till you're addicted.
The Hotel: Everyone who is anyone not living under a rock will know Caesars Palace and just how quintessentially Las Vegas the hotel is (not to mention iconic and fabulous luxury). So we decided to instead draw your attention to The Nobu Hotel at Caesar's Palace – the hotel within a hotel that is wowing guests who stay there. We're not even getting into just how stunning the suites at Nobu Hotel are, let's just say with the array of activities that include Nobu's private spas, outdoor season pool, pool cabanas, and the world-renowned Nobu restaurant, you'll have a great time – night or day.