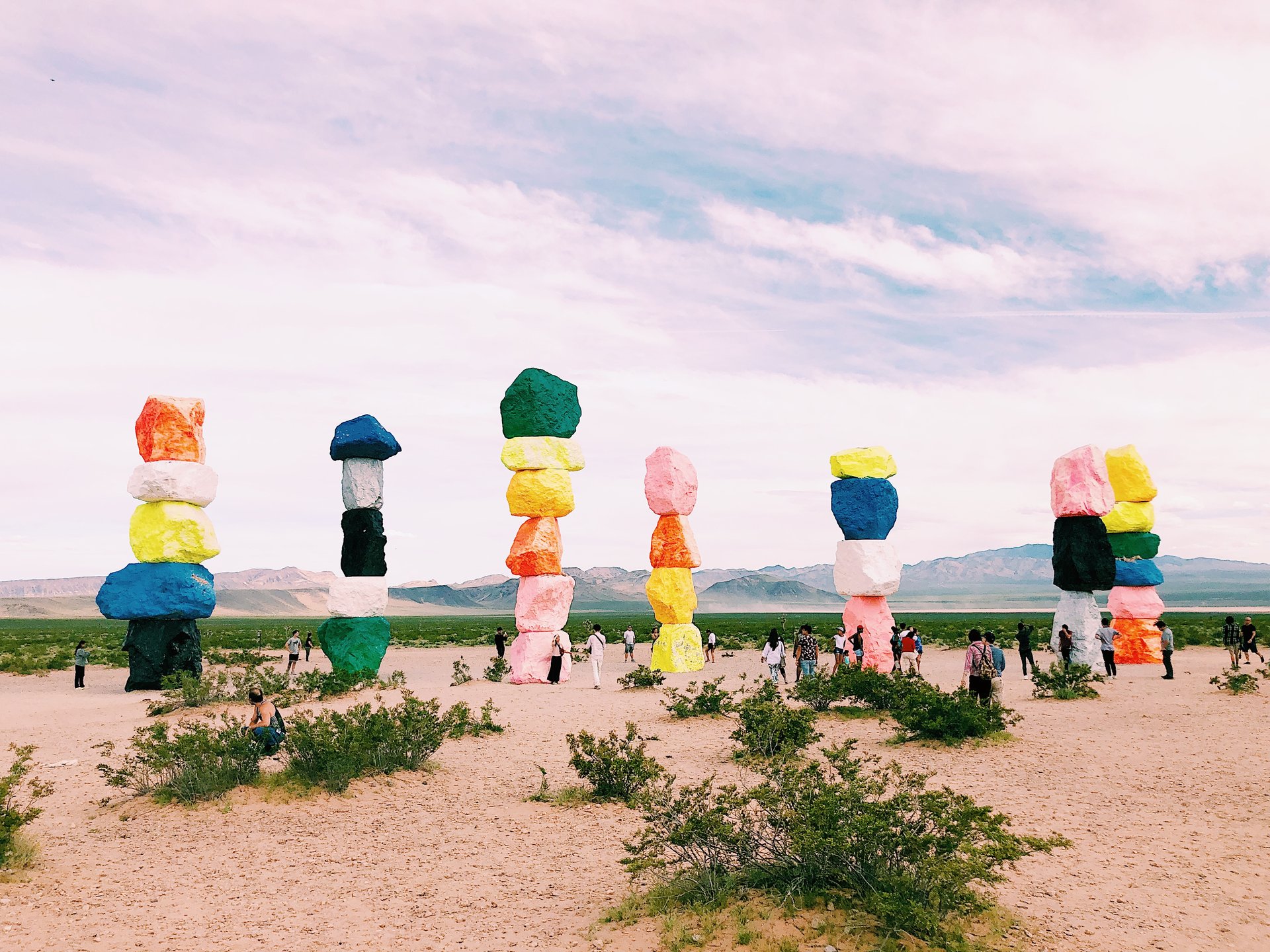 Suiteness BlogThe 7 Most Instagrammable Spots in Las VegasWritten by Whitney PhaneufPublished May 24, 2019
The only place to book connecting hotel rooms and suites. Here's how.
Were you even in Las Vegas if it's not captured on Instagram? Save the drunken craps table photos and blurry club shots for personal appreciation—you don't need your boss seeing those—and capture an only-in-Vegas experience. We've found the seven best locations to break out the phones and give your finest pose.
Seven Magic Mountains
Have you noticed a flurry of Vegas photos of day-glow painted rocks stacked into towers in the middle-of-nowhere desert? That's conceptual artist Ugo Rondinone's site-specific sculpture Seven Magic Mountains and you absolutely need a photo with it. Located on federal parkland 20 miles south of the Las Vegas Strip, this free installation features seven 30-foot-tall stacks of rocks that look extra trippy in the radiant desert sun and juxtaposed against the mountain ranges.
Pro tip: Seven Magic Mountains is searchable in Google maps. If you don't have a car, take an Uber from the Strip, which costs between $30-$50.
Welcome to Fabulous Las Vegas Sign
The Welcome to Fabulous Las Vegas roadside sign oozes mid-century kitsch. The 25-foot-tall sign—widely depicted on souvenirs—sits at the south end of the Strip, near the Four Seasons Hotel Las Vegas, Mandalay Bay Resort and Casino, and Luxor Hotel & Casino. Created in 1959, the letters that spell "welcome" were designed to look like silver dollars.
Pro tip: There's a small parking lot for the sign on Las Vegas Boulevard, but expect to wait for a spot unless you get there early morning. Bonus: It won't be too hot yet!
Your Hotel Suite
You've come to the right place to find the perfect suite to show off on Instagram, from one with a private rooftop jacuzzi that has views of the Strip to one with a sexy pool table. Snap some pics before you hit the town—while you're looking fresh—or keep it casual and slip into the hotel bathrobe. A hotel room will do fine too, especially one with large windows as natural light will yield the best images.
Pro tip: The highest quality natural light arrives at the golden hour, shortly after sunrise or right before sunset.
A Wild Pool Party
If you scroll through Vegas-related likes and tags, one trend will quickly emerge: people love an outrageous pool party pic. Wet Republic, Encore Beach Club, and XS NightSwim are among the most-posted spots in Vegas, but almost any pool party will do as long as it looks like it's popping. We've got the 10 best pool parties to hit up this season—usually March through October, but some are open year round.
Pro tip: Make taking photos your first order of business after grabbing an ice cold frozé to pose with. You'll want to capture the moment while still looking sober! Be considerate when including strangers in images and, when in doubt, ask for consent before taking the photo—you might even make some new friends.
Fremont Street
In the heart of old Vegas, you'll find some of the coolest neon signs in the city on Fremont Street, north of the Strip. Snap pics with a 40-foot-tall neon-blue martini glass (replete with neon-green olive), the world's largest Keno board, and the Atomic Liquors sign, as seen in the films The Hangover and Casino. While you're there, grab a video of the Fremont Street Experience's psychedelic light show, which runs every hour.
Pro tip: Near Fremont Street Experience, there's an Instagram museum devoted to weed culture where you can hug a 7-foot-tall bud, pretend to smoke from a 24-foot bong, and befriend a massive stoner caterpillar. If these aren't safe for the 'gram and your afore-mentioned boss, you'll find colorful murals and moody lighting worthy of a selfie.
Bliss Dance
You don't need to go to Burning Man to take photos with one of its most iconic art pieces. Marco Cochrane's Bliss Dance—a 40-foot-tall sculpture of a dancing woman—debuted at the festival in 2010 and made its way to Las Vegas in 2016, finding a permanent home at MGM Las Vegas' the Park. Made of mesh stainless steel, the sculpture's weaved pattern glows with 3,000 colored LED lights at night, but it's just as stunning when gleams under the bright Vegas sun.
Pro tip: Near Bliss Dance and throughout the Park, you'll find more Instagram gold in its trumpet-shaped, 55 to 75 feet shade structures, which bloom at night during a synchronized light show that takes place on the quarter hour.
The Neon Museum
Ever wonder what happened to all the neon-lit signs of Rat Pack-era Las Vegas? They're laid to rest at the Neon Museum's Neon Boneyard. Take a pic with classic hotel signs such as Stardust and Sahara as you stroll through 150 signs in the outdoor boneyard. Select night tours feature 11 signs restored to their former glory and dramatically lit, and photo walks—a time that's reserved only for photographers—take place a few times and month.
Pro tip: Buy advance tickets as they sell out fast. Note, due to broken glass and rusty metal, the museum recommends day tours for visitors ages 10 and up and night tours for ages 12 and up.