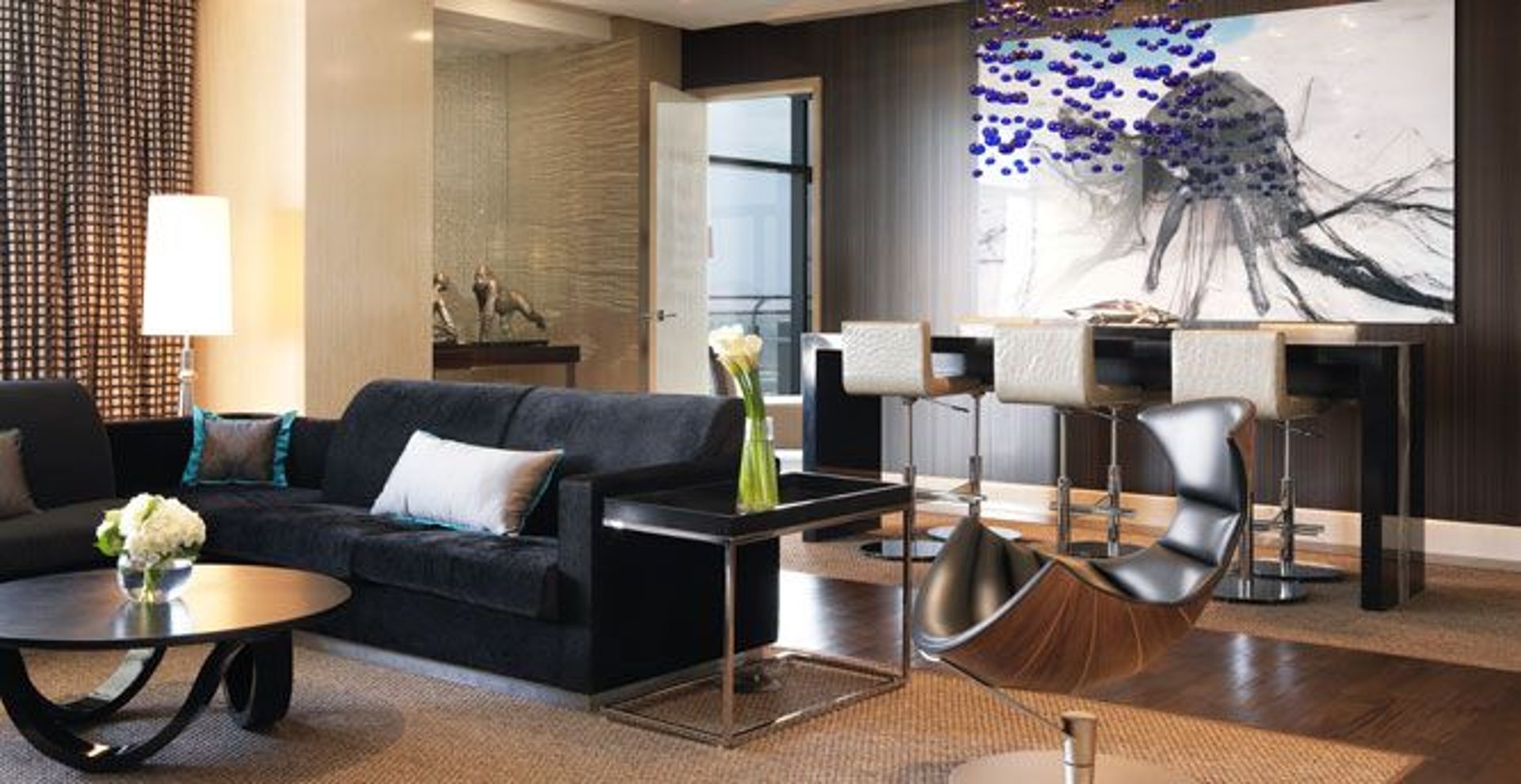 Suiteness BlogBest Suites To Host A Bachelor Party In VegasWritten by Divya MulanjurPublished March 15, 2016
The only place to book connecting hotel rooms and suites. Here's how.
The Ten Best Suites to Host Your Bachelor Party In Vegas
Every year thousands of bachelors make the pilgrimage to the Las Vegas strip, ready to take on their last days of singleness amidst the many parties and entertainment that Vegas has to offer. Many of these groups of young men are looking for an experience much like that of the now infamous movie The Hangover, with over-the-top partying and an experience that can't be matched anywhere else in the world. If you fall into this lively group of travelers you may be searching to find the best suite to host your bachelor party in Vegas – and luckily for you, that's our specialty.
We've collected our best, most popular suites for a bachelor party in Vegas to ensure that you and your boys have the best time possible, whether you're looking for an epic in-suite party or a luxurious place to rest your heads at night.  We have all the best suites to keep you entertained during your bachelor party celebration.
Where To Host Your Bachelor Party In Vegas
10.)  Vdara – Hospitality Suite
Bedrooms: 2
Beds: 2 King and a sofa bed
Guests: 6
Starting Price: $734*
Why we love it: Great value, located on 42 – 48th floors, comes with two passes to the spa
Those looking to enjoy the most of Vegas while still on a budget will find the Vdara hospitality suite as one of the best options.Affordable for groups, yet sophisticated, Vdara's Hospitality Suite boasts ample space for pre-gaming and after parties, along with one of the most sweeping views of the Vegas Strip. Save your money for partying by whipping up your favorite treats in the suite's fully equipped kitchen. Hook up to the media hub with your MP3 player, gaming console, or camera. Unexpected visitors or extra guests can crash on the pullout couch.
9.) Planet Hollywood – Ultra Apex Suite
Bedrooms: 1 – 2
Beds: 1 – 3
Guests: Up to 6
Starting Price: $1,159*
Why we love it:  Spacious living area with lounge-style sofas, foosball or pool table on request, gorgeous Strip view, state of the art sound system
When you think of the ultimate bachelor party in Vegas a few things come to mind – first, the crazy parties and second, the over-the-top accommodations you can get. But what if you could get both? You and your buddies will never forget your adventures in Ultra Apex Suite at Planet Hollywood.This is the perfect suite for hosting large parties and offers ample sleeping room for your whole group. Boasting 2,000 square feet and an open layout, this suite will be party central during your bachelor getaway. Enjoy a game of pool or foosball, or relax on a wraparound couch, beer in hand. After a crazy night, get your morning started on the right foot with an iPod-controlled alarm clock and a cup of coffee. No matter the time of day, you'll appreciate the designer touches found throughout the suite.
8.) Wraparound Terrace Suite – The Cosmopolitan Las Vegas
Bedrooms: Up to 2
Beds: Up to 2
Guests: 3 – 6
Starting Price: $295*
Why we love it – It has a wraparound terrace! Pro tip: pay a little more to get the fountain view wraparound terrace suite – totally worth it!
As one of Sin City's tallest towers, and because it enjoys a prime location on the Strip, The Cosmopolitan of Las Vegas offers unbeatable views. Enjoy the unique scenery from the comfort of a private wraparound terrace, spanning 480 square feet. Store your favorite drinks in the Sub-Zero wine chiller, included in your exclusive wet bar. Some of these suites also come with a full kitchen so you don't have to spend every meal out on the town. The suite has a king bed, but rollaway beds are also available upon request. Within walking distance of the Strip's best venues, The Cosmopolitan is the perfect launching point for an epic bachelor party in Vegas.
7.) Mirage – Three Bedroom Villa
Bedrooms: 3
Beds: 3
Guests: 6
Starting Price: $3,650*
Why we love it: 3 bedrooms, a free butler, a full kitchen, complimentary access to hotel amenities like upscale dining at 1OAK and Siegfried and Roy's Secret dolphin habitat, a provate backyard – what's not to love!
Boasting an impressive 8,554 square feet, the Three Bedroom Villa at the Mirage constitutes the perfect setting for large bachelor parties. The villa comes with a private backyard, featuring a personal pool, Jacuzzi, and putting green. An advanced music system brings the party to the pool, as do outside LED TVs. There's no need to worry about packing toiletries as the villa comes stocked with complimentary shaving and dental kits. The three bedrooms will comfortably sleep around 6+ with options for cots and pullouts if you have a few extra guests over. You and your guests will never lift a finger – you'll be served 24/7 by a personal butler, chef, and VIP concierge staff. What's more, you even get complimentary access to 1OAK, and can avail private catering and bar-tending services!
6.) Caesars – Forum Tower Duplex Suite (aka Hangover Suite)
Bedrooms: 2 (also available in 3-bedroom and 4-bedroom configurations)
Beds: 2
Guests: 4
Starting Price: $1,760*
Why we love it: It's the Hangover Suite! Also – your stay includes complimentary resort fees.
Also known as the "Hangover Suite," the Forum Tower Duplex Suite (formerly known as Forum Classic Emperors Suite) at Caesars Palace has been a hit since reaching the silver screen in the famed 2009 comedy The Hangover. The suite featured in the movie may have been a set, but this bi-level suite version resembles it closely. Two levels of partying and easy access to all the best clubs will grant you the best night of your life — completely free of tigers.
Top 5 suites for your dream bachelor party in Vegas
Now we come to the part in our collection where we can really show off some of the best suites in all of Las Vegas. These suites are some of the best places to host your bachelor party in Vegas, with special features like private pools, rooftop terraces, and in-suite basketball courts. We're sure that you'll find your dream suite on this list – the only question is which one will you choose for an epic bachelor party in Vegas?
5.) Palms Las Vegas – Real World Suite
Bedrooms: 3
Beds: 6
Guests: 7
Starting Price: $7,000*
Why we love it: Full Kitchen, Jacuzzi-style tub, three neon-lit vanity areas, two shower stalls, two bathroom stalls, 6 passes to Drift Spa, pool table… need we go on?
Live the life of a reality star, but without all the cameras. Every aspect of this suite is designed with partying in mind — even the bathroom is conducive to having a good time with your best friends. Watch Real World reruns or whatever programming you prefer on five LCD TVs. Cook a feast in the fully equipped kitchen and complement it with strong drinks from the wet bar. Need to vent about life to your roomies? Take advantage of the original Confessional. Don't forget to hit up the Olhausen pool table for a rousing game before you head out on the town.
4.) Nobu Hotel — Nobu Penthouse
Bedrooms: Up to 5
Beds: 6
Guests: 12
Starting Price: $2,170*
Why we love it: The hotel is amazing, the suite is a star and the perks even better: billiard table, deep soaking tub, duplex suite, VIP service at Nobu Restaurant and complimentary round-trip limo service.
Between 2,200 and 4,350 square feet, the Nobu Penthouse comes in multiple configurations, designed to perfectly fit your bachelor party group. The Japanese-inspired decor brings a sophisticated edge to your dream bachelor party. Lounge on leather sofas and watch your favorite movie on the 90-inch flat screen TV. Dominate a game of billiards before you head out for the night, or keep the party going right at Nobu. At the end of the night, crash on a comfortable bed featuring Filo d'Oro linens.
3.) Aria – Sky Villa
Bedrooms:3
Beds: 4
Guests: 8
Starting Price: $5,000*
Why we love it: A majestic golden staircase, gorgeous design, private elevator to access rooms, Spa-inspired bathroom with amazing Strip view
The Aria Luxury Sky Villa is widely regarded as one of the most luxurious and most sought-after suites in all of Las Vegas. This glamorous and opulent villa will shock and amaze you, with a giant golden spiral staircase serving as a fascinating centerpiece. A sophisticated stone foyer greets you as you enter the 3,370 square foot suite that offers a unique panoramic corner view, plus a range of luxuries you'll be hard-pressed to find elsewhere. Get the party started with a complimentary bottle of champagne on arrival, and continue it with easy access to a bar stocked with only the best wine and spirits. Additional complimentary perks include a personal concierge, private elevator for access to rooms, and complimentary luxury limousine pickup to and from the airport.
2.) Rio All-Suite Resort – Voodoo Collection Suite
Bedrooms: 1
Beds: 1
Guests: 4
Starting Price: $2,250*
Why we love it: The top-floor suite has a private terrace with a private pool!
The Rio might be a non-gaming Vegas hotel, but it makes up for it with its incredible suites. Its crown jewel, the Voodoo Collection Suite, located on the top floor, provides some of the best views of Vegas. Your journey to the VooDoo Collection Suite begins and ends in luxury, with a complimentary limo taking you and your posse to and from the airport. Hang out on the shaded balcony or in the pool, which comes equipped with its own wet bar. Ease your aching muscles after a night of hardcore partying in the suite's whirlpool tub.
1.) Two-bedroom Chelsea Penthouse – The Cosmopolitan Las Vegas
You've always wanted to embrace the penthouse lifestyle — here's your chance. Your stay at The Chelsea Penthouse at The Cosmopolitan of Las Vegas (previously known as The West End Penthouse) will be marked by unmatched luxury. Sleek and stylish, the suite features trendy furniture and decor, plus a kitchenette, a wet bar, and complimentary limousine to and from McCarran International Airport. With an ideal location in the center of all the action on the Strip, you'll be perfectly situated for a fun night out at all of your favorite clubs, bars, and casinos. Best of all, when the night ends, you'll have no trouble making it back to your luxurious penthouse. You also have the option to book the 3,200 square foot three-bedroom version of the suite which has 5 beds and enough space for 8 guests. If you want to do your bachelor party right, there's really nothing better than The Chelsea Penthouse at The Cosmopolitan Las Vegas.
Suites that didn't make the list but are still great for an amazing bachelor party in Vegas
Nobu Hotel – Sake Suite
The Nobu hotel is one of the most luxurious hotels in Vegas, with a unique modern Japanese style. The Sake Suite with a 1,950 square foot floor plan and the ability to add up to three connecting rooms to adjust to your parties size can cater to any group. The custom-built in-suite pool table highlights the entertainment area along with the large screened LED TV. One of the best parts of staying at the Nobu hotel is the list of perks that come with. When you book a stay at the Sake suite you also get a VIP Manager to help get you exclusive access to anything around town, free passes to OMNIA Nightclub, priority reservations to hotel attractions, private pool entry, free round-trip airport limo service, VIP access to Nobu restaurant, and free valet. Suffice to say this suite offers quite a lot for your bachelor party and with all the free perks it's hard to not want to stay here. The only reason this didn't make the list? The Nobu Penthouse.
Delano – Penthouse Superior Suite
The Penthouse Superior suite at Delano is also a great option if you want to host your bachelor party on the Strip. The modern and sophisticated hotel attracts a lot of young bachelor and bachelorette parties and even caters to these parties with a great selection of suites and connecting rooms to accommodate your entire group. With the Delano Penthouse superior suite, you will be treated the o incredible floor to ceiling panoramic views of Las Vegas along with a sleek interior for lounging or pre-gaming before your big night out.
Using the (complimentary) Suiteness Concierge
When you book any of these suites through Suiteness you also get access to our complimentary concierge team. This is a dedicated team of real people available 24/7 to answer your questions or help you plan and book the perfect trip for you and your group. Say you want a specific beverage to be stocked in your suite upon arrival, we'll make sure that happens. Or maybe you want tickets to a show or event while in town, we got you covered (even sold-out shows!). Or maybe you just want to make some reservations for a dinner that can fit your whole group, we'll make sure we get you in. Whatever you need we're here to assist and facilitate it.
Whether your idea of an amazing bachelor party in Vegas includes low-key lounging, a crazy pool party, or easy access to Sin City's best clubs, you'll find it easy to book the suite of your dreams near or on the Strip. Don't skimp on accommodations — the right suite or penthouse will set you up for the perfect night on the town. Your favorite husband-to-be will never forget his crazy fling before the ring.
For additional ideas on what to do in Vegas for your bachelor party, check out our featured blog on the Top 5 Bachelor Party Activities in Vegas!
*Rates are subject to dates and demand.