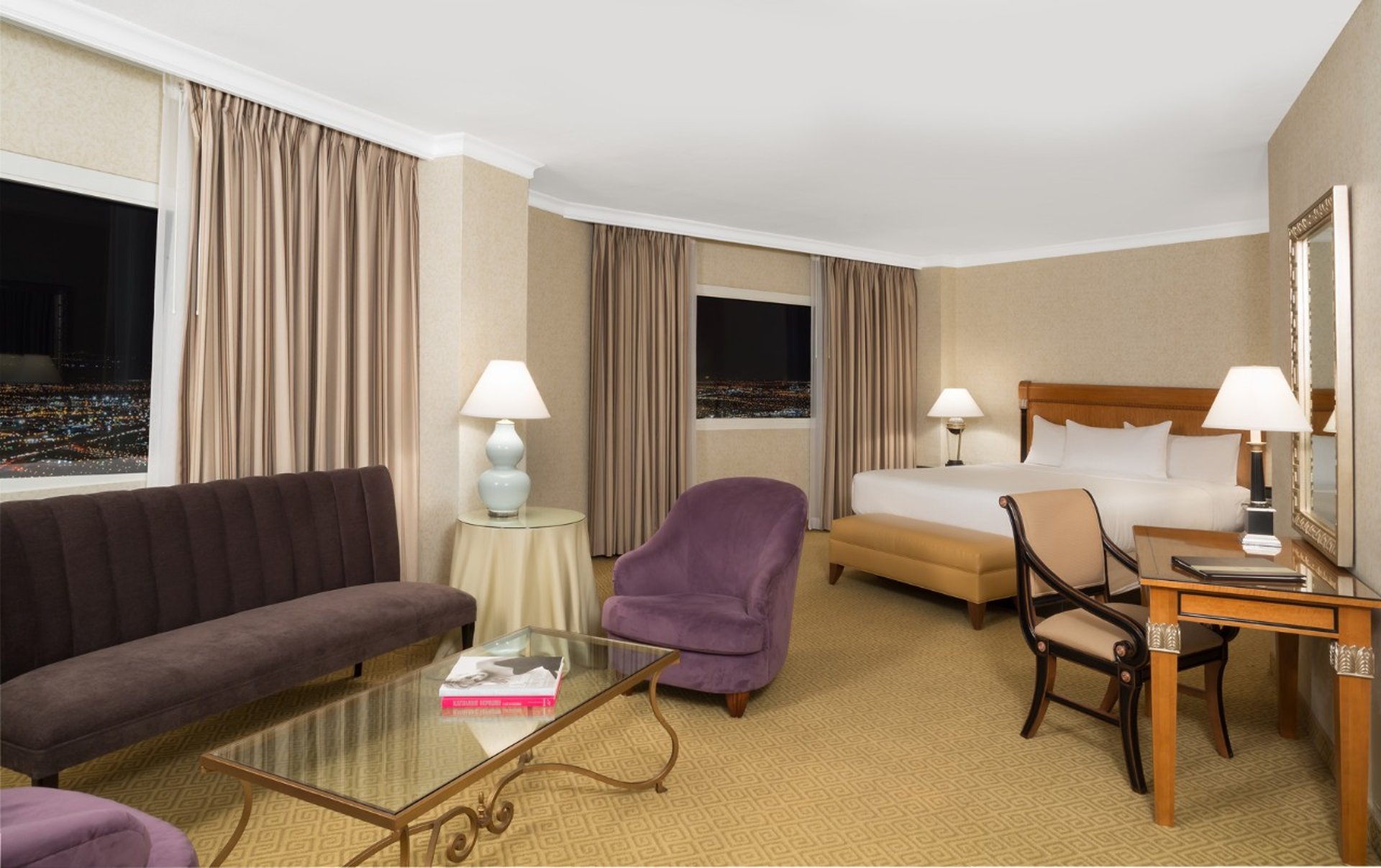 Suiteness BlogCaesars Palace - Imperial Las Vegas LuxuryWritten by Divya MulanjurPublished August 13, 2015
The only place to book connecting hotel rooms and suites. Here's how.
Standing tall and proud since 1966, Caesars Palace is synonymous to the classic Las Vegas luxury experience.  The trademark Roman Empire theme and Greek inspired architecture still intact, Caesars Palace has reinvented and remodeled over the years to keep up with the times and to ensure it continues to be a timeless masterpiece.
Caesars Palace is one of the largest hotels on the Strip and houses close to 4000 rooms.
A high level of attention to detail, luxuriously designed interiors, themed decor and superior quality furnishings and upholstery make the suites at Caesars Palace some of the best and most luxurious that the Strip has to offer. It is no surprise that The Laurel Collection – the Augustus and Octavius towers is rated Forbes Travel Guide Four-Star.
Live the life of an emperor at the Marcus Aurelius Villa
Words cannot aptly describe the opulence on display at the 9,500 sq. ft. Spanish inspired Marcus Aurelius Villa that comes with three bedrooms, a private elevator, a grand piano and a double-sided fireplace. The bedroom decor ensures an intimate setting thanks to its plush bedding and superior quality furnishings, done up in soft, neutral shades.
Guests can be entertained at the wood-paneled, old world bar with a custom carved billiard table, or the spectacular terrace with a fire pit and whirlpool spa.
But our favorite part of the villa is the straight-out-of-a-European-mansion Piano room, artistically designed with a chandelier above the grand piano in the center of the room, huge framed art work, carpeting with intricate designs and ample seating to seduce anyone with its old world charm.
Unparalleled luxury at The Titus Villa
Vegas' very best is housed within this luxurious 11200 sq. ft. British Villa that features three bedrooms, a well-lit, dark wood-paneled magnificent billiard room and bar with a mirrored wall. Part of the Laurel Collection, this exclusive villa also has state-of-the-art audio-visual systems, a work space and a media room with 103-inch 3D plasma screen and silk upholstered walls. The elegant dining room is set against the backdrop of a hand painted wall mural.
The grandeur of the master bathroom is reflected in its pink onyx bathtub, marbled floors and semi-precious stone set, 24-karat hardware. The villa's 390 sq.ft. private outdoor garden converts into a spa and features patios and an outdoor film screen.
Feel like a celebrity in the award-winning Laurel Collection Penthouse
The Laurel Collection Penthouse in the Octavius Tower is all about class. The spacious 2040 sq. ft. suite is lavishly adorned with chandeliers, sheer curtains and dark wood furniture to create the right balance of class and comfort. The bedroom comes with a high bed with overstuffed pillows, wood-paneled mirror walls and stylish furniture.
Bathrooms  are equipped with best-in class fixtures, marbled surfaces, steam showers and Bvlgari spa products.
The Palace Tower Penthouse
Available in the range of  2040 to 3400 square feet, the Palace Tower Penthouse is perfect for business trips or luxury vacations. The suite features lavish design elements in a spacious setting and offers one to three bedrooms, a wet bar and a spacious dining area. The bathroom is all marble with an electric towel warmer and jetted bathtub.
Enjoy the staycation experience at the Caesars Palace Spa Suite
Just when you thought you've seen it all, Caesars surprises with radically luxurious and relaxing ideas to pamper you silly. If you have ever gone to a spa and thought, 'I wish I could live here', your prayers have been answered.
Shades of sea-green and sky blue give this Augustus Tower suite an ethereal feel. Enjoy a luxury retreat in a lounge-like living room, whirlpool tub and a sauna, overlooking the beautiful Vegas Strip.
Experience a deluxe stay at the Palace Tower Senators Suite
This 1400 sq.ft. suite furnished in soft inviting colors, comes with a spacious living area with a flat screen TV and a cozy dining area with floor-to-ceiling window views.  The bedroom is spacious and neatly designed with large windows that let sunlight flood in, to give you a fresh start to the day. The his-and-hers bathrooms are equipped with connecting showers, and a lavish jetted bathtub.
There's sparkling stardust in the Forum Tower Emperors Suite…
… because the suite IS the star. Featured in blockbuster movies, be a part of cinema & celebrity lifestyle by hosting a bachelor/bachelorette party in this posh suite that offers bedrooms with mood lights and beaded chandeliers. Grab a drink and lounge at one of the three seating areas, or the eight-seat high-top table. One of the best corners is the circular booth right by the window that offers  an amazing view of the dazzling Las Vegas lights.
Caesars Palace Amenities and Attractions

If it isn't extravagant, you aren't doing Vegas right. And entertainment doesn't get bigger than Caesars Palace.
The 129,000 sq. ft. Caesars Palace Casino is (and has always been) one of the most sought after entertainment spots for high rollers and celebrities. Surrounded by a lavish ancient Roman setting, the casino offers a massive selection of slot machines and table games like Roulette, Craps, Blackjack, Baccarat, Spanish 21, Mini-Baccarat, Pai Gow and Pai Gow poker. The 4500 sq. ft. casino poker room features 16 tables with free upgraded Wi-Fi and USB charging ports at each table, for 24 hours of poker action. For those interested in betting, the casino also houses the Race & Sports Book with 65 private booths.
The concert venue at Caesars Palace, The Colosseum, was voted 2015's best venue to see a concert and best overall entertainment by Casino Player magazine. And why wouldn't it be, when it features headlining acts by Celine Dion, Elton John, Rod Stewart, Mariah Carey, Jerry Seinfeld, Matt Goss, Reba Brooks & Dunn, and concerts by Aretha Franklin, Enrique Iglesias, Mark Knopfler, The Who, Placido Domingo and performances by many other legends!
Relax, people-watch, laugh, drink, shop, dance, party… your Caesars Palace Vegas Vacation will be nothing less than spectacular
The Caesars Palace pool is probably the most beautiful in Las Vegas. Aptly named, The Garden of the Gods, this 5-acre luxury oasis features seven pools between Roman columns, marble and granite mosaics, decadent cabanas and lavish sunbathing spots. The exclusive trio of the iconic Temple Pool, The Neptune and The Venus are the most sophisticated watering holes you can find in the city. Right next to the pool area is the multiple award-winning (including the 2014 Condé Nast Traveler – Top 50 U.S. Resort Spas, 2015 Las Vegas Review Journal – Best Spa, 2015 Trip Advisor – Certificate of Excellence and 2015's Best Place To Get In Shape by Las Vegas Review Journal), 50,000 sq. ft. Qua Baths & Spa. And if that doesn't convince you, then how about snowfall in Las Vegas – in the Arctic Ice Room?
The Forum Shops is a must-do experience with close to 160 specialty stores like Louis Vuitton, Michael Kors, Valentino, Tiffany and Gucci and fine restaurants. Explore some stunning Greek inspired architecture, the Fall of Atlantis animatronics show and a giant 50,000 gallon aquarium while you shop.
Dine, drink & dance at some of Sin City's finest restaurants, bars and nightclubs.
There are so many dining options at Caesars Palace that it will be tough narrowing down to one! Voted 2015's 'Best Variety of Restaurants' by Casino Player magazine, Caesars Palace offers a wide selection of upscale and casual dining restaurants ranging from celebrity owned to top-notch buffets. To enjoy the very best of Las Vegas cuisine, book a table at the most sought-after Nobu Restaurant for some sushi and authentic Japanese food. Sit at the sushi bar, one of the private dining areas, or one of the three sizzling teppanyaki tables for a night of fine dining. You could also head over to the historic NY style upscale Old Homestead Steakhouse or enjoy Southern Italian flavors at the legendary Rao's.
If you are looking for a casual dining affair, celebrity chef Gordon Ramsay's English style Pub and Grill with its array of beer taps that pair well with their burgers and fish and chips is a perfect choice. Guy Savoy serves art on a plate like the artichoke and black truffle soup garnished with toasted mushroom brioche and truffle butter at his intimately decorated restaurant in Augustus Tower. Celebrity chef Brian Malarkey's  Searsucker with its contemporary twist on traditional American comfort foods is also a crowd favorite. Feast on unique dishes like jalapeno-chorizo "corn off the cob" and eggs and bacon "pork belly" featuring a soft poached egg with brown butter Hollandaise or enjoy their late night menu, perfect for your OMNIA experience. Spanning 75000 sq.ft., the ornate, multi-level concert venue OMNIA features an ultra-lounge, a lively main room and mezzanine, and a rooftop garden for the ultimate luxury nightlife.
It is fascinating how this mega-luxury hotel & casino has thrived through the years, amidst a rapidly changing landscape, and continues being rated one of the best in Las Vegas. Luxury Las Vegas doesn't get any grander than Caesars Palace.