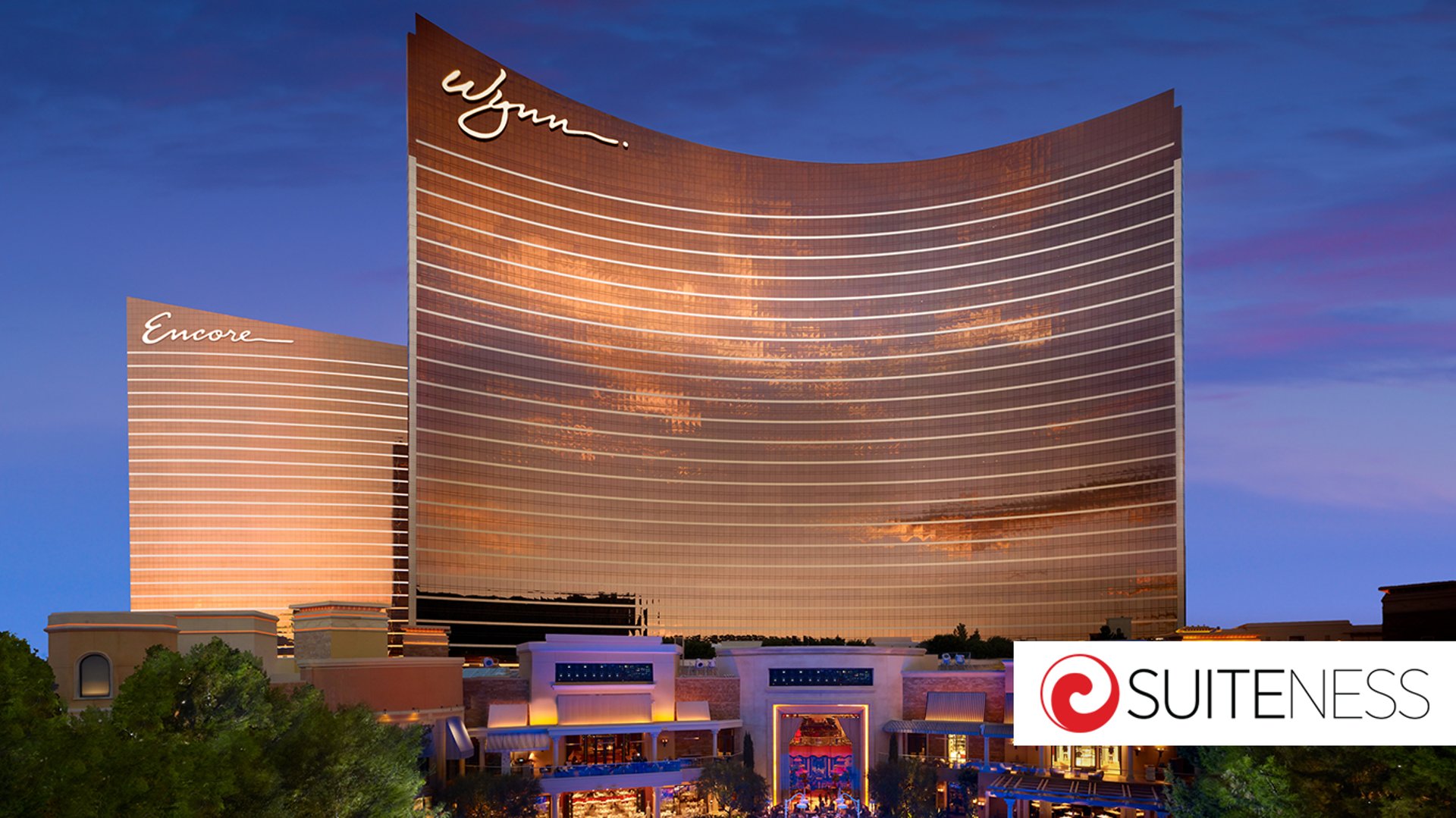 Suiteness BlogWynn Las Vegas: Your One Stop Luxury GetawayWritten by Divya MulanjurPublished August 14, 2015
The only place to book connecting hotel rooms and suites. Here's how.
Step into the lobby adorned with fresh flowers from ceiling to floor and you are instantly struck by how Wynn Las Vegas redefines luxury. Wynn offers spellbinding interiors and amenities that take luxury over the top, with services and hospitality that make you never want to leave, and why should you? There is so much to do inside that you never have to leave its grounds to enjoy a full vacation! Don't worry – it is completely normal to get lost here, mesmerized by the sheer lavishness of it all.
World class amenities at your service
Booking a stay with Wynn Las Vegas means access to world-class restaurants, nightclubs and wide assortment of games under an enormous glass dome. But Wynn understands that luxury is not all about the glitz and lights. Guests can disconnect from the world and indulge in a heavenly Wynn Signature Escape massage at the Wynn Spa – an award-winning spa, extremely sought-after by luxury travelers.
Booking a stay with Wynn Las Vegas means access to world-class restaurants, nightclubs and wide assortment of games under an enormous glass dome.
Temperature controlled pools and Jacuzzi spas offer another relaxing retreat at the hotel. For a more private session, you can reserve a cabana that comes with a plasma TV, a mini fridge and plush sofas.
For retail therapy relaxers, the Wynn Esplanade will spoil you with choices. Bordering the spectacular Lake of Dreams, this mega shopping space houses high-end brands like Rolex, Louis Vuitton, Chanel, Cartier and Graff among others. Wynn & Company Watches have their own store here, selling unique timepieces like Patek Philippe, Vacheron Constantin, Panerai and more. The Wynn Esplanade even has a Ferrari dealer! It's easy to lose yourself in this temple of upscale shopping, but the beautiful lush gardens next door should guide you back.
The star amenity of Wynn Las Vegas, however, has to be the 7000 yard, sprawling green golf course – one of its kind and the only place in Las Vegas where you can golf at your own resort. The brain child of owner Steve Wynn and renowned golf architect Tom Fazio, this 18-hole, par 70-course boasts a 1200-tree forest and a gorgeous 37-foot waterfall at the 18th hole.  And as if taking one's breath away isn't enough, Wynn Golf Club also spoils you silly with professional caddies and complimentary clubs by Callaway and shoes by Foot Joy.
Wynn Las Vegas offers meticulously designed rooms with ceiling to floor glass windows for amazing skyline views
Opulence and high standards of excellence is everything at Wynn Las Vegas. Whether you choose to stay at the Resort Rooms or the Tower Suites, you will be surrounded by best-in-class facilities and carefully crafted décor. Attention to detail is what places Wynn Las Vegas in a completely different league. This is evident even in the smallest of things like the floral arrangements that perfectly accent the beautiful pastel shades of the walls.
Each suite is a work of art – classy furnishing, plush bedding and elegant Italian marble-floored bathrooms, fitted with dual sinks, soaking tubs and glass cage showers.
Situated above the 27th floor, Deluxe Resort Rooms feature over-sized marble baths, LCD TVs and bedside touch-screen curtains, lighting, room service and privacy controls. The exclusive boutique hotel, Wynn Las Vegas Tower Suites, range from the 640 square-foot Tower Suite to the extravagant 3224 square-foot Fairway Villa. These luxurious suites come with complimentary breakfast, twice daily house-keeping, concierge service, access to the private Tower Suites pool and panoramic views of the beautiful Wynn Golf Course or the dazzling Las Vegas Strip.
The exquisite Wynn Las Vegas Fairway Villa that lies along the Country Club is your private mansion in Las Vegas. These extravagant suites are designed to give you an intimate home-like feel. This is reflected in the massive living room with silk furnishings and superior quality upholstery typical of high-end homes. A private balcony with outdoor dining that overlooks the scenic Golf Course and the infinity-edged bathtub offers a relaxed alternative to the Vegas excitement.
Dine at some of the finest restaurants in Las Vegas
With options of fine dining, casual, vegan and healthy eating brought to you by world-renowned chefs, the collection of award-winning restaurants at the Wynn Las Vegas is sure to appeal to any palate. Book a table at Bartolotta Ristorante di Mare led by James Beard Foundation Award winning chef Paul Bartolotta for a night of Italian fine dining. Experience a true upscale golf club ambiance created by dark wood interiors, high quality leather chairs and a serene view of the Wynn Golf Course at The Country Club – A New American Steakhouse. For an unforgettable night of delectable dishes with 'ocean-to-table' fresh fish, oven-roasted lobster and a romantic view of the Lake of Dreams, head to Lakeside Seafood. Wynn Las Vegas also houses Wing Lei – the first Chinese restaurant in the country to be awarded a Michelin Star, Mizumi – led by Chef Devin Hashimoto who was named 'Best Chef on The Strip' by Vegas Seven and SW Steakhouse – one of only three restaurants in USA that offer certified authentic Kobe beef.
Celebrate the spirit of the city at the bars and lounges of Wynn Las Vegas
Wynn houses Parasol Up, Parasol Down and Tower Suite Bar – three exclusive lounge bars, each unique in taste and feel but all equally elegant. Sip a quiet signature cocktail prepared with fresh ingredients and surprise herbs or enjoy it against the backdrop of the stunning Lake of Dreams. The Lake with its 40-foot waterfall comes alive after sundown with multi-color imagery and a dazzling show of light and music. A drink on the terrace of Parasol Down at the water's edge is highly recommended.
The swanky Wynn Las Vegas must really been seen to be believed.
It is no surprise why Wynn Las Vegas holds more Forbes Travel Guide Five Star awards Wynn Las Vegas than any other independent hotel company in the world and was named among the top 100 hotels in the world for the sixth year in a row on Condé Nast Traveler's Gold List. A true engineering marvel, Wynn Las Vegas is also a fine example of the artistic beauty that comes from attention-to-detail and a dedication to offer only best-in-class service.