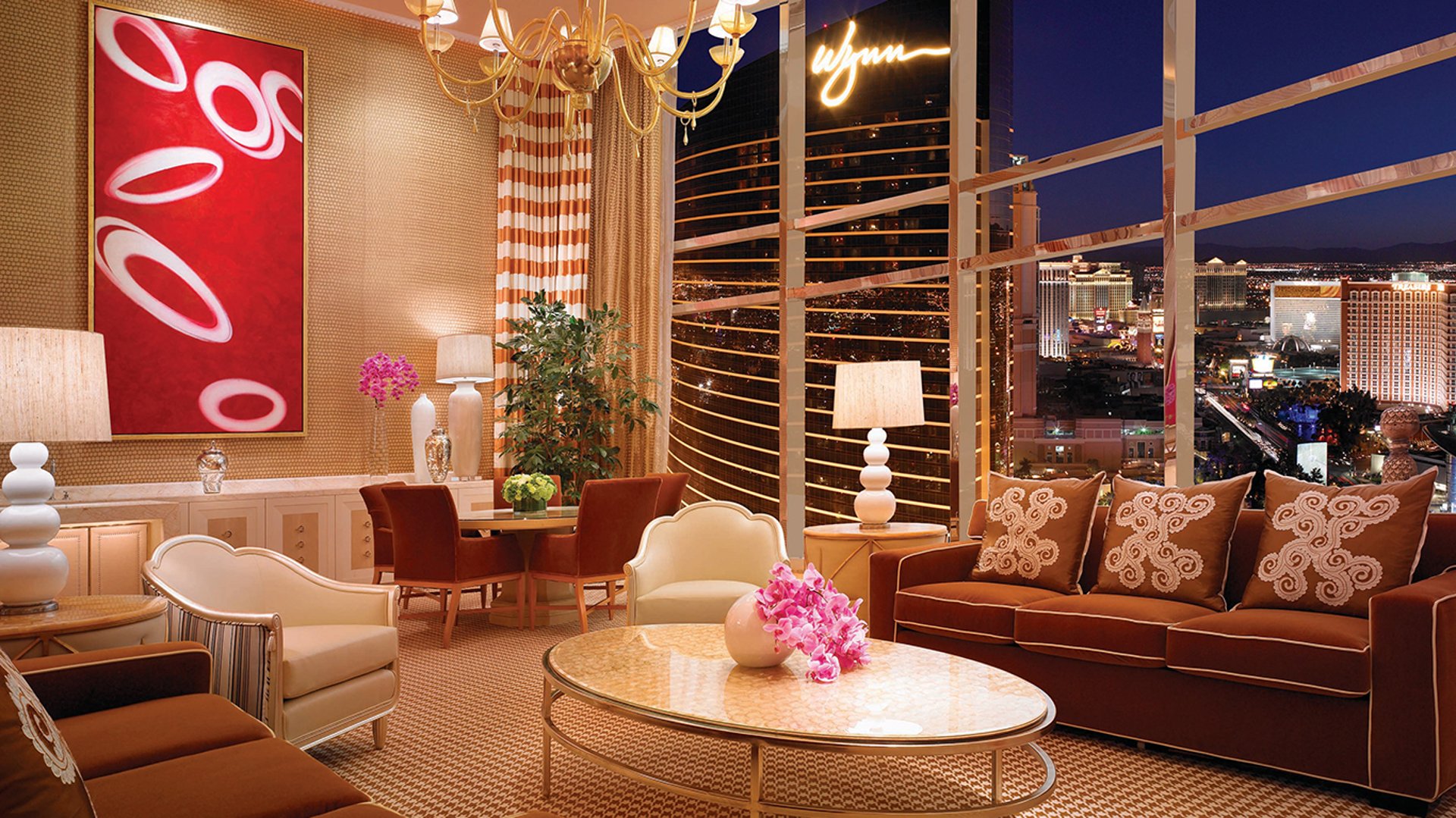 Suiteness BlogThe Best Las Vegas Bachelorette SuitesWritten by Divya MulanjurPublished October 26, 2015
The only place to book connecting hotel rooms and suites. Here's how.
There is no better place than Las Vegas for a great bachelorette party. Kick off in a fancy suite, stylish enough for your entourage (and economical when booking for a large group), catch a show and head out to an after-hours nightclub to party all night. Simple and obvious.
But turning a great party into an unparalleled, unforgettable experience is just a matter of finding the right suite and planning a night tailor-made for the bride-to-be. Here's our list of top five Las Vegas bachelorette party suites, each customized to the unique tastes and personality of the bride-to-be. Because when it comes to options, Las Vegas never disappoints.
The Best Suites For Your Vegas Bachelorette Party
Planet Hollywood – for the Hollywood fan
Its lights, camera, action, glitz, and glam at Planet Hollywood. Party like a movie star in one of Planet Hollywood's spectacular suites. Choose from the Hollywood themed Planet Hollywood Panorama suite, the 1800 sq-feet, bright & classy Ultra Boulevard Suite or the glamorous Apex suite with Strip view for a lounge-style living area, the PH experience is hip and modern. The ultimate Vegas bachelorette abode is the PH Bay Spa suite. This two-bedroom suite has a whole level dedicated to a star-studded spa experience with a swirling staircase leading down to a large whirlpool tub overlooking the Strip. We don't see why you would want to get out to party! While choosing your suite on Suiteness, here's a tip – compare pricing for a connecting suite vs a regular two-bedroom suite – in most cases, the connecting suite option turns out cheaper.
While you're here, turn that girl power up by catching a headlining performance by Britney Spears or Jennifer Lopez. Or head to the popular Miracle Miles shops – a 1.2-mile retail haven, featuring 170 stores and 15 restaurants. And if this all-in-one ladies getaway experience doesn't feel complete, relax with a Balinese treatment at the Planet Hollywood Spa by Mandara. Rest assured, this Las Vegas bachelorette party will be remembered for ages.
Rio All-Suites Hotel & Casino – for the total party girl 
Inspired by the carnival city of Rio de Janeiro, Rio Las Vegas is perfect a Vegas bachelorette fiesta. Stay at one of Rio's over-sized suites, an economical option for a big entourage and plan the "Ultimate Girls Night Out Experience" by heading to watch the hot men of Chippendales – the bachelorette party package even includes accommodation and transportation to and from Chippendales. Rio Las Vegas also houses VooDoo Rooftop Nightclub, Vegas's best after-hours nightclub, on the 51st floor. Plan dinner at VooDoo Steakhouse and party late into the night at the nightclub that offers one of the best panoramic views of Sin City. We highly recommend staying in the VooDoo collection suite at Rio – nothing says epic bachelorette like a rooftop pool-party on your own private Las Vegas balcony.
Encore at Wynn Las Vegas – for the lover of fine things
If the bride-to-be is a sophisticated woman of fine taste and a flair for luxurious living, then chances are, her idea of a bachelorette would be to unwind with the girlfriends. If Las Vegas is your destination of choice, we know you're looking to have the time of your life with over-the-top luxury and extravagance – the 3,475 sq. ft. Encore Apartment is as stylish and spacious as they come. The stunning suite is equipped with a private massage room, a butler's pantry, grand living room, and a dining area with wet bar and buffet seating. All that and the suite still retains a luxuriously intimate feel. Another option at Encore is one of the Tower Suites – some of the most beautifully designed suites in Sin City. The service at Encore is top-notch and the staff really know how to pamper you, starting with twice daily housekeeping But one of the top reasons this is one of our favorites is because of the piece of heaven that they call a spa. The Forbes Travel Guide Five Star award-winning spa at Encore is a stunning work of art, featuring designer treatment rooms and garden villas and is the perfect getaway to unwind and recharge before getting ready to take the plunge! With plenty restaurant options, dinner shows like the Lake of Dreams and ample opportunity for retail therapy at the Esplanade, Encore Las Vegas is the perfect end-to-end, luxury Vegas bachelorette party hotel.
Caesars Palace – for an iconic bachelorette with a touch of drama
Not only is Caesars Palace the embodiment of everything that is Las Vegas, the iconic hotel & casino also offers one of the best Vegas bachelorette party experiences. And as part of the Anthology Suites & Villas, you can choose from over 2000 luxury suites to party in. For a slightly theatrical and definitely epic bachelorette, consider the Forum Tower Emperor Suite aka, "The Hangover Suite". Classic decor and multiple sitting rooms with beautiful panoramic views of the Strip and private corners to lounge in make this suite a favorite among the ladies. Add to it the mood lighting and crystal studded chandeliers, and the party just reached royal levels of sophistication. And if you have your heart set on the Forum Tower suite, according to your party size, you can book a 2-bedroom suite for 4 guests, 3-bedroom suite for 6 guests, 3-bedroom suite for 8 guests or even a 4-bedroom suite for 10 guests.
Palms Place Hotel & Spa – for the love of color and reality
If the bride-to-be is looking for a truly epic getaway, then the 3000-sq foot, Real World suite at Palms Place Las Vegas is the way to go. Home to the cast of MTV's 'The Real World' during its Las Vegas season, nothing screams bachelorette like this pretty in colorful, jazzy suite that features a pool table, a full kitchen for those late night munchies, wet bar, and a unique communal bathroom with three neon-lit vanity areas, two shower stalls, two bathroom stalls, AND a Jacuzzi-style tub (oh yeah!!). This is THE ultimate in Las Vegas bachelorette party suites. Hit the Drift Spa for a peaceful, co-ed Turkish steam bath because you get 6 complimentary admissions and when you're all charged up, switch to party mode at the hotel's Ghostbar or Moon nightclub.
The Venetian Resort Hotel & Casino, Las Vegas
The 1,500 sq. ft. luxury abode, Prima Suite has it all – impeccable design, breathtaking Strip views, a gorgeous living room and dining area, a full-sized bar and a 200 sq. ft. Italian marble bathroom. And it is housed within the award-winning hotel, The Venetian. Home to Tao (one of the hottest nightclubs in Vegas where you can find a dedicated bachelorette coordinator) and the jaw-dropping Canyon Ranch Spa that also offers fitness classes, a 40 ft. climbing wall, and even a bridal lounge – there is a lot to do that's perfectly tailored for your bachelorette party. Looking for a great deal option for a large group? Consider the super economical Bella suite + Bela suite at The Venetian or the similar suite at The Palazzo where you get 4 queen beds and 2 sofabeds to comfortably sleep if you're a group of 8, or even 10.


BONUS
Greenwich Penthouse, The Greenwich Hotel, New York
To be honest, we think the Greenwich Hotel is a beautiful art gallery that you can stay in. Each suite is a work of art – uniquely crafted to offer guests an intimate home-like feel. While the hotel's most celebrated suite is the TriBeCa Penthouse, if you do not want to go the earthy minimalist way, the Greenwich Penthouse is perfect. The 2,000 sq. ft. penthouse is bright, elegant and feminine in a very classy way: our favorite feature is the gorgeous 30 ft Atelier windows. Rest assured, you will definitely want to Instagram every corner of this tastefully done luxury space! The suite provides standard amenities like free WiFi and a minibar, and a 60 minute spa treatment. Upon special request, the hotel even stocks the kitchen with groceries prior to your arrival! Don't forget to check out their luxurious underground pool and famous Japanese-inspired oasis called Shibui Spa while you're here.
E-Wow Suite, W South Beach, Miami
The answer lies in the name. 'Wow' just about sums up what you can expect from the glamorous E-Wow suite at W South Beach. The expansive 2,954 sq. ft. luxury suite can easily fit up to 6 guests. If you can tear your eyes away from the shell chandelier and elegant decor in ocean colors, you will notice impressive views through the glass balcony. The central location of the hotel in the heart of all South Beach action makes it perfect to party. Plus, with the E-wow suite, you get VIP perks, including a concierge, assured entry to the nightclub Wall, and a farewell gift!
Marvelous Suite + Fabulous Room, W Hollywood, Los Angeles
The Marvelous suite + Fabulous room is made for hosting and entertaining with a large living area. The connecting suite option is great as it comes with 2 queen beds so you get the space to accommodate 6 guests in total. One of the best hotels in Los Angeles to host a hip and happening bachelorette party, the W Hollywood is perfectly located in West Hollywood. You can relax poolside with cocktails or book a private cabana. Some favorite bachelorette hangouts nearby include relaxing at Voda Spa, brunch at Bagatelle LA, drinks at Tower Bar, and dancing the night away at Boulevard3. Or maybe even learn the art of seduction at Hells Belles Burlesque?
And here's the good news – finding and booking one of these fabulous luxury suites is no longer the challenge that it once used to be. All these fabulous suites and more are available online through Suiteness, so you don't have to worry about over-the-call negotiations. A handy tip is to look for connecting rooms so you can keep your entire entourage close and party together at a much lower price than you'd think! Suiteness even has a concierge service to help you with finding the best suite and even plan and book your entire itinerary. FOR. FREE. That's right! You're welcome, ladies.