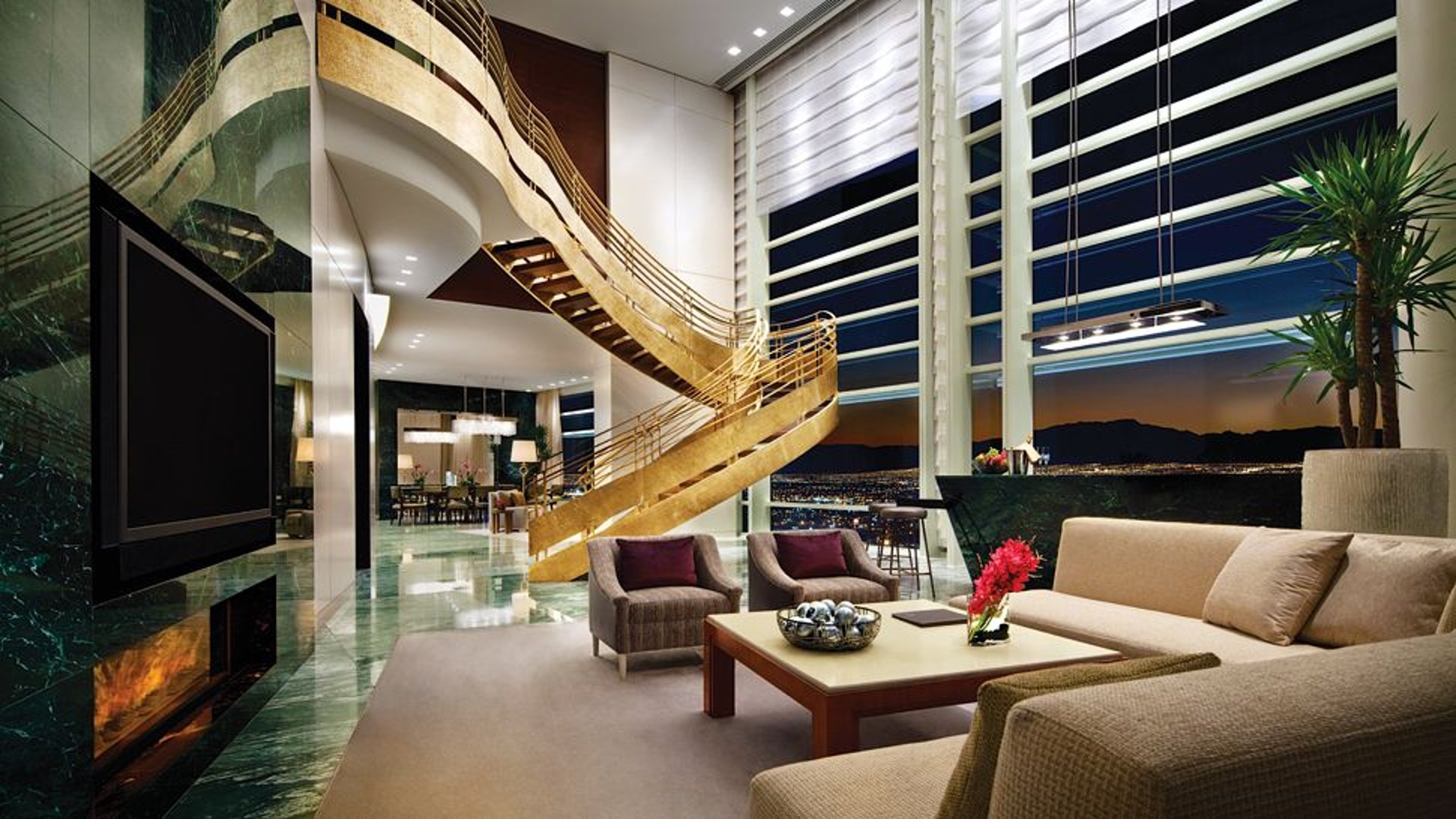 Suiteness BlogThe ultimate VIP suites for groups in VegasWritten by Divya MulanjurPublished September 16, 2016
The only place to book connecting hotel rooms and suites. Here's how.
If there ever was a city where people are eager to spend their money to experience VIP in all its glory, it is Vegas. Vegas undoubtedly offers some of the best options for throwing the most epic parties (bachelor, bachelorette, milestone birthday, wedding reception – any party all!). And we will come to that in a bit. But first, if you're looking for suites that can sleep your group of 6, 8 or even 10 friends, your answer is below. When we talk about a list of the best suites for groups in Vegas, we are looking at suites that are not just spacious but also geared for a party. Amenities like a billiards table, or an indoor pool and garden, a media room, a stocked bar – anything you might need. These are the absolute best luxury suites for groups in Vegas; because it is not a party without your whole entourage!
Best suites for groups in Vegas (size does not matter!)
As the experts in suites in Las Vegas, trust us when we say, there's always a Vegas suite perfect for you.

Suite for a family of 3-4?
The Panoramic Suite at Vdara (non-gaming and smoke-free) comes with 1 kind bed, a sofabed and rollaway beds on request.
Suite for 6-8 friends?
Go for the Wraparound Fountain View Terrace Suite + Terrace One Bedroom at The Cosmopolitan of Las Vegas. This one is a rare two-bedroom suite with balcony.
Suite for your entourage of around 10?
Sake Suite at Nobu Hotel with attached luxury queen rooms and luxury king room inside Caesars Palace is ideal for a group of this size with 2 king beds, 1 double bed, 2 queens, and 3 complimentary rollaway beds.
The perfect suite for 12!
The Nobu Penthouse at Nobu Hotel is two floors of class. Your group of 12 will be more than comfortable in this spacious suite of 5 bedrooms with 6 beds, a billiards table, a wet bar and private access to the pool. You can get the Nobu penthouse with fewer bedrooms for smaller groups.
The ultimate VIP party suites for groups In Vegas
And now, for the ultimate in epic bachelor party suites for groups in Vegas!
Yep, that really is a golden staircase in the suite living room! The Sky Villa at ARIA is a preferred bachelor/bachelorette party pad and you can stay in this a high-tech luxury suite for around $3,500 average a night. What you get is a work of art, with towering windows that look out to Sin City lights, as far as the eye can see, and one-touch in-room technology for just about anything – from lighting controls to reservations. The luxury amenities in the suite can totally spoil you – like a private access elevator, a huge spa-like bathroom that also offers panoramic views, and complimentary WiFi, a personal concierge, and access to the concierge lounge with food. The 2-bedroom Sky Villa comes with 1 king and 2 queen beds, so it can easily sleep, 6 people. There is also a 3-bedroom configuration that sleeps 8 guests or more!
Luxurious shades of gold accented browns and burnt orange complements the nude walls of the spacious 2-bedroom Bella View Suite. Part of Suiteness' exclusive collection of online suites with connecting rooms, the Bella View Suite + Bella View Suite at the 5-star Palazzo Resort and Casino is fabulous value for money. With 4 queen beds, the suite can comfortably sleep 8 people, and it also comes with a sofa bed! But it is not just about the space – a stay at a Palazzo suite is a VIP experience. Conveniently located right on the Strip next to The Venetian and other big resorts, the hotel has everything within walking distance. You can access the hotel's casino, the full-service spa, its fabulous restaurants, the Tao nightclub and the gorgeous pool. But the best part is, the suite is only around $1,070 average per night (sometimes even lower if booked in advance!)
The Nobu hotel might reside inside Caesars Palace Resort, but it has none of the over-the-top Roman influences. Completely inspired by a Japanese-themed decor, the Nobu Hotel is where you stay to escape the typical Las Vegas tacky glitz and enter a world of modern luxury.
The biggest of the suites is the Nobu Penthouse, designed to exude a certain sense of upscale ruggedness with a touch of zen. A spiral staircase leads you from the expanded living room with dining area to the second floor in this duplex suite. A billiards table, private pool access, a private terrace, and a wet bar, might be everything you need to stay entertained. But more importantly, you also get a VIP manager who can get you exclusive access to activities all over Vegas, and priority seating at the highly sought Nobu restaurant. The 3 bedroom Nobu Penthouse, at $6,500 average per night, comes with 2 king beds and 2 queen beds, and rollaway beds on request to easily sleep, 10 people.
3 bedrooms, 3 full bathrooms, 1 half bathroom, 4 beds and 6,000 square feet. Think that is one of your top options for suites for groups in Vegas? It should be – especially if you're looking at suites for 8 or more! LOFT living in Vegas with sweeping views of the city below is the obvious luxury you get for an average nightly rate starting from $7,000. But that's just the beginning! You can entertain your guests or host a party in the dining area, the huge living room, the billiard room or even on the second floor – there's just so much space! And of course, think about all those Instagram-worthy pictures in this Tony Chi designed living space 🙂
Speaking of Instagram-worthy pictures, Encore Duplex at Encore Las Vegas might just be one of the most beautifully designed suites for groups in Vegas. Floral accents and ambient lighting accentuate the rich, gold-tinted neutral shades on the wall. The 3-bedroom duplex suite can easily sleep 6, and the 3.5 bathrooms ensure no one is fighting for shower slots. The Encore Duplex is pre-built with everything you can dream of – wraparound floor-to-ceiling windows for spectacular views, a billiard room, a personal massage and exercise room, and a living area spacious enough to seat 16They've even thrown in a private elevator to the second floor, bedrooms with attached baths, and a butler's pantry into the mix! At around $7,500 average a night, this is your castle!
Do you have around $23,750 that you would like to spend on an average per night? Because we know just the suite! The ridiculously luxurious 3-bedroom Titus Villa at Caesars Palace can be booked online through suiteness.com and offers an emperor's life.
Every little detail in the 11,200 square feet British Villa is perfected to transport you to another world. Right from the dark-wood paneled billiard room, a full bar with a mirrored wall, and an elegant formal dining table set against the backdrop of a wall mural. You don't even need a spa to break away from the world and relax. The Titus Villa bathroom is what we imagine heavenly baths must be made of! A pink onyx bathtub sits on a marble floor so shiny that you can see the reflection of the semi-precious stone set, 24-karat hardware in it. And if you are in the mood for sharing this slice of luxury paradise with your friends, have them over for a get-together in the villa's 390 square feet private outdoor garden with patio and outdoor film screen.