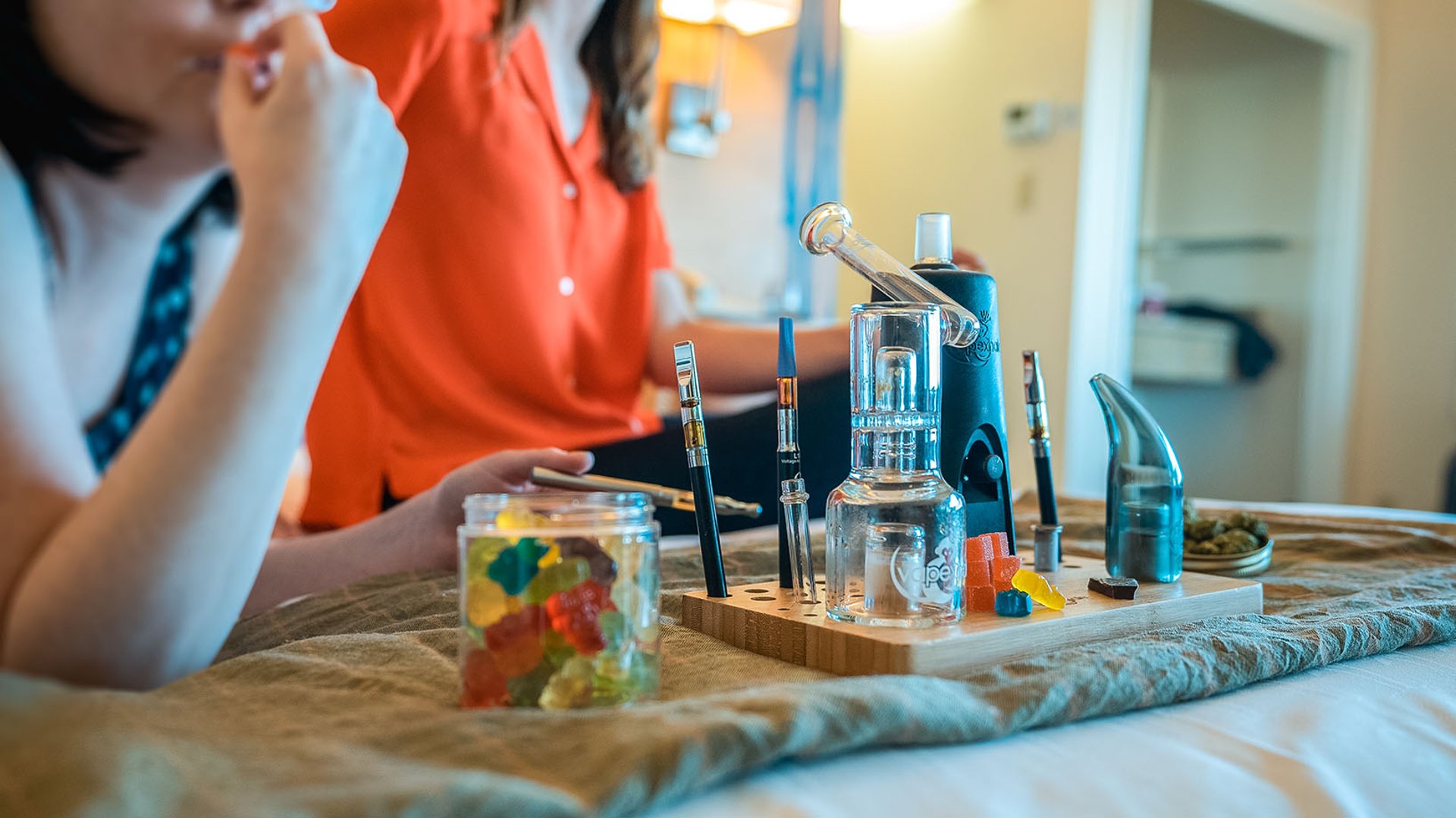 How to Get High in Los Angeles
The only place to book connecting hotel rooms and suites. Here's how.
When Dr. Dre and Snoop Dogg rapped "It's California love, this California bud" on "The Next Episode," Cali was still a long way off from legal recreational marijuana. In 2018, recreational weed shops in Los Angeles opened their doors and a new breed of pot culture was born, giving us cannabis flower crowns (perfect for Coachella), ganja yoga, and even stoner celebrity tours. We've got the scoop on the most herbaceous activities to do while you're in La La Land.
Hire a Dope Driver
Catch a ride from the airport with Weed Bus LA to start your trip off right. Let your driver brave the hellacious LA traffic while you enjoy the gratis vape pens that await in your stylish SUV. Your first stop will be a nearby dispensary, where you'll be hooked up with a 20% discount. If you have time to kill before you check in to your hotel, you can tack on a full city tour of LA.
Pro tip: You can rent a vaporizer from Weed Bus LA for use while you're in Los Angeles.
Walk to Dispensaries on the Westside
While you will want to rent a car in LA, it's against the law to drive under the influence of marijuana, so keep it safe and simple by staying in a walkable neighborhood with plenty of dispensaries. Los Angeles is divided by the eastside (generally any neighborhood east of downtown, including hipster enclaves Silver Lake and Echo Park) and the westside (closer to or at the beach, including Beverly Hills, Venice, and Santa Monica).
Bohemian and full of beautiful people, Venice is an excellent walking neighborhood with easy access to great restaurants, boutique shopping, and top shelf dispensaries. A few blocks from the beach, Rose Collective sources its cannabis from organic local growers and prides itself on patiently educating newcomers and out-of-towners. Nearby, Green Goddess Collective stocks a wide variety of product, including top-of-the-line flowers and non-psychoactive CBD, and displays a wall of 1920s black-and-white photos of Venice, so you can enjoy a little history while you shop. In the center of it all, on Venice's main drag Abbot Kinney, you'll find MedMen, a slick cannabis chain store (think 7-Eleven for weed) that stocks everything you'd need, but in particular an incredible selection of edibles.
Edibles are your best bet if you want to consume cannabis at your hotel. It's against the law to smoke pot in your hotel room—yes, any hotel room—but you should ask the hotel about its policies around marijuana as some allow vaping and other smoke-free devices or smoking on balconies. We love the colorful midcentury modern suites at The Kinney Venice Beach, the gorgeous ocean view rooms at Air Venice, and Hotel Erwin, which has a laid back rooftop bar aptly named High Lounge.
Pro tip: The Venice Beach Boardwalk has some of the best people watching in all of Los Angeles, and is a mecca for street performers from break dancers to mimes.
Hang Out with Tommy Chong
Long before Pineapple Express , Cheech Marin and Tommy Chong invented the stoner buddy comedy movie (if you haven't seen Up in Smoke , do that ASAP). At 80, Tommy Chong is still smoking weed, in particular his popular signature brand Chong's Choice, and remains a folk hero in the cannabis-rights community. Smoke with the man, the myth, the legend at GreenTours' Celebrity Tommy Chong's Love, Life & Smoke Tour. The four-and-a-half-hour tour includes a meet-and-greet and bake session with Chong where you'll munch on CBD-infused hors d'oeuvres, a visit to the grow facility that created the coveted strain Skywalker OG, and a glass-blowing demo as water-pipes, rigs, and other glass paraphernalia are made.
Pro tip: The sesh with Tommy Chong will include all the supplies you need to smoke like bongs and rolling papers, but it's BYOC (bring your own cannabis), which you can purchase on the tour when it makes a dispensary stop.
Eat a Cannabis Cake
Who says you need an occasion to eat cake, especially when it's laced with delicious marijuana. Cheba Bakery is LA's premiere cannabis baker, crafting cupcakes, brownies, cake pops, birthday cakes, chocolate-covered strawberries and more using lab-tested, extracted THC. The red velvet crumble cake looks divine, but if you want something for a smaller group, they make red velvet cupcakes as well.
Pro tip: Cheba Bakery will deliver direct to your hotel!
Stretch and Get Spiritual at Ganja Yoga
When you're an LA stoner, you have the added pressure to stay fit. Party and get physical at Ganja Yoga. Yogi Dee Dussault wrote the book on cannabis-enhanced yoga (called Ganja Yoga ) and she offers sessions at her Los Angeles home for up to four people—including poolside. Before and during the yoga session, there will be joints, vape pens, cannabis chocolate, and more passed around the group as Dee pushes you into deeper breath work, stretching, and meditation. If you're planning a girls' trip to LA, Ganja Yoga will please the stoners and gym rats alike (there's no pressure to enhance your yoga session, weed is optional).
Pro tip: Stoner couples will love Dee's cannabis-enhanced Tantra Partner Yoga, which includes giving each other a cannabis-infused oil massage.
Dine at a Cannabis Supper Club
The most exclusive table in LA isn't at a restaurant, it's at a cannabis supper club pop up. Every Thursday, Friday, and Saturday in Venice, Bull & Dragon hosts The Herb Project, a seven- to nine-course marijuana-infused dinner. Chef Aaron Ziegler, who was previously the executive chef for Wolfgang Puck's catering business, serves farm-to-table produce and grass-fed organic meats that will make up for all the churros you ate on the Venice Beach Boardwalk.
Pro tip: Book a hotel suite with a dining room and host your own private cannabis feast. PopCultivate, Elevation VIP Cooperative, and LA HOJA will create a custom menu designed to fill your belly and feed your head.
Know Before You Go
Bring your ID as you must be 21 years of age or older to buy legal marijuana. You can't light up just anywhere, in fact, it is illegal to consume cannabis in almost any public place—with the exception of a handful of cannabis lounges in the United States. The few places that do allow you to publicly consume are almost all BYOC (bring your own cannabis), due to laws restricting the simultaneous sale and consumption of marijuana. Most dispensaries carry a variety of products, including dried marijuana — aka flower, bud, or leaf; edibles; hash tinctures; concentrates; hash and CO2 oil; and topical treatments. If that sounds confusing, a budtender can point you in the direction of what's right for you depending on your experience, tolerance, and desired effect. The amount of flower you can buy is limited, usually to an ounce (that's a lot!), but you should only purchase what you can use if you traveled by airplane—it's illegal to cross state lines with cannabis products even if you're flying to a state where it's legal.
More 420-Friendly Cities