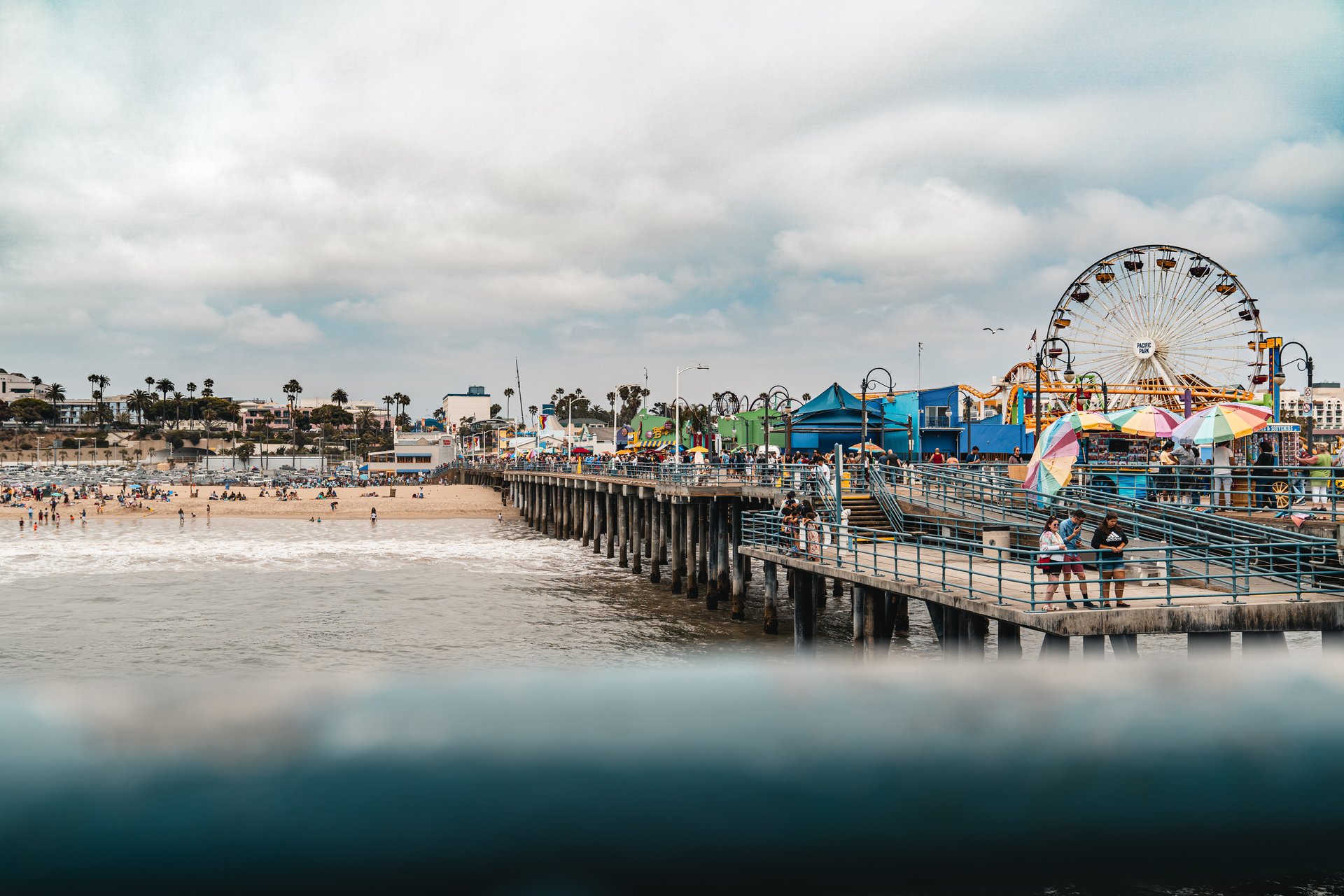 Los Angeles Attractions
The only place to book connecting hotel rooms and suites. Here's how.
Los Angeles Attractions
Los Angeles has more than a handful of things to see while visiting, from architectural landmarks to historic remnants of the Hollywood Golden Age, and major attractions like Universal Studios. Whip out your camera and pull out your comfortable sneakers, there's a lot to see.
Sightseeing in Los Angeles
Griffith Observatory | Griffith Park
We'll start with a view from the top. This stunning Art Deco structure is a favored spot for tourist and locals alike. Watch the sun burn away beyond the vast city view, or explore the halls inside to find a high-tech Planetarium and a Tesla coil and seismograph in the basement. Add to the experience by taking the observatory's entrance onto the hiking trail towards the famed Hollywood sing.
Walt Disney Concert Hall | Downtown
Designed by Frank Gehry, the concert hall opened in 2003 and serves as the fourth hall of the Los Angeles Music Center. This architecturally stunning concert venue is home to the Los Angeles Philharmonic orchestra and the Los Angeles Master Chorale. Its sheer size and impressive design make it a major Los Angeles landmark, and well worth the visit. If you have enough time, don't miss an opportunity to sit in for a show.
Venice Canals Walkway | Venice
Conceived by developer Abbot Kinney as the potential cultural center, dedicated to the fine arts and boasting canals, gondolas, and imported Italian gondoliers. The gondoliers are gone, but the canals remain one the most beautiful places in Los Angeles. This winding pedestrian walkway unravels as a series of picturesque walkways that curve in arches over the Venice waterways. Along the road, you'll find moored paddle boats, landscaped gardens and varying displays of architecture. This beautifully charming landmark is a local and tourist favorite.
Hollywood Sign | Hollywood Hills
A necessary tourist trap, making a pit stop to catch a few shots of the Hollywood sign is an absolute must for anyone visiting the city. And don't be surprised to find some locals ogling around too. There are many places to catch a good glance of the sign, but the ideal spot is probably from the top of Runyon Canyon. Take up the hiking trail and put in a good workout while enjoying sweeping views of the city and, of course, the iconic sign.
Beverly Hills | Los Angeles
While in the business of necessary tourist traps, you can't not do the Hills. The true purveyor of LA's oft-noted movie-like opulence, Beverly Hills is an icon of star-studded wealth, where designer retail stores, celebrity mansions, and beautifully towering palms line down the streets in a seemingly flawless fashion. Do be ready to hear credit cards screech away down the famed Rodeo Drive boutiques.
Santa Monica Pier | Santa Monica
This iconic location is a century old landmark and is packed with more than a few spots to see and enjoy. On the pier, you'll find the family amusement park, Pacific Park, and a state-of-the-art, solar paneled Ferris wheel. You'll also find the Santa Monica Pier Aquarium, numerous shops, video arcades, bars, and restaurants. Not the mention the nearby Santa Monica Beach, a trove of golden sands and a lively atmosphere that plays host to outdoor concerts, movies, and many other family-friendly activities.
Venice Boardwalk | Santa Monica
No more than a handful of minutes away you'll find the famed Venice Boardwalk. Boasting a different crowd that the neighboring Santa Monica, the boardwalk is a dazzling scene of carnivalesque energy, fire-spitting street performers, local artists, and bohemian crowds that lend it an electrifying sense of energy. Along the boardwalk, you'll find a number of lively pubs, restaurants, quirky shops, public shows, and the beautiful Venice Beach.
Hollywood Walk of Fame | Hollywood
An obvious surprise, the iconic Hollywood Walk of Fame is one of LA's major landmarks. Stretching down Hollywood Boulevard, this albeit slightly "over-hyped" attraction, is still worth seeing for anyone looking to get the full breadth of Los Angeles' major sightseeing. Snap a few pictures with your favorite star, take a stroll down the boulevard and perhaps grab a bite at one of the many places to eat.
Rodeo Drive | Beverly Hills
Known the world over as an epicenter of high-end fashion of star-studded fashion venues, Rodeo Drive is another major Los Angeles landmark. Besides the array of beautiful designer boutiques, this famed shopping street is lined with grand palm trees and the overhanging mountainous horizon of Los Angeles. It is hard not to get lost in the opulent glamor of Rodeo Drive, and enjoy a great stroll on a sunny day. When you've tired of visiting, browse around one the many restaurants for an amazing lunch.
Universal Studios Hollywood | Studio City
Perhaps one of the more obvious Los Angeles attraction, the renowned theme park is home to a plethora of thrilling rides, roller coasters, live shows, and the now popular Wizarding World of Harry Potter. Guilty fun for adults and kids alike, the park also gives guests a chance to tour the Warner Brother Studios. With different offerings that range from VIP entrance and soundstage tours to general admissions and live-action tours. There is a lot to do in Los Angeles, but if you have the time, the park is a fun way to spend the day.
Updated 4/4/23