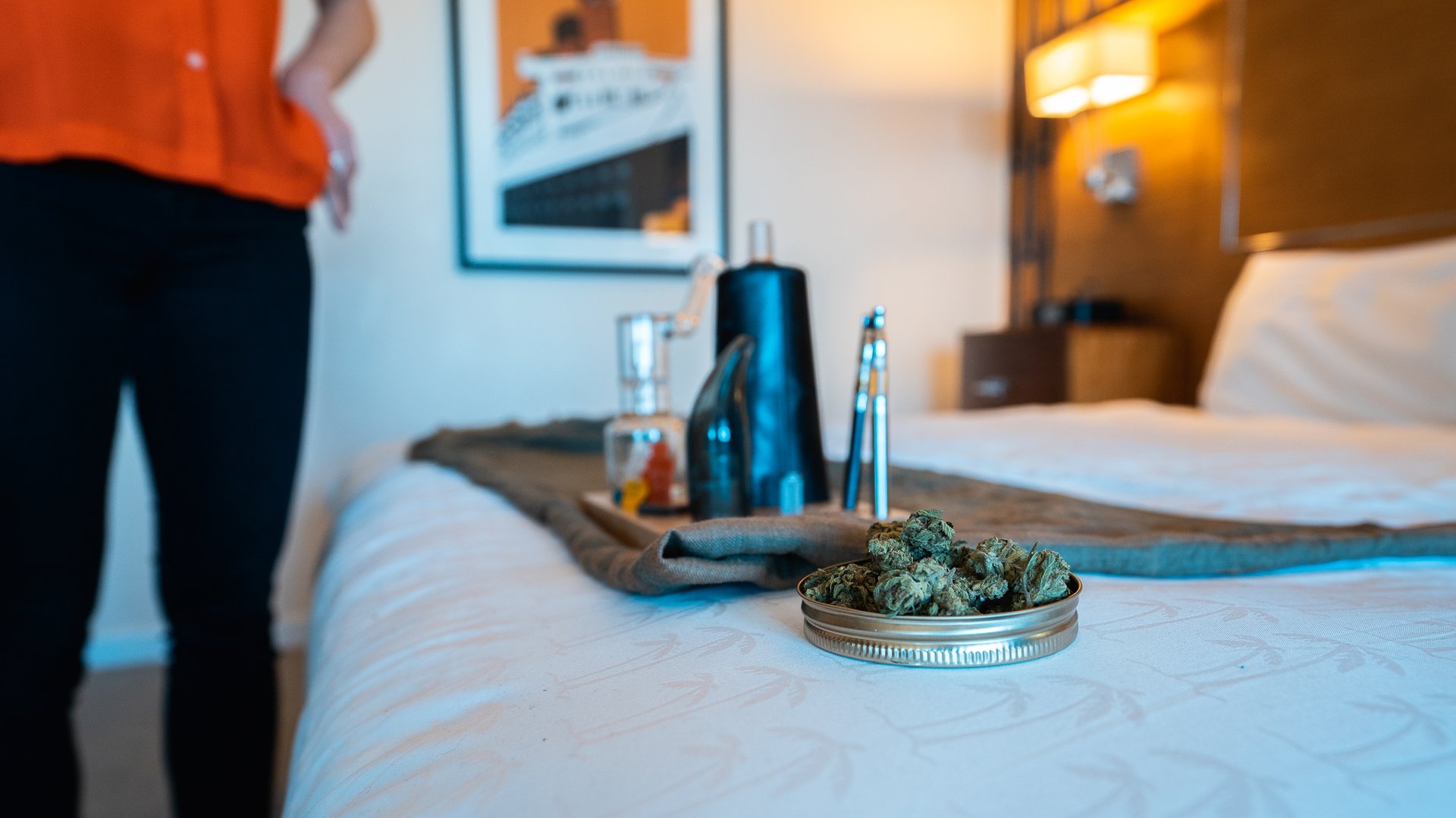 How to Get High in San Francisco
The only place to book connecting hotel rooms and suites. Here's how.
The birthplace of the Summer of Love was also the first city in the United States to form a cannabis legalization initiative (in 1964). It took until 2018 for legal recreational marijuana to become a reality, and today San Francisco is home to the most cannabis consumption lounges in the United States. It's currently the only city where you'll find an Amsterdam vibe with the ability to buy and smoke marijuana in the same shop. Live your best stoned life in the City by the Bay with our tips on how to make the most of your trip.
Walk to Cannabis Lounges in Downtown SF
The most popular neighborhood for San Francisco tourists, downtown/Union Square, is also the best for legally getting high. Even though it's legal to buy weed, it's not legal to smoke it just anywhere (see Know Before You Go, below)—including your hotel room. Stay near the action by booking a hotel room close to the cool cannabis lounges, so you always have a safe spot to smoke.
Some of our favorite downtown San Francisco hotels include the hip and pet-friendly Hotel Zelos , whose bar Dirty Habit serves excellent craft cocktails, and Hotel Zeppelin, which has a game room where you can play shuffleboard, billiards, skee ball, or mini basketball.
Your first stop should be Barbary Coast, a dispensary and lounge that allows vaping and smoking. Named after San Francisco's red-light district during the second half of the 19th and early 20th centuries, Barbary Coast has a vintage speakeasy aesthetic, full of red leather and dark hardwood. It's classy, clean, and perfect for travelers finding their legal weed sea legs. There's a dab bar, where you can vape weed concentrates, and a lounge where you can smoke flowers (but absolutely no tobacco products). The lounge supplies complimentary smoking utensils upon entry, from bongs to vaporizers to rolling papers. Barbary Coast's lounge has a 30-minute time limit, but you can continue your weed walking tour at The Bloom Room's 's vapor lounge and, further down Market Street, Moe Greens with a massive lounge dedicated to smoking and vaping.
Pro tip: These lounges value privacy and if you start snapping photos for the 'gram, you'll be asked to put away your phone. Even talking on the phone is a no-no.
Hire a Dope Driver
Start your trip to San Francisco off with an airport pickup from a local who knows all the cool cannabis joints. California Cannabis Tours offers transportation from San Francisco International Airport that includes a stop at a dispensary with special discounts. This isn't a novelty, magic bus type of ride that will make you stand out—you'll be chauffeured in a luxury limousine or SUV.
Pro tip: You can ask California Cannabis Tour to bring a vaporizer to rent while you're in the Bay Area.
Take a Sound Bath
After you find some weed that melts your pain away, head to Audium to melt your ears. Since the mid-70s, Audium has tripped out audiences with its soundproofed room full of speakers that play a collage of introspective and psychedelic electro-acoustic sounds in complete darkness. If this seems vague, it's because this experience isn't easy to put into words, but trust us that you need to go. It's such a stoner spot that it's common to find attendees passing a joint outside before the show. The performances take place every Thursday, Friday, and Saturday at 8:30 p.m., and you can buy tickets online or at the door.
Pro tip: Audium is cash only if you buy tickets at the door. Best to buy in advance as the 49-seat theater quickly sells out.
Go on a Mission District Taco Crawl
San Francisco's Mission District is full of amazing taquerias and dank weed. La Taqueria serves the most celebrated tacos in town, which is why there's often a long line, but it's worth it for the crispy super tacos. For delicious street tacos with meat options like cabeza, lengua, and cochinita pibil, head to Taqueria Vallarta and save room for the pupusas and elote (Mexican-style corn). Pancho Villa has one of the most substantial salsa bars in the Mission, perfect for topping their tacos, which have more than a dozen meat options plus plenty of vegetarian and pescatarian choices. Before your taco feast, hit up the lovely lounge at Harvest, which allows smoking, vaping, and dabbing, and in between taquerias, check out mainstay Mission dispensaries The Green Cross and Medithrive.
Pro tip: Some of the above taquerias and dispensaries are cash only, but there's an ATM at 16th and Mission, right by the BART station.
Find Your Thrill on Hippie Hill
Mingle with the ghosts of Janis Joplin and Jerry Garcia at Golden Gate Park's Hippie Hill, a stoner gathering spot since the 1960s and the site of the wildest pot parties every year on 4/20. Even if you're not visiting on April 20, you'll find weed lovers regularly gathered at this meadow and sloping hill between the Conservatory of Flowers and Haight Street, at the eastern end of the park. You'll be mesmerized by this counterculture throwback, which attracts musicians, artists, and the occasional drum circle.
Pro tip: If you go to Hippie Hill for the 420 festival, you'll find a pot-smoking free-for-all where the "no consuming marijuana in public" rules don't apply, but use good judgment if you're visiting any other day of the year as it's still technically illegal and you could get a citation and be fined.
Get a CBD-Infused Massage
After all the walking you've done in SF (cause driving stoned is illegal), head to Hayes Valley—an excellent shopping neighborhood with great restaurants—and soothe your tired limbs with a CBD massage at Earthbody. CBD (short for cannabidiol) is one of more than 100 chemical compounds found in the cannabis plant and, unlike THC, this one doesn't get you high. CBD works wonders for pain, inflammation, and tension, making it perfect for massage. Using CBD body oil, Earthbody offers two different full-body massage options, one to soothe and one that promises to lull you into a deep sleep.
Pro tip: If you'd like to give your body a CBD tingle and never leave your hotel room, head to Sava and order the Papa & Barkley Releaf Soak CBD/THC bath salts to be delivered to your door. Run a warm bath and feel your cares float away. This soaking tub at the Palace Hotel's King Suite looks so relaxing.
Pair Wine and Weed
You can't visit the Bay Area without a stop in wine country, and it's even better when paired with cannabis. Happy Travelers Tours takes you to the vines and plants on its Wine-and-Weed tour, which features a stop at an outdoor grow site—where you can manicure a bud, process it for rolling, and then smoke it—as well as a visit to a marijuana retailer and a winery in the Sonoma Valley. You'll also taste wine and compare cannabis flowers, looking for similarities in aroma and complexity.
Pro tip: If you've ever been cross-faded (drunk and high at the same time), you know it's dangerous territory. Book a room in Sonoma if you don't want to designate (or hire) a driver to get you back to San Francisco.
Know Before You Go
Bring your ID as you must be 21 years of age or older to buy legal marijuana. You can't light up just anywhere, in fact, it is illegal to consume cannabis in almost any public place—with the exception of a handful of cannabis lounges in the United States. The few places that do allow you to publicly consume are almost all BYOC (bring your own cannabis), due to laws restricting the simultaneous sale and consumption of marijuana. Most dispensaries carry a variety of products, including dried marijuana — aka flower, bud, or leaf; edibles; hash tinctures; concentrates; hash and CO2 oil; and topical treatments. If that sounds confusing, a budtender can point you in the direction of what's right for you depending on your experience, tolerance, and desired effect. The amount of flower you can buy is limited, usually to an ounce (that's a lot!), but you should only purchase what you can use if you traveled by airplane—it's illegal to cross state lines with cannabis products even if you're flying to a state where it's legal.
More 420-Friendly Cities