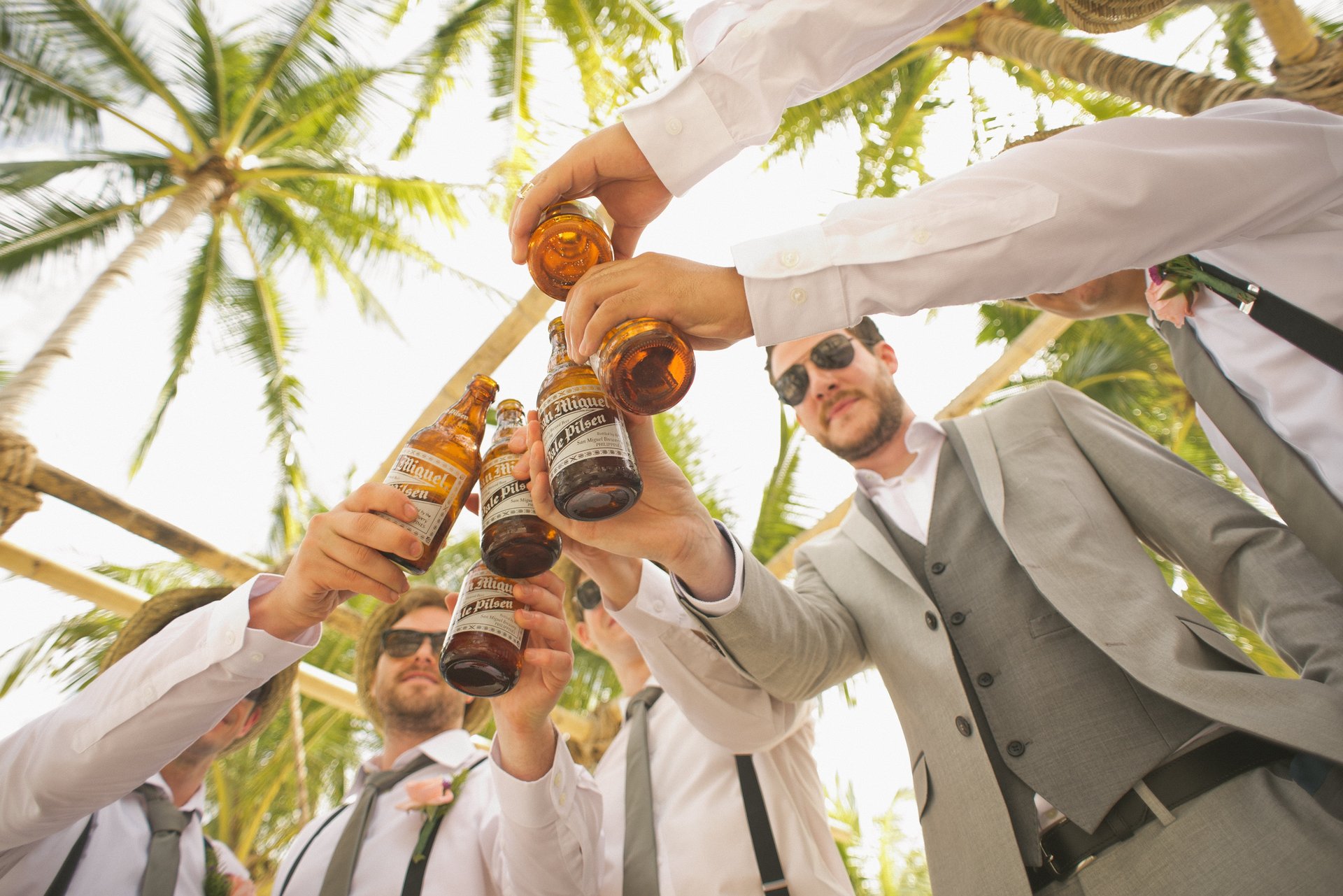 San Francisco Bachelor Party
The only place to book connecting hotel rooms and suites. Here's how.
San Francisco Bachelor Party
Planning Your Bachelor Party in San Francisco
Even if you've never been to San Francisco, you probably know what the city looks like. That's because it's one of the most beautiful and iconic cities in all of America, with the Golden Gate Bridge, Alcatraz Island, Painted Lady houses and so much more on offer. San Francisco stands out in countless ways: its sustainable dining scene is unrivaled, it has excellent sports teams, there are stunning natural sites and the people there are down-to-earth and friendly. If you want to plan your bachelor party in a city that literally has something for everyone, San Francisco is a great bet.
How to Get Around San Francisco
Fly to San Francisco
San Francisco is easily reachable by air. Most people fly into SFO, the city's main international airport. If you fly into SFO, you can take the BART AirTrain into the heart of the city. The airport also has taxis and private shuttles to hire. While SFO is a popular arrival option, there are two other airports that are close by: Oakland International Airport and Norman Y. Mineta San Jose International Airport. If you fly into Oakland, you can also get into San Francisco via the BART train. If you fly into San Jose, there are several options for getting into the city, including the BART Rapid Rail, the Caltrain Commuter Rail and the SamTrans Public Bus Service.
Getting Around San Francisco
Once you've arrived in San Francisco, it's a pretty easy town to navigate, and there are lots of public transportation options. The BART train is San Francisco's version of the subway, and it stops in many of the city's most popular areas. The city also offers the Muni -- a bus and cable car system that operates throughout the city. Of course, if cars are more your thing, the city offers taxis, Uber, and Lyft.
Where to Stay for Your Bachelor Party in San Francisco
Book a Suite in San Francisco
Guests coming to the Bay Area for a bachelor party will want to book a hotel suite in San Francisco. Suiteness' exclusive two and three bedroom suites are great options for bachelor party groups because it allows all guests to stay together. How? Connecting suites and rooms offer the space of a penthouse or regular two/three-bedroom suite -- but at a fraction of the cost. Suiteness' connecting suites are like having the space and privacy of a vacation rental, along with the comforts and service of a hotel. It's easy to book an awesome hotel suite in San Francisco since there are so many great hotel options. One of the best options is the Argonaut Hotel. The hotel is within a five-minute walk of attractions Pier 39 and Ghirardelli Square, and it has seven different suites that parties can take advantage of. Another great hotel with suites is the Clift San Francisco, which offers guests five different suites. Located just off of Union Square, the Clift offers easy access to the best attractions of the city, as well as an in-hotel bar that's known for complex cocktails, the Redwood Lounge. If you would like more options, check out our inventory for two-bedroom suites in San Francisco that can accommodate your group or ask for recommendations from your complimentary Suiteness concierge.
Things to Do in San Francisco for Your Bachelor Party
Guests who come to San Francisco for a bachelor party getaway will not have any trouble filling their days with awesome stuff to do. Head to the Fisherman's Wharf for a fun, waterfront play-land of restaurants, shops, and views. If you're into culture, San Francisco's Chinatown won't disappoint. There are authentic shops, restaurants, and markets filled with goods straight from China -- and you can hear a huge range of languages being spoken on the street. One of the most popular things to do in San Francisco is to visit Alcatraz Federal Penitentiary. The former prison is on an island in the middle of the bay, and it used to house some of the world's most dangerous criminals. You get to take a ferry to get out to the island, so you'll have some spectacular views on the way.
There's plenty to do in San Francisco and the Bay area. Try one of the manyhiking trails in the Bay Area. If you're a first timer in the city, visit some of the most popular attractions in San Francisco. If your group is outdoorsy, then you might want to choose from one of the top things to do in San Francisco to enjoy the beautiful weather
.
Where to Eat and Drink in San Francisco During Your Bachelor Party Getaway
San Francisco has an outstanding dining scene. If you're looking for an upscale meal during your bachelor party weekend, check out Gary Danko, a legendary fine dining spot serving up inventive dishes with fresh ingredients. If you're looking for something more casual, try Mission Chinese Food. It's a hip Sichuan eatery that is famous for having spicy plates in a fun, funky atmosphere. Finally, if fresh, sustainable dining is your thing, there's nowhere better than The Perennial. Nearly every detail in the restaurant -- from the food to the decor -- was produced in a sustainable way.
If drinking will be the focus of your weekend, San Francisco has a roster of bars that never disappoint. Head to SOMA (or South of Market) neighborhood for a huge selection of watering holes that serve up craft cocktails, homemade brews, and cheap shots. Two of the city's most popular bars are here: Bourbon and Branch, a speakeasy bar, and Smuggler's Cove, a traditional bar with a fun tiki and pirate theme. San Francisco is also known for having several breweries in town. If you want to taste small batch craft brews, check out Speakeasy Ales and Lagers, Cellarmaker Brewing Co. and the San Francisco Brewing Co. Tap Room.
Where to Party in San Francisco
If you don't just want to sit around and drink cocktails, you can find plenty of exciting nightlife around the city where you can dance, meet new people and have a blast. For great music and dancing, Monarch is a popular spot. It's two levels with multiple bars -- plenty of space for everyone to have a great time. Audio Discotech is a nightclub for people who love music and design. The nightclub attractions some of the best DJs from across the world, and people party there seven nights a week.
If you're planning to book suites for your bachelor party in San Francisco, consider using Suiteness, because they offer a helpful and free concierge to all bookings. The concierge can help you arrange fun things like dinner reservations, show tickets, and special requests in-suite, which makes your trip as enjoyable and stress-free as possible.