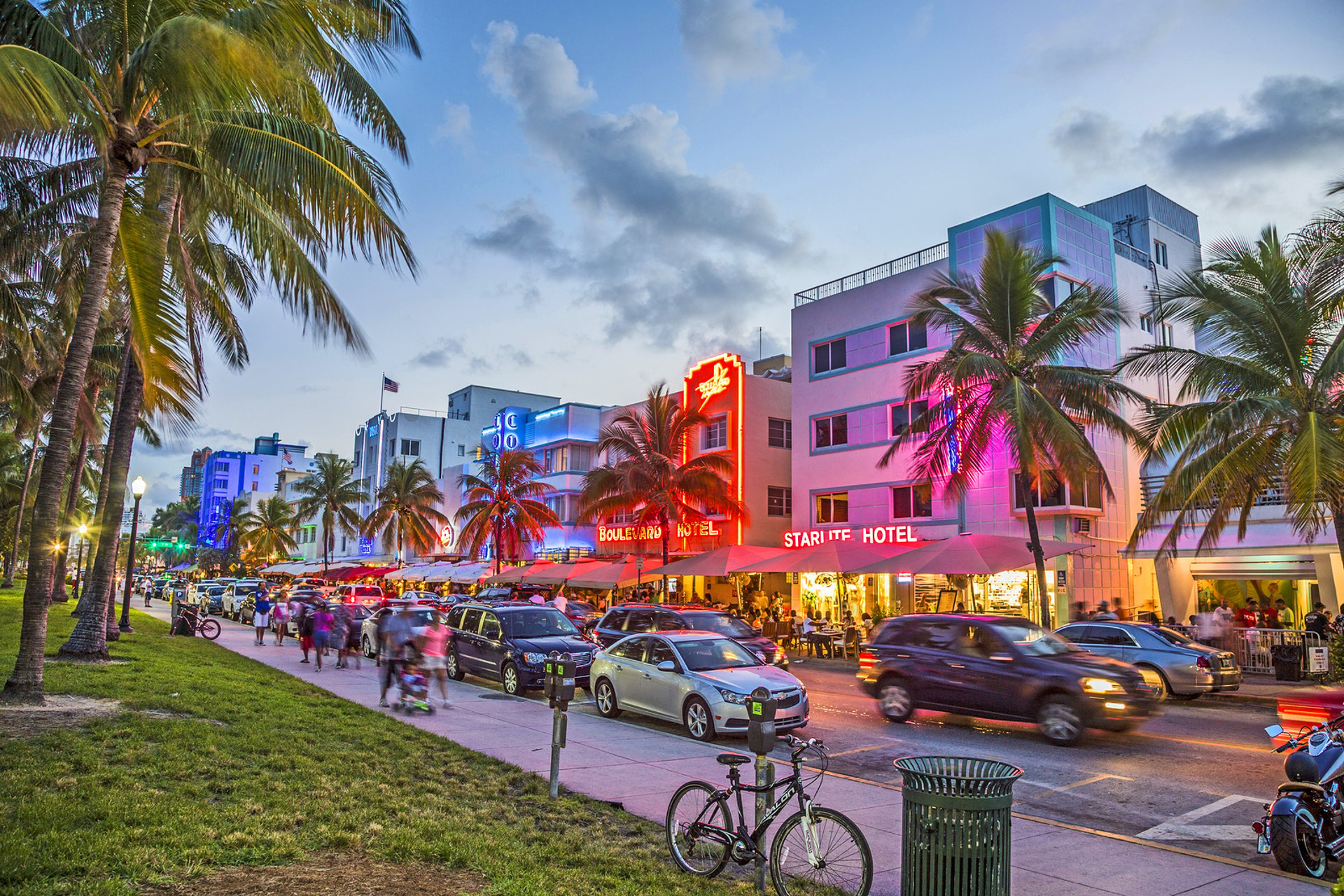 Things to do in Miami
The only place to book connecting hotel rooms and suites. Here's how.
As it happens in big cities, especially one with as diverse a range of opportunities as Miami, there's a number of things to do. Each different from the next, so there should be something to find no matter what you're into. From shopping to the art Deco District, or pedaling out to Key West for Hemingway's old home.
Best Things to do in Miami
Venetian Pool | Coral Gables
Sure it's not like Florida is short on natural pools, but this particular one boasts an Italian villa's facade built into its quarry. Making for what is arguably the most beautiful natural pool in the country. Call it glamorized nature, but we thought you'd enjoy an invigorating splash and a more local experience. We're not joking about the invigorating thing, the water is glacial, crisp and clean. Good for groups, great for families, but beware of crowded weekends and aquatic aerobics.


Haulover Sandbar | Biscayne Bay
We did say you'd need a boat to see it all, so charter one and post up at Haulover Sandbar for an all day party. Locals and tourists alike drop anchor up on the inlet near Sandspur Island, also known as "beer can island" (try not to contribute to this name please). Besides the blues of Biscayne Bay, you'll find a slew of partygoers, families, pristine shallow water, and some floating food trucks, should you crave a hotdog.
South Pointe Park | Miami Beach
The popular park is a local favorite and a great spot for parents looking to relax and spend a fun day out with their kids. There's a small cafe with an open terrace where you get some snacks and drinks, before heading out to laze on the grass while your kids splash around the park's small waterpark. Additionally, the park boasts great panoramics of Downtown Miami and Biscayne Bay, as well as a newly renovated pier where you can drop by for quick dip in the ocean.
Dining in Riverside | Riverside
A less crowded option than the more touristy scene at South Beach, this local spot has seen a fair share of award-winning restaurants and bars pop up here in the last 10 years. And given the close proximity to the Miami river, it makes for a cozy option in terms of waterfront dining. Check out our Miami Restaurants section for a few options.
PAMM | Omni
Opened in 2013, Perez Art Museum Miami is housed in a fully sustainable structure and prides itself on a dedication to collecting international modern and contemporary art. A great representation of the Miami culture and arts, the PAMM is a great way to spend an afternoon (not to mention pull some Instagram material). For an added pointer, the museum has free admission on the first Thursday and the second Saturday of every month.
Old Cutler Road | Brickell
Take a scenic drive from Brickell and out to Cutler Bay through Old Cutler Road. The winding road serves up a beautifully scenic drive of encroaching trees and a lush natural landscape of classic Floridian beauty. Roll the windows down and take it slow, this is as relaxing a ride as it gets, and you'll find plenty to do once you make it to Cutler Bay.
Key Biscayne Beaches | Key Biscayne
Skip the sometimes overcrowded South Beach, and head to a less crowded Key Biscayne instead. The mostly residential island of Biscayne Bay will offer an ethereally quiet beach retreat. So you can comatose on white sands till the day is through. The beach is accessible by bridges from the southern end of the Brickell district. Also, for a $1.50 entrance toll fee, you could drive into the "Key," as referred to by locals, and have a more family-friendly beach experience.

Little Haiti | Little Haiti
Less touristy than the more famous Little Havana, this neighborhood is an equally lively ethnic enclave, and a genuine example of Miami's cultural diversity. Besides a lively atmosphere and unique vibe, Little Haiti is packed with great places to eat. Sit in at Clive's Cafe and enjoy some delicious Jamaican food, everything on the menu is good, but watch out for the spicy stuff.
Vizcaya Museum & Gardens | Coconut Grove
An eye-opening sight and a relic of a seemingly different time, this Italian Renaissance-style villa houses a superb collection of 16th to 19th century European antiques and decorative works. The interiors themselves are tour-de-force of elegance and opulence, making the villa both astounding and well worth a visit.
Miami Beach Botanical Gardens | Miami Beach
A 2.6 acre stretch of lush green, beautiful horticulture and extensive plant life. Visitors to the Miami Beach Botanical Gardens can relish the peaceful quality of the gardens, shop local produce, find yoga under palm trees or meditate throughout the varying landscape of blooming flora, waterfalls, and lakes. An activity for all groups, friends or family, this is a welcome reprieve from the average activity.