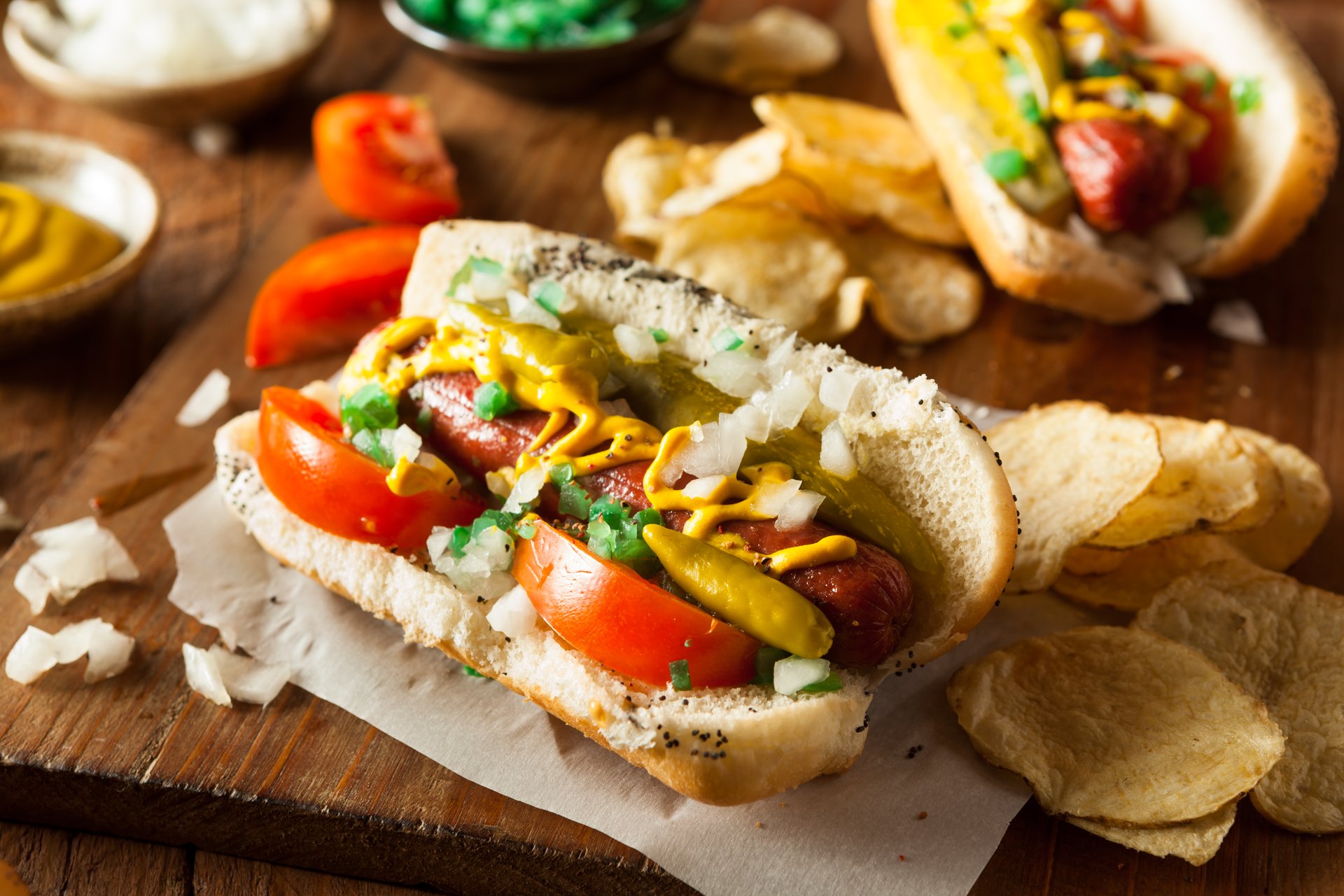 Chicago Restaurants
The only place to book connecting hotel rooms and suites. Here's how.
Chicago Restaurants
Chicago's fine-dining scene is undeniably great and constantly innovating to keep both visitors and locals on their toes. But, a great meal doesn't always mean breaking the bank, so whether or your purse strings are loose, or you're just looking for a quick bite—we've got you covered. Here are the best restaurants in Chicago, and the top cheap eats in the city.
Best Restaurants in Chicago
Alinea | Lincoln Street
One of the best, and a unique restaurant in Chicago, Alinea, led by Chef Grant Achatz is known for its excellent showmanship as much as it is known for its great food. The recently renovated, the 10-year old restaurant takes an emotional and interactive approach to dining and attracts food lovers from all over the world. Well-dressed knowledgeable servers instruct you on how to consume each of the many courses that you are presented, while you are immersed in a divine culinary experience at this three Michelin star restaurant.
Grace | West Loop
Leading Chicago's fine dining scene, Grace is a three Michelin star award winner and a James Beard award winner. One of Chicago's most expensive restaurants, Grace is popular both for its refined food prepared with surgical precision and its luxurious wine pairings. Definitely worth a visit at least once.
Smyth | West Loop
A new entrant to Chicago's fine dining scene, Smyth is right upstairs from the more casual fare oriented seasonal plates and bar, The Loyalist on West Loop (known as Smyth + The Loyalist). Offering unique and flavorful dishes in an upscale setting, the Smyth manages to be stylish, friendly and impresses with high-quality food every time.
Best Cheap Eats in Chicago
Portillo's Hot Dogs | Near North Side
Known for its exquisitely American fast food-inspired menu, the classic Chicago style hot dog at Portillo's is hard to beat. Not only is it a Chicago staple food, this mustard-topped, relish, and celery salt dream of chopped onions and sport peppers, sliced pickle and tomato on a sesame seed bun is a work of art. Don't expect to leave this place guilt free, although the less than $5 dollars tab might help.
Harold's Chicken Shack | Hyde Park
Although now expanded to have numerous locations around the city, this 53rd street location is where the locals get their chicken. And while you'll find a whole lotta great fried chicken in Chicago, its hard to beat the value of this juicy, deep-fried half and quarter pound chicken (soaked in delicious greasy goodness) for under $10 dollars.
Gayle's Best Ever Grilled Cheese | The Loop
The best cheap eats in Chicago are a comfort food affair, and so: grilled cheese and tomato soup. We won't claim its the best ever, but it's definitely the best we ever had—and hands down the best-grilled cheese sandwich in Chicago. If you're feeling fancy, try their lobster grilled cheese and renew your faith in life. And the soup, we are very serious about the tomato soup (another meal under $10).
Honey 1 BBQ | Grand Boulevard
A near-idyllic stop-and-go eating option, the mouthwatering smoked ribs at this family-owned joint are an essential eat under $10 (as long as you don't get gluttonous). Order up a plate of rib tips, slather them in barbecue sauce, and find someone to share the hot links with.
Johnnie's Beef | Elmwood Park
There's a long list of great Italian sandwiches in Chicago, but the mouthwatering beef masterpieces at Johnnie's are smothered in peppers and life-affirming flavor. Your mouth will be watering just from the smell outside the door at this spot, and with reason.
Best Pizza in Chicago
For all you out of town folks who have searched for 'best Chicago style pizza near me' - this section is for you. In fact, trying some authentic Chicago deep-dish pizza should be high on the list for anyone visiting the city.
The Art of Pizza | Grand Boulevard
The best deep dish pizza in Chicago by the slice. If you're looking to plow down a whole pie, then you'll find other options in this guide. But if what you're looking for is a quick and comforting bite, the awesome slices at this popular spot will cost you less than $4 dollars, and make the world a happy place to be in. Start heading there now.
Eataly | River North
Eataly Chicago from Chef Mario Batali is an Italian grocery store and fine dining restaurant with great Neapolitan pizzas. The out of towner Italian marketplace (the original is in New York) is often considered a tourist trap by locals because of the loud, crowded tables. But for those who love the place, the food is great and abundant, the wine keeps flowing and the high energy vibe is exactly what they want. You could also try their sister branch, La Piazza that serves Roman-style pizza.
Pequod's Pizzeria | DePaul
If you trust the local consensus, then you need to try Pequod's Pizzeria. Drop in anytime (they serve until late), and treat yourself to some ultimate comfort food. Last minute note: their signature pie is a deep-dish masterpiece with a caramelized cheese crust.
Coalfire | West Loop
Coalfire is one of the top pizza places in Chicago for thin crust pizzas. Their charred crust pizzas are popular for its high-quality ingredients in all its smoky glory. The downside? They don't accept reservations and there's almost always a wait. While takeout is an option, the fresh-from-the-oven pizza is definitely worth the wait.
Mi Pi Pizza | Bucktown
While the rest of Chicago is about Italian goodness, Mi Pi is all-American, Chicago-style deep dish pizza. They source their cheese from Wisconsin and tomatoes from California to make a signature sweet and tangy chunky sauce, spread on a deep crust that rises three times before is goes in the oven. The result? A delicious, classic, deep-dish pizza that's never dry.
There are still so many more amazing places to get your deep-dish pizza fix in Chicago - Dante's Pizzeria, Triano's Pizza, Bartoli's Pizzeria, Pizzeria Uno, Tano's Pizzeria and many more. Once you're satisfied and have room for dessert - try Margie's Candies, a Chicago original since 1920. But make sure you have a lot of room - they make the world's largest sundaes - with 25 scoops and toppings and everything!