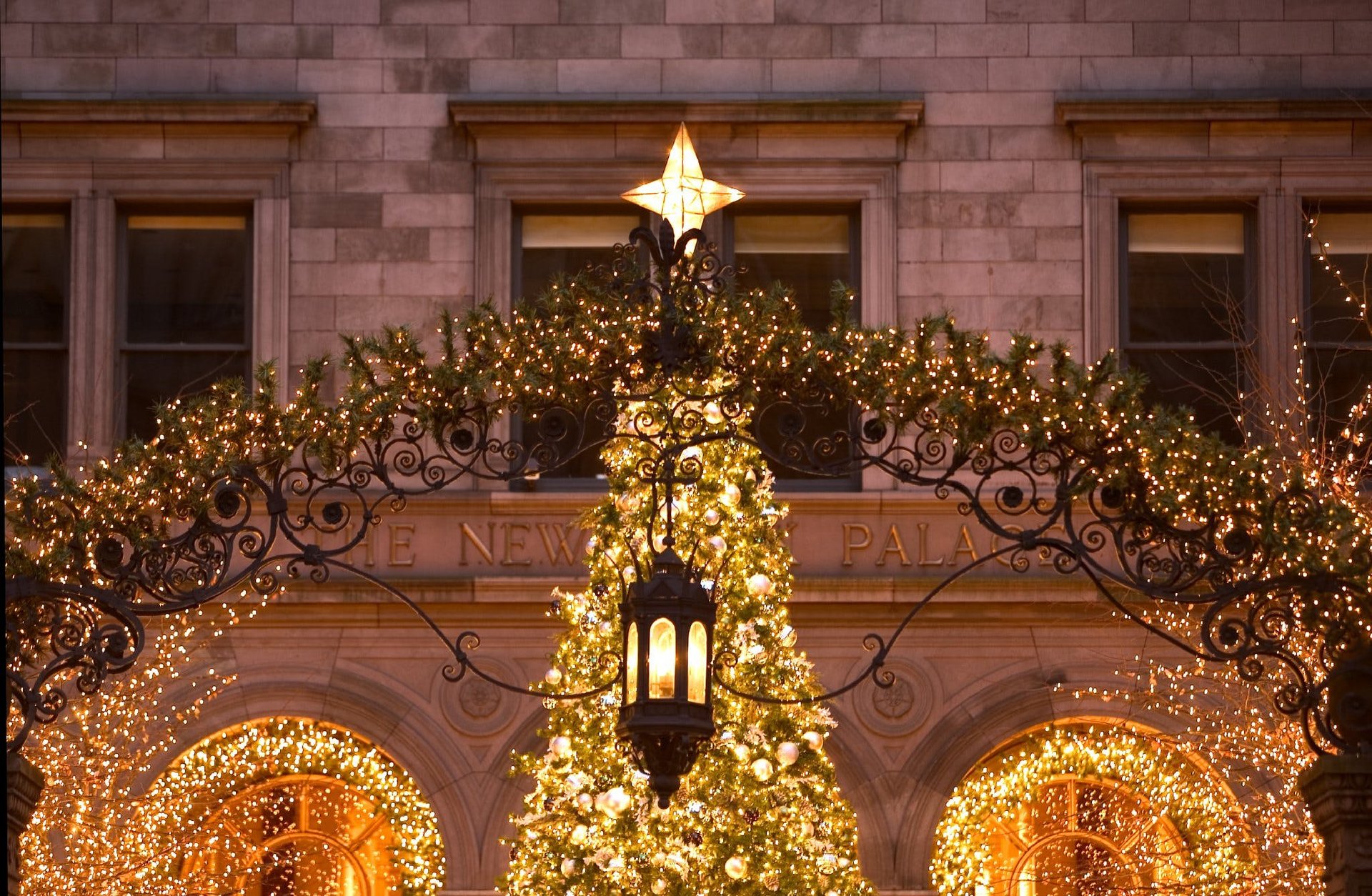 Suiteness BlogSuites in Hotels With Massive Holiday CelebrationsWritten by Allison KiolbassaPublished November 21, 2018
The only place to book connecting hotel rooms and suites. Here's how.
When it comes to the holiday spirit, some cities just pull out all the stops. Holiday travel can feel magical, whether you're strolling under bright holiday light displays, sipping mulled wine at a Christmas market or ice skating with the entire family.

If you love the holidays and want to experience the thrill of staying in a festive city this time of year, pack up your family and friends and book a suite together in a beautiful hotel.
For big groups, a two- or a three-bedroom connecting suite is a fantastic option. You'll all have enough space to spread out comfortably, but you can still wake up and open gifts together on Christmas morning. Plus, connecting suites are an economical choice. You can book a two-bedroom connecting suite for half the price of a two-bedroom suite at the same hotel.
Hop across the pond and experience all that London has to offer at the holidays. When you arrive, expect the Ritz to be decorated to the nines and offer unique experiences including a Christmas Day high tea. House your crew in a deluxe one-bedroom suite for three, complete with a stately and festive fireplace.
There's one thing all political parties can agree on: Washington D.C. is a wonderful place to spend Christmas. Stay in a one-bedroom, two-bath suite at the iconic Willard, and you'll have enough space for up to four guests. You'll even enjoy the views of the White House Christmas display just blocks away from the hotel.
Mardi Gras isn't the only celebration in town — the Big Easy goes big at Christmas, too. The Roosevelt is just steps away from Canal Street if you are looking to go out and celebrate. Bring your friends and family and stay in a two-bedroom, two-bath luxury suite that can house up to seven guests. You can also head down to the hotel ballroom for an elegant Christmas day brunch.
If you love the festive feeling of the holidays but don't want to explore in the cold, book a trip to California. The Fairmont San Francisco features holiday displays like a two-story gingerbread house and 23-foot Christmas tree. Plus you'll enjoy the two-bedroom, two-and-a-half bath suite that houses up to eight people and offers both city and bay views.
Just because it's in the middle of the desert doesn't stop The Cosmopolitan of Las Vegas from setting up a 4,000-square-foot ice rink directly on the Las Vegas Strip. Enjoy seasonal food and beverage options and toast s'mores by a fire pit. It might even snow (yep, they make it snow in Vegas!). Once you're done skating, head up to your two-bedroom, two-and-a-half bath suite (featuring three beds). There's also a large living room to celebrate Christmas Eve with your nearest and dearest.
Las Vegas is an under-the-radar holiday destination. More important, you can find amazing deals at Christmas time. That includes a one-bedroom, two-and-a-half bath suite at the Bellagio, where you can take in the magic of a breathtaking seasonal holiday display in the hotel's conservatory and botanical gardens.
Lake Michigan might be freezing over, but you'll be warm and toasty inside a junior suite for up to four people in Chicago's Drake Hotel. Hotel festivities include Christmas brunch with Santa and a Christmas Eve buffet featuring all of your favorite holiday foods. Plus there's plenty of post-Christmas shopping on Michigan Avenue to keep you buy.
Chicago's Palmer House hotel takes Christmastime seriously. Guests enjoy a holiday breakfast buffet and specialty menu on Christmas Eve and relax in a two-bed, two-bath king suite that's fit for royalty. It has a separate living space for your holiday festivities plus a wet bar to serve up eggnogs or cocktails.
The main New York City holiday attraction is the iconic Rockefeller Center Christmas tree, of course. Good news: The historic Midtown Mansfield Hotel just happens to be situated a quick eight-minute stroll to the tree. Plus, you can house the family in a two-bedroom suite that even has its own decorative fireplace and mantel where you can hang your stockings on Christmas Eve.
If Christmas conjures visions of New York City, the Rockettes and ice skating in Central Park, you'll love spending the holiday in a deluxe corner suite at the Lotte New York Palace. The one-bedroom, two-bath suite is bigger than most New York City apartments. It even has its own dining room table set for eight — perfect for holiday room service. Plus, the hotel is located across from St. Patrick's Cathedral, where you can attend Christmas Eve Mass.