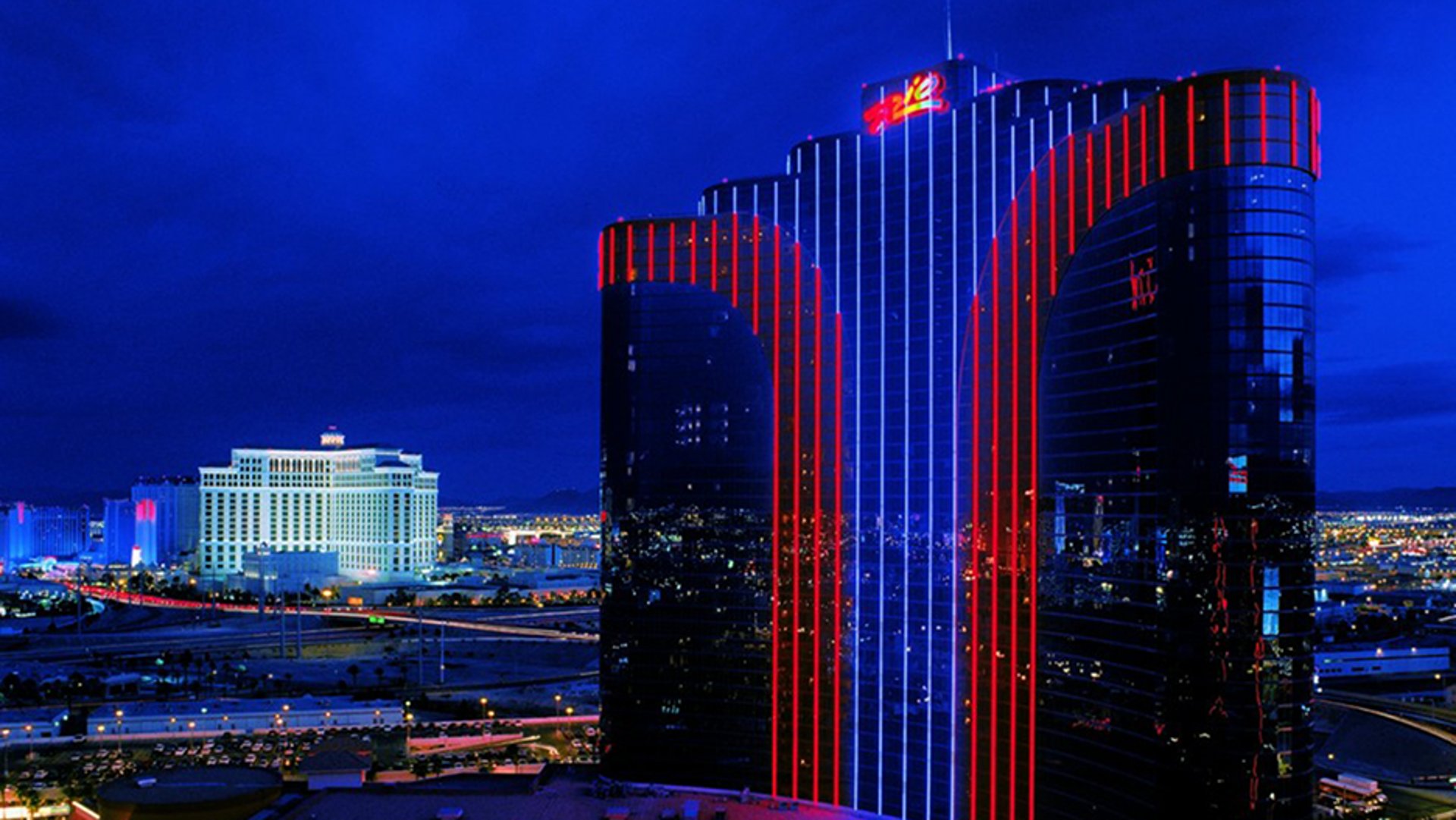 Suiteness BlogRio Las Vegas: Tropical Luxury In Sin CityWritten by Divya MulanjurPublished September 25, 2015
The only place to book connecting hotel rooms and suites. Here's how.
Glitz and glamour of Las Vegas coupled with the free-spirited, carnival atmosphere of Rio de Janeiro: Rio Las Vegas is as colorful, exciting and high energy as the Brazilian city that it is inspired by. It is the perfect choice for anyone seeking a party atmosphere – bachelor/bachelorette party getaway planners, this is for you!
Rio was the first in Las Vegas to come up with the 'all-suite' concept when it opened in the 90's and it still continues to stand out as the place-to-be with its bold play on colors, creative interiors and dazzling attractions. With more than 2000 beautiful suites with options for in-room internet access, pets, wheel chair access, and paid shuttle service to the airport and the strip, Rio Las Vegas is a fantastic choice for people looking to stay in style and close enough to all the action.
Experience the tropical themed Las Vegas fiesta with all things VooDoo
Lights, Color, Action: Rio Las Vegas is where it's all at! The star attraction at Rio Las Vegas perhaps is the VooDoo Zip Line and is strictly not for the faint of heart. Within one minute and 10 seconds, you ride down and backwards Rio's 50-story Masquerade tower, while you're strapped to a chair with only a lap belt.
What's tropical without some Caipirinha by Copacabana Beach? Rio Las Vegas does a great job of bringing home the same feel with VooDoo beach – the pool complex complete with a white sands beach, waterfalls, palm trees and fresh tropical cocktails from Cruzan Island Bar and VooDoo Beach Bar. Book a cabana and indulge in a pool side spa treatment!
The Voodoo Rooftop & Lounge promises an unforgettable after-hours nightclub experience. Located at the 52nd floor, its patio style dance floor gleams in disco lights while the gorgeous steel staircase provides breathtaking views of the lights and action far down below. The flare bartenders who entertain while mixing up interesting cocktails like the Witch Doctor are a bonus.
And while we're at VooDoo, visit the VooDooo steakhouse at the 50th floor to try their famed lobster bisque and oversized 'smokin'' Witch Doctor dry ice cocktail with dry aged, prime, and Wagyu Beef.
Pick your style of suite from Rio Las Vegas's all-suite collection
Ranging from at 1100 to 1700 sq. feet, Rio's Masquerade and Deluxe Masquerade suites are your quintessential Las Vegas luxury suites with pops of color that reflects the hotels carnival feel. Whether it is a solo getaway or a party with friends, these spacious suites are a great choice and comes with a relaxing whirlpool tub, living room and dining area.
If you'd like the overall carnival atmosphere that Rio Las Vegas offers through the day, but prefer to unwind in a cozy, contemporary suite done in elegant, smooth, neutral shades, the Cariocas suite is your best bet. The one bedroom suite comes with a whirlpool tub, double vanity, a separate living-plus-dining area and flat-screen TVs.
For those of you who love the luxury suite life without the over-the-top zing, but with all the elegance and style of a comfortable upscale Las Vegas suite, Rio offers its Super suite. This 1200 sq, foot, one-bedroom offers a 'suite' deal with entertainment space that comes as a living room, wet bar and a dining area for six. Take the party to a larger scale, space and style wise, with the Rio Penthouse. 3100 sq. feet of sheer luxury and grand embellishments like swirling staircases, in-room balconies and long hallways. Impress your entourage by entertaining them in the gilded dining room with the low hanging crystal chandelier and vintage style wall paintings.
What's better than lounging on your private balcony that comes with a party pool, overlooking Las Vegas's amazing panoramic views? Having a butler at your service 24 hours while you party away in your pool on a huge private overlooking Las Vegas's amazing panoramic views. All that and more, including a wet bar, living room, dining area, bathroom with tub, shower and vanity and complimentary round-trip airport limo service, is what you get when you book a stay at the 3000 sq-foot Presidential Suite at Rio Las Vegas.
The Presidential Suite at Rio Las Vegas is one of our absolute favorite Las Vegas suites and is ideal for a fiesta, New Year's Eve gathering or a grand celebratory party. It doesn't get more over-the top, high roller than this.
Rio Las Vegas also has an option for the luxury seeking guest who isn't the wild, pool-party kinds. The celebrity favorite Palazzo at Rio Las Vegas offers a regal luxury experience. Ranging from 3900 sq. feet to a whopping 13950 sq. feet, the Palazzo is located in its own tower.
Spotting faux Victorian style furniture, and elegant interiors that makes you feel like you're in a European mansion, the Palazzo also grants exclusive access to the cabana-equipped private pool, a salon, fire-place and to spoil you just a little bit more, comes with 24 hour butler service. The Palazzo is in stark contrast to the rest of the hotel with its exuberant, glittery style, but is just the thing when you want to balance your wild side with your upscale, sophisticated one.
There's plenty to do at Rio Las Vegas… especially for the party people
The Rio Casino is a 100,000 sq. feet, masquerade themed, seductively lit, play area with 1200 video slots and offering table games including blackjack, Caribbean Stud poker, craps, keno, Let It Ride, pai gow, roulette, slots, baccarat, Megabucks and Super Megabucks. The action packed arena is also home of the World Series of Poker with the finals held in early November.
We told you Rio Las Vegas was the perfect bachelor party abode and the entertainment is only part of the overall fun and frolic deal. Catch the featured the specialty act artist at an X Rocks show featuring the X Rocks Girls. And the ladies celebrating the bride-to-be can opt for the ultimate girls' night out at Chippendales featuring 12 perfect men who dance.
Rio Las Vegas is also home to the popular Penn & Teller magic show. A Broadway smash hit, this magic meets eccentric comedy show has been running for over two decades and is the longest-running headlining show to play in the same Las Vegas hotel.
Rio is the perfect destination for the slightly edgy, fun-loving traveler looking to explore the wild side of Vegas, carnival-samba style.