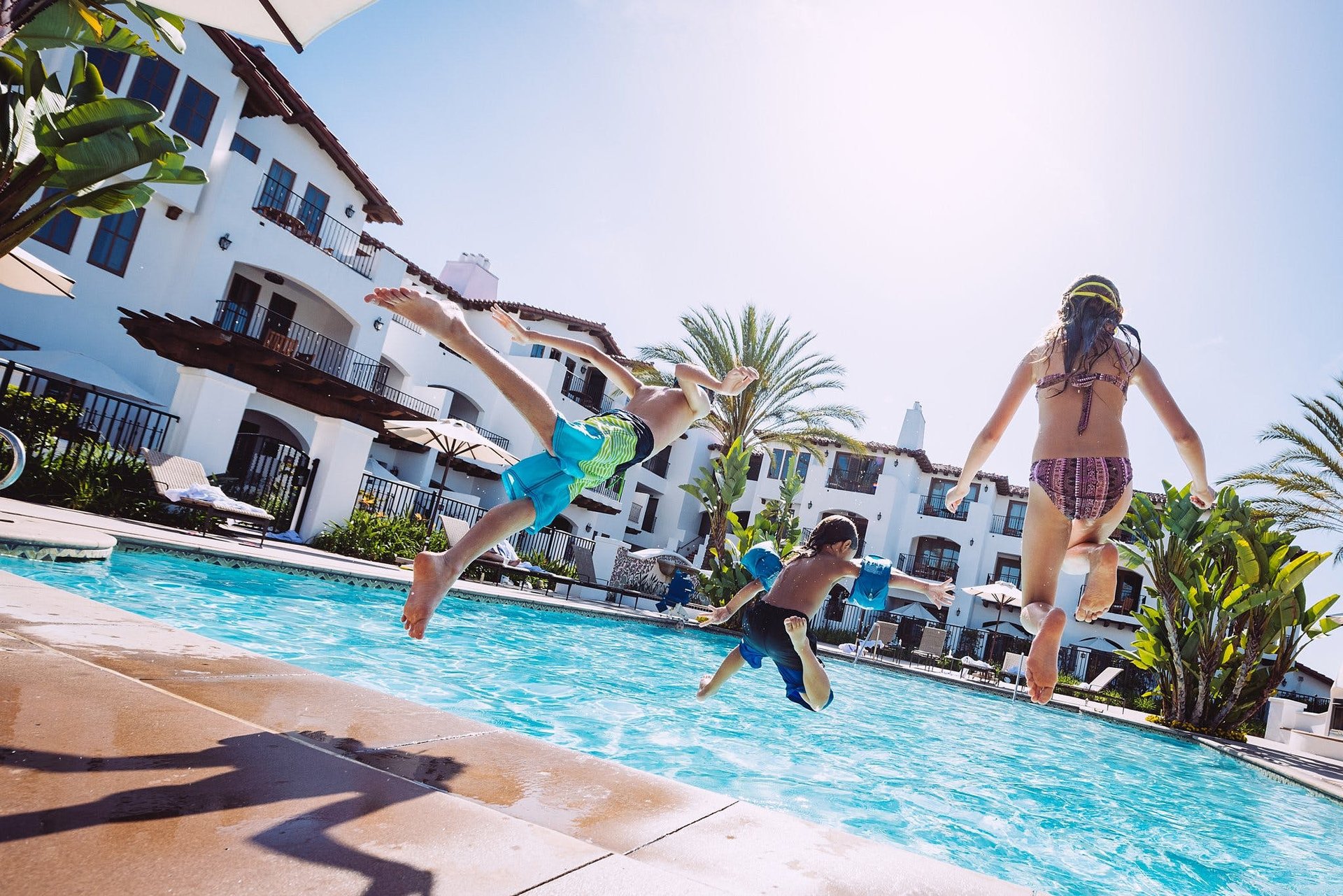 Suiteness BlogThe Best Hotels for a Warm Holiday EscapeWritten by Allison KiolbassaPublished November 21, 2018
The only place to book connecting hotel rooms and suites. Here's how.
There's a lot to love about the holiday season — but there's a lot to stress over, too. If you're looking for a stress-free holiday travel option with your loved ones, why not pack up the gifts and spend Christmas in a warm location this year? Santa can find you relaxing at the beach or pool! Your family and friends will want to come too (trust us). Be sure to book a hotel that offers multiple options such as two- and three-bedroom connecting suites.
Connecting suites are the perfect option for families who still want to wake up and open gifts together on Christmas morning but need extra space and beds for everyone to stay comfortable. Plus, suites are an economical choice. Generally, you can book a two-bedroom connecting suite for half the price of a two-bedroom suite at the same hotel.
Leave the snow behind and say aloha to a sunny Hawaiian holiday. The Grand Islander on Oahu is the perfect place to take the family for a Christmas getaway. Plus don't panic about the price! You can get an incredible deal on a two-bedroom, two-bathroom resort-view suite with a sofa bed that sleeps up to six of your loved ones. Special resort amenities include six restaurants to choose from, four hot tubs — and let's not forget the gorgeous beach.
If your crew likes to stay active and take advantage of amazing amenities, they'll love the Hilton Waikoloa Village, which is located on the sunny Big Island. The resort offers swim-through waterfalls, a lazy river, and a saltwater lagoon. Your family will love staying in a one-bedroom, one-bath royal suite that also has a sofa bed — it can sleep up to four — plus a gorgeous lanai to let in that tropical breeze.
Forget a cramped or generic vacation rental house — your family and friends will adore spending the holidays in style in the Star Suite at the Andaz San Diego. The 1,200+ square foot suite has a fully equipped bar, luxury master bath with deep soaking tub and two other bedrooms. One of the bedrooms is even set up with bunk beds for the kids. You may not even want to leave the room, but its proximity to the Gaslamp Neighborhood of San Diego and beaches is sure to draw you away.
If the amenities of a luxury resort without having to travel too far from home — especially for West Coasters — appeal to you, book at Family Suite at the Omni La Costa, just outside of San Diego. It has two bedrooms, two bathrooms, and three beds, with plenty of space for up to eight people. Once you get out of the room, you'll enjoy amenities like eight swimming pools, waterslides, a golf course, and even a meditation center — without having to leave the premises.
Once you take in the beautiful ocean views at the Hotel Casa Del Mar in Santa Monica, all your holiday stress will melt away. Stay in a two-bedroom, two-bathroom suite for up to four people. Enjoy some last-minute world-class shopping just steps away, or book a spa appointment instead.
Los Angeles might not scream holidays to you, but things can still get festive on the West Coast. At the Beverly Hilton, for example, book a stay in a two-bedroom, two-bath suite for up to six people. Spend Christmas in Hollywood searching for the stars, or stay in and hang out at the outdoor pool while you feel sorry for your friends who are shoveling snow back home.
Nothing in the world can top surprising the kids with a trip to Disney World for Christmas, right? The Magic Village Yards is located just a two-minute drive from Disney's Animal Kingdom, but it will feel worlds away. Your family will love coming back after a long day to their own three-bedroom villa with a full kitchen (a great way to cut costs!), a BBQ and a private Jacuzzi.
South Florida offers beautiful beach weather to welcome you come December. And your group will feel right at home once they arrive at the Conrad. Stay in a Junior Suite for access to two bedrooms, each with its own sofa bed so you can bring up to eight guests.
Enjoy Central Florida's warm weather at Christmas and stay just 30 minutes from Disney at the Balmoral Resort. It opened in 2017, so everything is brand new. Your family can stay a two-bedroom, two-bath townhouse for up to six people. There's no shortage of amenities, either. You'll find an outdoor pool, a water park, a restaurant, a clubhouse and more.