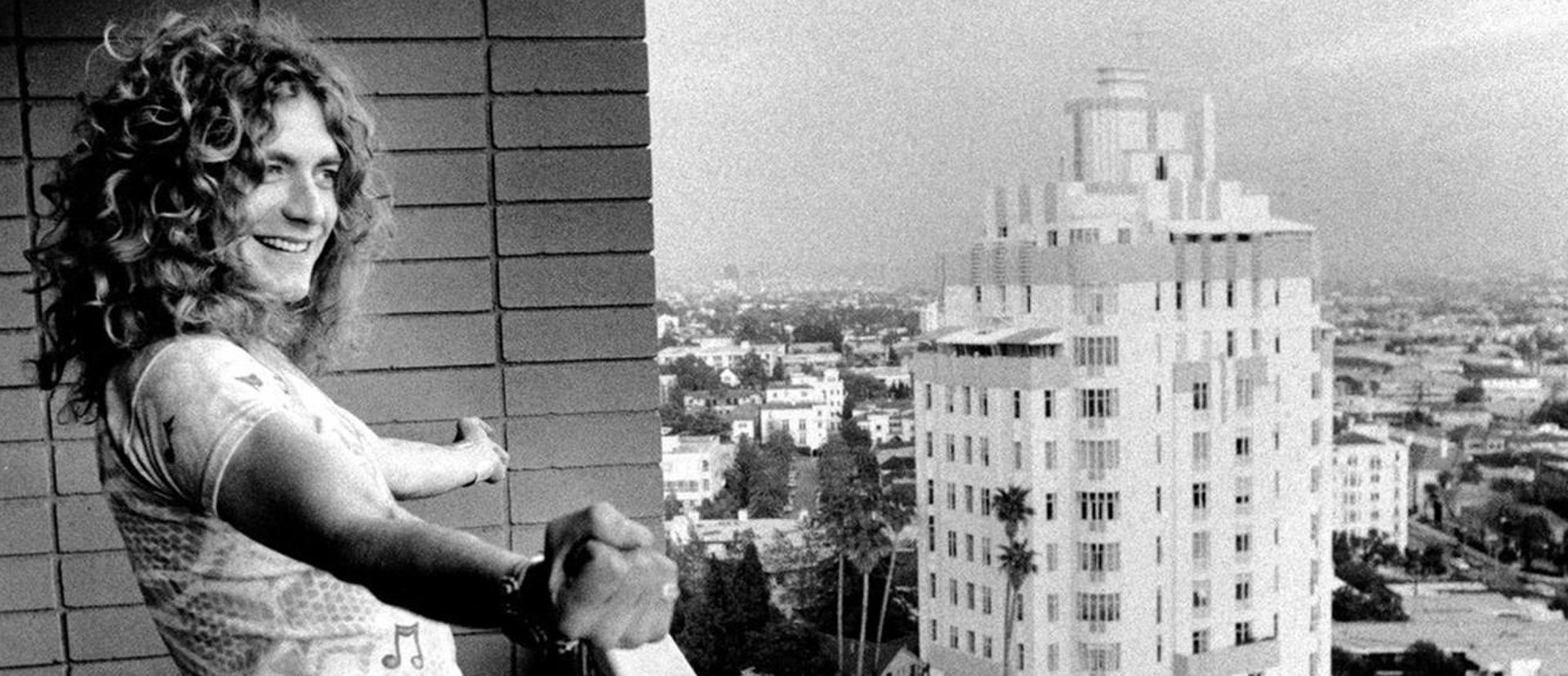 Suiteness BlogIf These Walls Could Talk: Andaz West HollywoodWritten by Whitney PhaneufPublished July 24, 2019
The only place to book connecting hotel rooms and suites. Here's how.
Editor's note: Every hotel has a story. In our new series If These Walls Could Talk, we take you inside the most historic hotels in the world and the stories within the walls of their most significant rooms. 
If these walls could talk, what would they say
Room 905: "Dude, you're not 'a golden god,' you're just really high."
Room 319: "Good golly Miss Molly, be careful with that deep fryer! You don't want a fried peanut butter and banana sandwich to be the death of us all."
Room 1012: "Do I need to explain how gravity works, Lizard King? You're going to end up a splat on Sunset Boulevard and none of us want to clean that up."
Room 1015: "Nooooo, not the TV. Throw the lamp, toss the telephone, but not the TV—Hawaii Five-O is on tonight!"
Room 805: "C'mon, not another TV. Some rock star cliches refuse to die."
The 11th floor: "Umm, sir, your Harley Davidson is leaving marks on the hallway carpet. No idea how housekeeping will fix this!"
Room 1205: "That skinny boy is chucking perfectly good steaks off the balcony. Now I've seen everything."
A long and storied history
When the singing cowboy Gene Autry opened the first high-rise hotel on the Sunset Strip in 1963, the neighborhood was still fairly quiet—the Whisky A Go Go had not yet opened and the few music venues there were jazz clubs and coffeehouses. By 1966, when the Gene Autry Hotel was sold to the Hyatt Corporation, the Sunset Strip had become the epicenter of American rock 'n' roll with more than 20 clubs catering to an increasingly wild youth culture. Renamed the Continental Hyatt House, the hotel earned its nickname "the Riot House" from the many bands that stayed and sometimes lived there, throwing legendary parties that took over multiple floors and creating the prototype for rock excess like throwing TVs off balconies. It continued to be a rock star haven even after its name changed to Hyatt on Sunset in 1976. By 2009, when it became the newly renovated Andaz West Hollywood, the balconies had been turned into glass-enclosed sunrooms and its decades of debauchery had ended, but its sleek makeover artfully honors its place in rock 'n' roll history.
Rooms fit for a rock star
Everyone who was anyone partied at the Riot House. It was so much fun, some of them didn't leave. Andaz West Hollywood General Manager Nate Hardesty treated us to a history lesson on some of the hotel's most famous guests and residents, three of which will be commemorated through a new partnership with the Grammy Museum. 
Led Zeppelin, Room 905
There's no band more closely associated with the Riot House than Led Zeppelin. Even at the height of their fame, when they could have stayed at any luxury hotel in Los Angeles, they chose the Continental Hyatt House. The band would rent out entire floors at a time, the 11th being their favorite according to Hardesty, and fill the halls with mayhem. John Bonham would cruise the 11th floor on his Harley Davidson, racing from suite to suite, and the band's foam parties would send scantily-clad young women slipping and sliding down the hallway (for more dirt on those parties watch the video below). In room 905, Robert Plant reportedly shouted "I am a golden god!" from the balcony, a scene recreated in the film Almost Famous, which was based in part on director Cameron Crowe's personal experiences interviewing Led Zeppelin. Crowe filmed parts of Almost Famous at the Riot House and recreated its 1970s exterior and interior, which gives you a sense of how it looked in its heyday. Room 905 has been renamed the Robert Plant Suite, commemorated with a plaque outside the room and art provided by the Grammy Museum plus information on its history inside the room.
Little Richard, Room 319
One of the early architects of rock 'n' roll with his '50s hits "Tutti-Frutti" and "Good Golly, Miss Molly," Little Richard lived in room 319 for two decades, throughout the 1980s and 1990s. Little Richard could be frequently found playing piano in the hotel restaurant, where he'd exclusively order vegetarian dishes, but not his favorite sandwich—fried peanut butter and banana à la Elvis, which he preferred to make himself. Room 319 has been renamed the Little Richard Suite, commemorated with a plaque outside the room and art provided by the Grammy Museum plus information on its history inside the room.
Jim Morrison, Room 1012
A stone's throw from where the Doors got their start as the house band at the Whisky A Go Go, the Riot House sheltered lead singer Jim Morrison from 1970 into 1971. When the Lizard King was discovered dangling from the balcony in room 1012, ten stories above Sunset Boulevard, he was moved to the back of the hotel where there was less foot traffic. This was a regular stunt for Morrison, who famously fell from the third-floor balcony of the nearby Chateau Marmont. Room 1012 has been renamed the Jim Morrison Suite, commemorated with a plaque outside the room and art provided by the Grammy Museum plus information on its history inside the room.
Keith Richards, Room 1015 & Keith Moon, Room 805
Both of the British rock bad boys, Rolling Stones guitarist Keith Richards and the Who's drummer Keith Moon, honed their hotel room trashing skills at the Riot House. In 1972, Richards redecorated room 1015 by dropping a TV out its window. Not to be outdone, Moon reportedly later tossed a larger TV out a window—we're guessing in room 805, which was known to be his personal suite.
Slash, Room 1205
Guns N' Roses' guitarist, Slash, held court in room 1205—now known as the Red Suite. It was likely there where his bandmate Axl Rose set up a barbeque on the balcony, but instead of cooking the steaks, he chucked them on the front lawn, as witnessed by an Andaz West Hollywood employee who has worked there 45 years. If you're traveling with a group, you can book the Red Suite connected to a room with two queen beds, which sleeps six.
Dee Snider, Room 505 & Flavor Flav, Room 519
Twisted Sister's lead singer/songwriter Dee Snider and Public Enemy rapper Flavor Flav also stayed at the Riot House enough to earn the distinction of having their own suites, rooms 505 and 519, respectively.
You can request any of the above rooms when staying at the Andaz West Hollywood via our agents or directly with the hotel. 
A nod and a wink to the past
Whether you stay in one of the above rooms or not, Andaz West Hollywood pays tribute to its past with photos of Jerry Garcia and Janis Joplin in the lobby as well as two colorful murals on the 14th floor—one depicting an electric guitarist and another of a man playing piano (which we'd like to think is inspired by Little Richard). And don't miss the on-site bar and restaurant, aptly named Riot House.