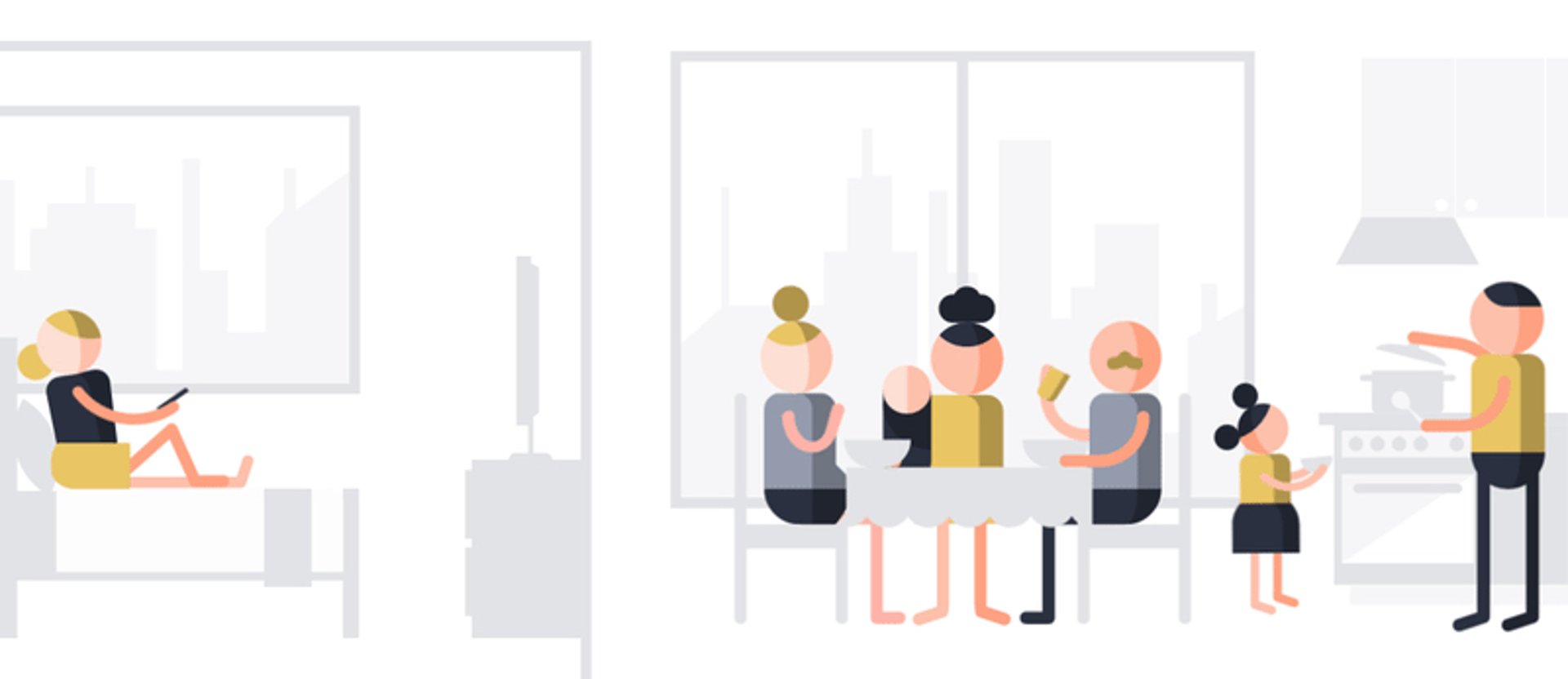 Suiteness BlogHow to Take the Best Family Vacation Ever (No Matter How You Feel About Them)Written by Divya MulanjurPublished June 20, 2018
The only place to book connecting hotel rooms and suites. Here's how.
No matter how you feel about your family, traveling together is inevitable. For most people, the family vacation is a mixed bag: you love that you can build amazing inter-generational memories—like that time you played a marathon game of monopoly and heard about your dad's plan to open a small business of his own—but you aren't looking forward to dinner being ruined by another political discussion.
Connecting Suites: The Family Vacation Hack You Didn't Know You Needed
A family vacation is a great time to connect with the most important people in your life and to let the next generation build those lifelong bonds too. The trick is to make sure you have enough space to stay together and enough space to take a break. Enter 'connecting suites' to save the day. These are basically suite configurations where you have one suite with a living room and attached bedroom connected to one or more rooms with a private entrance.
How are they different from normal suites you ask? They are much more affordable! In fact, a 2-bedroom connecting suite is nearly half the price of a traditional 2-bedroom hotel suite. Connecting suites essentially give you the space and affordability of a vacation rental with the comforts, safety, and service of a hotel. Take a look at the Panoramic Suite + Studio Suite at Vdara Las Vegas for example. Two bedrooms with 2 beds and 2 sofabeds, a full kitchen, washer-dryer unit, living area and all of this in, surprise surprise, a casino-free, smoke-free resort on the Las Vegas Strip. Yep!
Like Your Family?
How To Convert A Family Vacation Into 'That Time When Grandma Said…'
Think about your fondest memory of the last time you vacationed with your family—maybe it was something shocking like finding out that Nana used to be a groupie for your favorite classic rock band, or maybe it was something tender like the first time your dad played hide-and-seek with your daughter, just like he did with you. Whatever the story you remember—it came from a place of togetherness.
With limited vacation days and just a 2-3 day getaway at hand, most of us want to maximize that family reunion by visiting a new place with new things to explore, but that doesn't mean you can't have some shared moments together like you do at home. While hotel rooms are great to get your own space and enjoy all the amenities like a pool, it does mean saying goodbye to your tribe after the day's activities are over. Of course, you could always look at booking a vacation rental, if cleaning up and doing the dishes on vacation is your thing…
Which is why connecting suites at a hotel is a great idea for families to stay together affordably. A  living area and maybe even dining space ensure you have a common area just for your family to spend time together and create memories. Some suites also come with kitchens and dining areas so you feel right at home. Everyone also gets their own bedroom with attached bathrooms to retire to at the end of the day. Because no matter how much you like your family, no one likes waiting on that single bathroom that is occupied when they really need to go!
Yes, we know what you're thinking. No, connecting suites aren't as expensive as you might think— they are in fact comparable to a VRBO or Airbnb of the same size and quality. Don't believe us? Take a look at this study we did to compare two-bedroom accommodations across top destinations in the USA.
Don't Like Your Family? (Even if the Love is Unconditional)
How To Vacation Together When Bickering is Inevitable
For a lot of us, there is such a thing as spending too much time with family. A connecting hotel suite may be just what it takes to bring the family together while preventing a disaster. It's the same thing as staying at a private home—except, you're in a really nice hotel with services and amenities (and room service, just in case). You will have common areas when (or, you know… if) the family needs to spend time together. But unlike your traditional hotel room where everyone is cramped in together, connecting suites can have multiple attached bedrooms. So you have your own personal space to escape to when you need to peace out of that Thanksgiving dinner debate with your brother-in-law.
Let's just say, family vacations can be a lot more bearable when you aren't forced to room with cousins you never quite liked but instead, got to hang with them over evening drinks. In fact, why would you not opt for something that brings the best qualities of a vacation rental to a hotel stay, and only costs about 10% more than booking multiple hotel rooms?
Now let's be honest— it isn't a vacation if your crew is halfway down the hall or you're having to clean up (ahem, lest your host punish/charge you for not adhering to the extreme standards set by the "ideal guest"). And if you absolutely must hang with the fam, why not have it under a rooftop bar so your aunt can babysit for a bit while you sneak away to grab a drink?
Whether you love your family or not, planning a family vacation is hard work and it isn't something you should have to do alone. Which is why, in addition to our all-in-one-solution of suites that connect, we also offer 24/7 trip planning assistance for all our members. Talk to our team, tell them what you're looking for and they will help you find the perfect suite. All you should focus on is making some unforgettable memories with—or without— your brood.