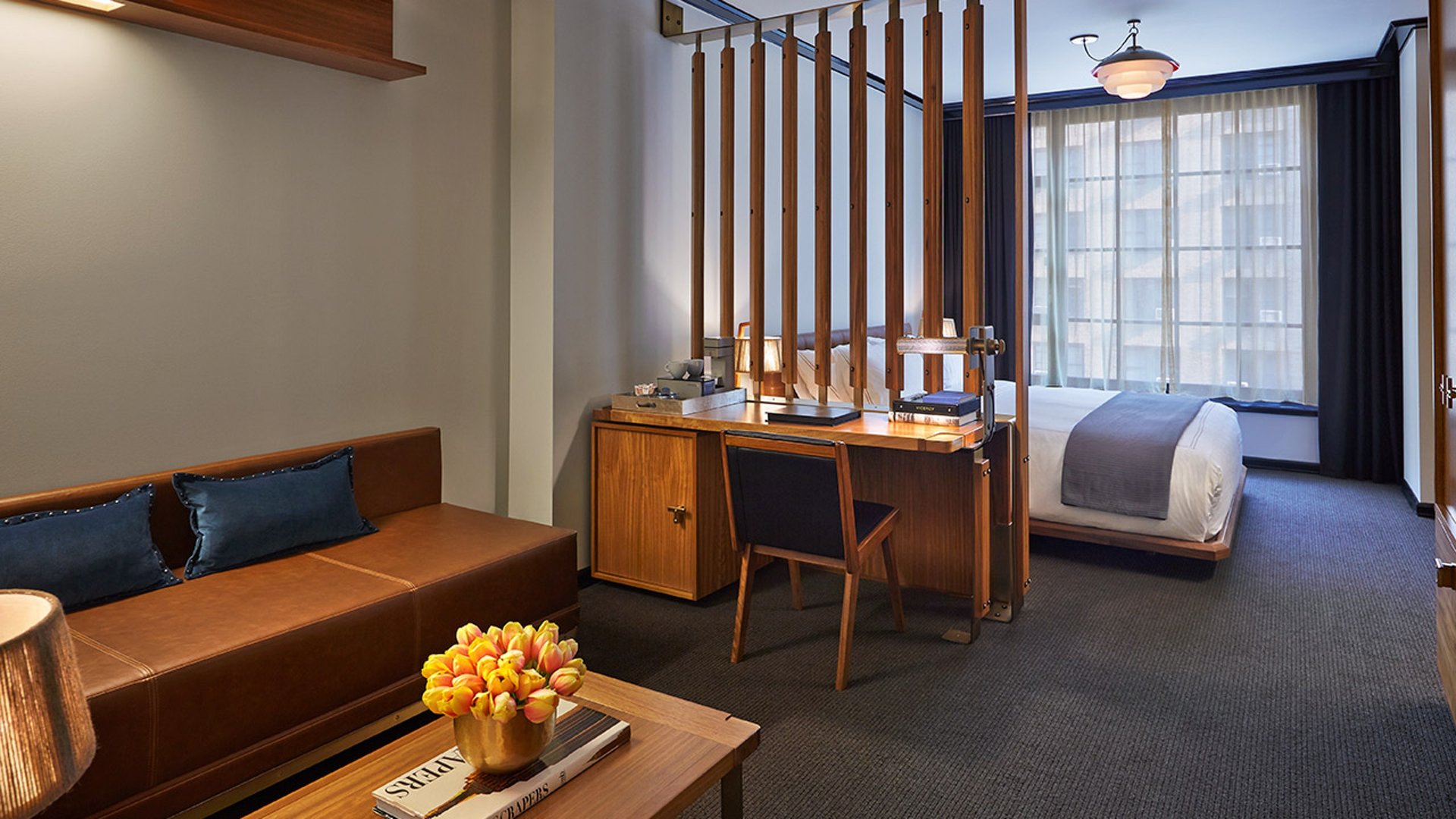 Suiteness BlogThe Anatomy of Suites: the difference between hotel rooms and suitesWritten by Divya MulanjurPublished October 5, 2017
The only place to book connecting hotel rooms and suites. Here's how.
It doesn't matter if it came with origami swans, a cutely wrapped candy and a bottle of champagne, a room is not a suite. And not all suites are created the same either. So if not for all the fancy-schmancy, how is a suite different from a room?
Hotel room vs hotel suite
A standard room is the most commonly booked type of accommodation – 80% of the time to be exact. You get a single room with one or more king, queen, full, or twin beds, a work desk, a bathroom, and maybe a closet, a TV, and a dresser. A suite is a much larger accommodation. It usually has an attached bathroom, a living area, and most times, includes a dining area as well. Think of it as a furnished apartment-like stay that can be anywhere between 400 sq. ft to 3000 sq. ft (or more!).
So what the heck is a junior suite?
Interestingly, not all suites are made the same, and some people end up getting a glorified room when they book a 'luxury suite'. That's why it's important to know what kind of suite you're getting, ask questions and see a lot of photos of the suite. A suite can mean one of these:
The Suite. A large apartment-like layout with separate living area, one or two bedrooms with attached bathrooms and/or powder rooms and most times, a dining area as well. Most of these suites have living rooms and bedrooms separated by a solid partition like a door. These are the most common suites and are typically preferred by families with young kids or one or more couples traveling together.
The Junior Suite. Junior suites are smaller than a regular suite but more importantly, typically don't have a solid separation between the bedrooms and living area. These suites have small living areas that are an extension of the bedroom space and don't come with dining areas. The good part of junior suites is that they're priced lower than regular suites and often have sofa beds so you can accommodate more guests.
The Residential Suite. These are fully furnished suites in every sense of the word. Not only do you get a separate living room, dining room and one or more bathrooms, some suites also come with wet bars, fully stocked kitchens, in-suite washer dryer units, and even patios and terraces.
The Presidential Suite. The absolute best suite in any hotel. Most hotels would usually carry only a few presidential or penthouse suites. Typically housed on the top floors, this is your ultra-lavish-architecture-digest-fancy-af suite with everything you can think of. Fabulous panoramic views, high-end toiletries, jetted tubs in bathrooms that look like spas, expansive living, dining and bedroom areas, entry foyers, private terraces and sometimes even private butlers!

The Connecting Suite. Available only on Suiteness, connecting suites are suite configurations where more than one bedroom is connected to the living area of a suite. Some of these also feature one suite that connects to another suite. You see, most hotel suites are built with an attached room or suite that has a separate private entrance. Sadly, hotel reservation systems are outdated. So while these suites and rooms are attached, they can only be sold separately and never together as a connecting suite. Until now, that is. A connecting suite is essentially the same as a regular full-sized suite that has more than one attached bedroom – only, less expensive. You're looking at anywhere between a $100 to even $1,000 difference between a regular two-bedroom suite and a connecting two-bedroom suite. See what staying in a connecting suite is like with this virtual tour.
Which is the best suite?
Well the question should be, which is the best suite for me? Because it depends on your budget and needs. We've seen that regular one-bedroom suites are a big hit with families with babies or toddlers who specifically need a door that can be closed between the living area and bedroom. But our star-sellers are connecting suites, booked 3.3X more than their non-connecting counterparts and are huge with group travelers of up to 10 guests.
The advantage of connecting suites
It's not too surprising why people love connecting suites, they offer a great balance of value, space, and quality. For example, the median price per night per person for a connecting suite in a 4 or 5-star Vegas hotel is $80. We've seen large groups of eight or more snag a two-bedroom luxury hotel suite on the Strip for under $500 – and that's weekend pricing. With suites, in a lot of cases, there is also a difference between the actual occupancy of the suite and maximum occupancy. With connecting suites, for example, we've seen that the average suite occupancy is 5.9 guests while the average number of guests is 3.5. What this means is that while a suite might be able to sleep only up to 4 guests, because of the limitation of beds, it has the space to accommodate up to 6 or 8 guests for a get-together or party. Usually, when this happens, our guests accommodate overflow by booking additional rooms nearby.
The right time to book a suite
Suite prices seldom ever come down closer to your travel dates. In fact, Suiteness suites are booked an average of 54 days in advance. Connecting suites are best booked 2-3 months in advance for better pricing and more importantly, better availability.
Just like anything else that's travel-related, suite prices are subject to seasonal trends. So the usual suspects like summer, holidays, and spring break are peak season when demand is high. Depending on the city you're visiting, steer clear of conference dates and wedding season as well.
So, if you're traveling with a big group, or are a family with kids, or need upgraded options for a special occasion, go for a suite. It's probably better than booking a vacation rental if you consider the amenities and hidden charges. It is best to look at different options by comparing the number of beds you're getting, included amenities, any add-on services and of course, the price.