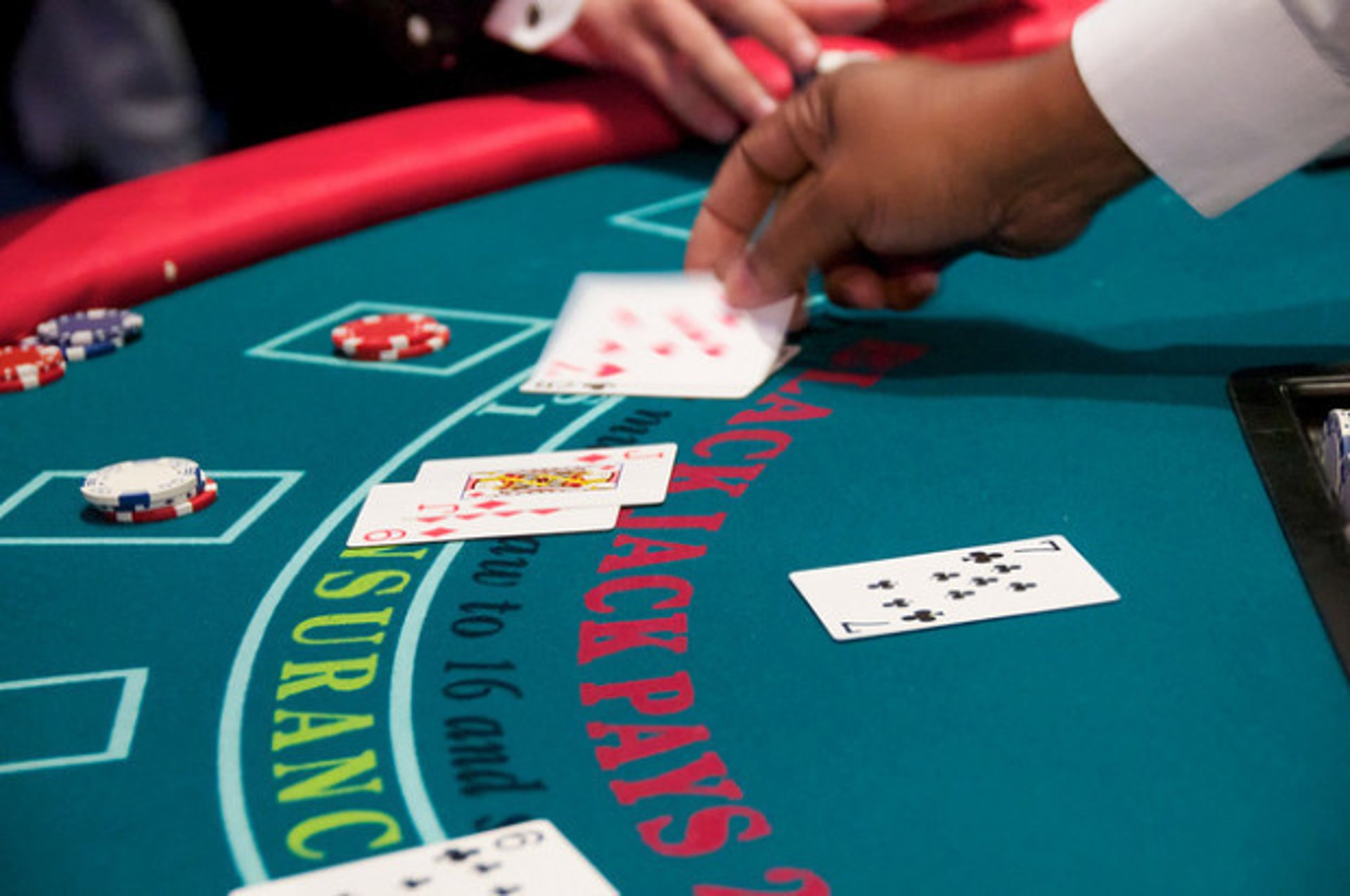 Suiteness BlogBest Blackjack in Las VegasWritten by Divya MulanjurPublished November 23, 2015
The only place to book connecting hotel rooms and suites. Here's how.
Given its popularity, blackjack is usually one of the first games learned by gambling novices. It was the first game I ever played in a Vegas casino and it wrecked me. With a house edge of under 1% and a straightforward strategy, there's no wonder it's hard to find an empty table on a Vegas weekend. Even the dreaded 6:5 tables still offer a comparatively good value. Please don't send me hate mail for that remark. I still refuse to play it out of principle, but the 2% house edge is still better than most games you'll find. The game is quick, easy, and social. In a way though, it's oddly personal. With craps, I liken it to being in a boat with all the other players. The table shape helps. But because most of us are betting in a similar pattern, our boat will flounder or sink with all of us in it. Blackjack, though, is intimate. At the blackjack table it's every man for himself. I'm rooting for my comrades to my left and right, but their misfortune or riches have little to do with my luck or lack thereof.
There are, of course, a number of strategies to do well at the blackjack table. None are more easy or reliable than knowing basic strategy. Head to the venerable Wizard of Odds blackjack page for details. This will tell you exactly how to play your hand based on your and the dealer's cards. It's easy to memorize, but if you lack patience, rest easy knowing the strategy cards can be found in most casino gift shops and are allowed at the table.
Another way to improve your chances is to play at a table with favorable rules. Beyond finding a 3:2 table opposed to a 6:5, other rule variations can impact the expected value of the game. A simple way to think about it, the more decisions or variability allowed in your play, the better your odds become. For example, if you're allowed to redraw to split aces or resplit in general, your odds improve. The same can be said for the casino, however. If the dealer is allowed to hit on a soft 17, an ace and a 6, it cushions the house edge. The number of decks affects the value as well. The fewer the decks, the lower the house edge. So, if your goal is to find a table that gives you the most value, be sure to be on the lookout for favorable conditions.
Of course, if you want a true advantage, you can always take up card counting. I'm not the person you want to go to for advice on card counting. I'm barely adept at regular counting. Essentially, what card counting entails is assigning values to cards, knowing what the count is at any given time based on the cards already played, and then using this information to know when you have a statistical advantage and increasing your bets accordingly. This means you may actually bet in a way that seems erratic, doing away with basic strategy when it suits.
When it comes to Vegas, there are still small stakes tables around. They are getting harder to find on the Strip, especially in the evening and on weekends, but there are still a few to be found. Mr. Meltzer, the Vegas Chatter wordsmith, just penned an article about NYNY and Excalibur consistently running $5 tables. The NYNY tables are 6:5 games, while the Excalibur is rumored to offer 3:2 payouts.
Because blackjack isn't my go to game, I reached out via social media to find out where you all like to play. I wasn't just looking for places with the best rules, but overall value, which of course, includes ambience. Here are some of the responses (edited for flow):
All Station casinos offer the best double deck blackjack in LV. (Rules penetration, comps) My personal favorite is Red Rock. They have professional dealers that know what they're doing. A nice overall atmosphere, friendly players, and a clean space.
Wynn, Golden Gate, Downtown Grand, El Cortez. You can typically find $10/$15 tables at the Wynn, but jumping up to $25 will keep the riff raff away.
@toastcmu (Mr. Bill):
Golden Gate, El Cortez, Bellagio. Bellagio still runs a $10 shoe game, but Bill would rather it remain somewhat of a secret.
Agrees with Mr. Bill, but adds The D and Main Street Station to his list.
Main Street Station and Golden Gate. They have sharp, friendly dealers, good odds and a great atmosphere. Plus, you get some good comped brews from 777 Brewery.
What's interesting about this list, and I know it's an extremely small sample, but I value the opinion of these fine gentlemen, is that there is a notable absence of properties from the big two, Caesars and MGM. With the exception of one casino, the Bellagio, all responses pointed to off-Strip locations. This says a lot about the migration of gamblers. For a standard tourist, downtown is the go-to for value in gambling. One of my personal favorites is actually Gold Coast. It's been a while since I've bellied up to a table at the off-Strip locale. I've enjoyed mixing it up with the locales from time to time. $5 games are consistently offered and, despite the fact that it's not the most opulent of properties, I usually have a good time.
There are even cheaper games to be had in Vegas, but it usually comes at a cost. The Riviera advertises a consistent $1 game which pays 6:5 and recently, Binions, as part of a "Throwback Thursday" promotion, is offering a 3:2 game for $1. A few casinos here in my home city, Detroit, offer $1 games during Party Pit hours, but require a $0.25 ante for every hand played at that minimum. I'd advise against playing at this rate. The guys of You Can Bet on That aptly pointed out that you're better off just increasing your bet, as your value decreases dramatically when required to ante. $0.25 seems like a nominal amount, but in reality you're paying a vig of 25% of your bet. Imagine a player betting $100 being asked to ante $25. It's ludicrous.
As always though, these are just general musings of a gambling and Vegas fan, not an expert. Everyone has their own taste and priorities when it comes to gambling, just like anything else. Wherever you decide to play, just be sure to be responsible and have fun.
Updates (03/02/15):
$5 tables spotted at both Luxor and Excalibur during the morning and early afternoon hours
$10 3:2 at Luxor during early evening
Check out Edge Vegas's list of the Best Cheap Blackjack on the Strip
photo credit: Bob Owen
Writer, editor, and host of the Vegas Fanboy Podcast, the show dedicated to maximizing your Vegas travel budget. Professional Millennial.
This article is by Vegas Fanboy from vegasfanboy.com.