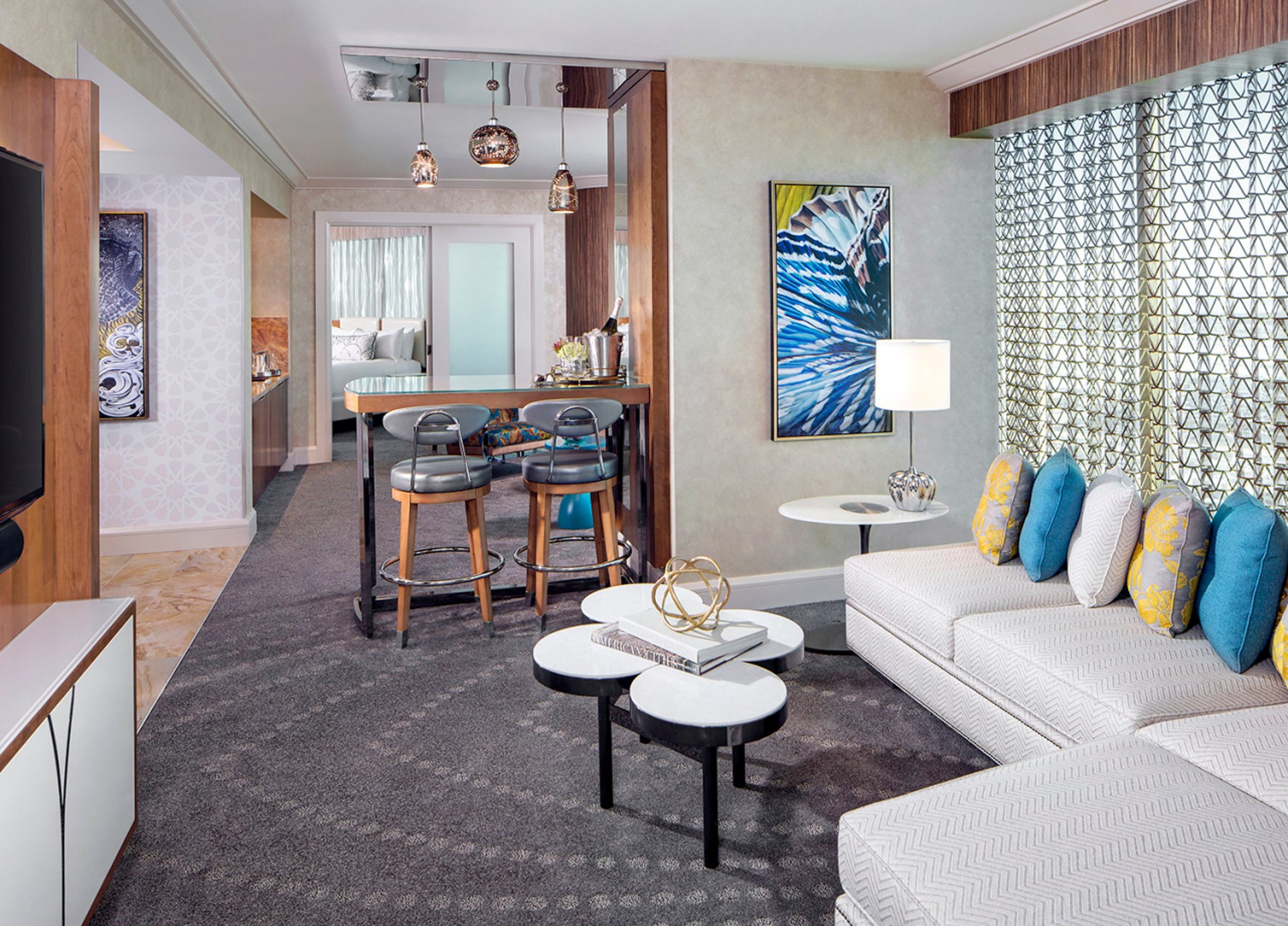 Suiteness BlogAffordable luxury suites in Vegas: the only list you will needWritten by Divya MulanjurPublished July 28, 2016
The only place to book connecting hotel rooms and suites. Here's how.
As the only travel website that deals in multi-room luxury suites, we seeco a lot of customers who love visiting Vegas to celebrate something special. Whether it's a bachelor/bachelorette party, milestone birthday, or a family getaway, finding affordable luxury suites in Vegas is what we do. Being able to easily book one room that can accommodate eight or more people and getting a personal concierge who will take care of your last-minute changes and demands is something no one would want to pass on!
Since we know how tedious it is to sort through thousands of Internet reviews, we gathered up our most frequently booked, highly rated luxury suites in Las Vegas. If you're thinking of going big for your friend's 30th birthday in Vegas and are looking for cheap suites, or really great luxury suites on a budget, then this is your go-to list.
Our best-selling, most affordable luxury suites in Vegas
The Palazzo Resort Hotel & Casino
The Palazzo Las Vegas is our top most frequently booked hotel with 26% of our customers ( the majority of them in groups of 4-6 or above ) opting for it this year. For one, the hotel is centrally located on the Strip, and is quintessential Las Vegas in all ways. Second, the hotel has a lot of luxury suites that are spacious and can accommodate a big group, bringing the per adult per night price significantly down.
For an average of just $75 per person per night for a group of 8, our top-selling suite comes equipped with two plush queen beds, a sunken living room, while a deep soak Roman tub allows for detoxing every day before restocking your system. This suite is perfect for a group of 8 to have plenty of space during their celebratory weekend. Complimentary WiFi ensures you can quickly look up the best dining spots on the Strip, and keep your social media up-to-date with pictures of your weekend shenanigans.
Bella Suite
Booking this 1 bedroom gem makes you feel like a celebration from the moment you step in. Complimentary Prosecco check-in makes you feel like the party started upon your arrival. It is our standard suite accommodation, while still being larger than most Vegas rooms at 720 sq. feet. It includes two queen beds, a sofa-sleeper, a LCD HD-TV to entertain yourself while showering or soaking in the Roman tub, remote-controlled Roman shades to effortlessly block out the sun when your hangover kicks in the next day, and many more touches of luxury. For a group of 4, this suite is only $75 average per person per night – that's excellent value; no wonder it is one of our best sellers!
While accommodating six guests, this suite comes with 2 bedrooms and a sofa-bed, at 1440 sq. footage of luxury. Throw on one of the plush robes, break out your makeup bag (or not) and get ready in front of the spacious vanity area. The sunken living room offers magnificent views of the Strip, definitely a sight worthy of pre-gaming to before you head out for the night. The average price per person for a group of 6 is only around $100 per night.
Bella View Suite + Bella View Suite:
Two Bella View Suites are also connected in this model, hence ensuring your group can hang out as one. For around $650 per night, you get two bedrooms and four beds while comfortably housing eight people. It also sits in a prime spot to give you sweeping views of the Strip.
The Cosmopolitan Luxury Suites
The Cosmopolitan is our second most booked hotel, with around 19% of our customers preferring the gorgeous hotel that offers a mixture of sophisticated architecture, art, and touches of multimedia incorporated throughout this beauty. From digital pillars, all the way to electronic displays of bookshelves, it feels like an exclusive experience for the curious crowd.
Let me paint a picture for you in one of the finest luxury suites: You're ready to head out for the evening, sitting outside on your terrace with a drink in your hand, served from your own Sub Zero wine chiller, while enjoying a private show of the Bellagio fountains that comes on every fifteen minutes. Oh and also, this comes with a backdrop of the Eiffel Tower and the entire Vegas skyline right from your living room. But the very best part? The 2,110 sq. ft. suite is perfect for a group of 8 and comes at an average price of just $115 per person per night! That's 2,110 sq. ft of urban chic interior design, plenty big enough for eight people. Not to mention that with a private view and lavish ambiance, this suite is definitely a hot spot for a day or night party.
This penthouse delivers leisure at a unique level. The guests choose their preferred interior design, a dark theme composed of mahogany, chestnut, and espresso, while opting for the lighter theme means a stunning ivory and white composition, therefore making it a curated posh experience for our customers. Filled with eccentric details of floor-to-ceiling windows, crystal-lined textured walls, a separate wet bar, and kitchen, all these bells and whistles create a rich environment. Booking one of these luxury suites include complimentary airport transportation so you may arrive in style for your special weekend, a butler service to spoil you with delicious bites, a stocked bar with intoxicants of your choice, and a private terrace. With all essentials provided for six guests, you probably won't feel the need to leave your suite at all.
Wraparound Fountainview Terrace Suite + One Bedroom
With two king beds and space large enough for eight guests starting at $130 per person a night, these luxury suites come with a fully furnished wraparound terrace that gives you plenty of natural light, a full kitchen, and a dining area. Another cool amenity? A wine cooler to chill your bottle of champagne until you're ready to hear that satisfying pop, all covered with the swanky interior aesthetics of Cosmopolitan spilling into your suite.
The Venetian Resort Hotel & Casino
The Venetian and The Palazzo are both great 5-star all-suite hotels that feature our most affordable and popular two-bedroom options depending on which bedding option you opt for.
Piazza View Suite + Bella View Suite
Winner of Travel+Leisure magazine Most Comfortable Hotel Beds in U.S., this luxurious 2100 sq. ft suite has a double-door entrance with Italian marble foyer, three beds, a seating area with a LCD HD TV, a jetted Roman tub, all touched with elegant Renaissance-inspired decor. Remote-controlled pastel Roman shades and a connecting suite offers privacy for its seven guests. And it can be all yours for just $160/person/night and it is instantly bookable on Suiteness!.
Bella View Suite + Bella View Suite
This is probably one of our absolute favorite suites. When people ask for our recommendation, we always recommend this suite first! Enjoy views of the Vegas Strip from your sunken living room area. Decked out with a mini bar, three LCD HD TVs, and plenty of space, it is the perfect party place. In addition, offering two vanity areas and a LCD HD TV in the bathroom allows for just as much relaxation after a whole night of gambling. This posh suite is actually quite a steal at an average $125 per person per night for a group of 8.
Rialto Suite
The Rialto is perfect for relaxing like a queen for your group of four, at an average nightly rate of $125 per person per night. While basking in 1100 sq. feet of plush elegance and privacy, you can enjoy ritzy amenities, from soft robes, the Roman tub, to your fully stocked refreshment center.
This Venetian standard suite is anything but standard. A Suiteness exclusive 2 bedroom, it is almost unreal that this 1,300 sq.ft. suite, which is instantly bookable, will only cost you $120 average per person per night for a group of 6! Spread with the interior design of pristine luxury, this suite offers its six guests with two king beds of pillow top mattresses, sunken living room with breathtaking Strip views, complimentary WiFi, and HD TVs.
Nobu Hotel Luxury Suites
A hidden gem within Caesar's Palace, Nobu offers up a quiet, upscale reprise amidst the casino jungle. Its concept of a separate luxury hotel embedded into the large casino resort yet being able to enjoy an exclusive experience away from the usual casino noise. Displayed contemporary Japanese design shows a rather different view of the Italian influence at Caesar's.
Sake Suite + Luxury Queen
You've probably heard celebrities and rappers rave about Nobu. The renowned celebrity Chef Nobu personally selects the food during your stay, additionally inviting you to a VIP dining experience at his restaurant, Nobu. And because that's not enough, we include a complimentary round-trip limo airport transportation, VIP manager to help you gain exclusive access to events all over Vegas, access to state-of-the-art Fitness center, and an exclusive personal entrance to the pool all come packaged with a nice little bow. For almost $1800 a night, gear up to be treated like a celebrity. If more of your friends want to join in, there are options for two additional connecting bedrooms.
This penthouse is one of the most noteworthy ways of celebrating milestone birthdays or bachelorette parties. The largest of the Nobu suites at $3,900 a night, this duplex of three bedrooms includes a spiral staircase, private terrace, billiards table, contemporary furnishings with refined Japanese touches and as a result, spoiling your party with the finest. An exclusive in-room iPad registration, VIP service and priority seating at the famous Nobu Restaurant are just few of the perks that come packed in this sweet luxury suite.
So, with all these amazing and surprisingly affordable options at 4 and 5 star hotels, what are you waiting for?