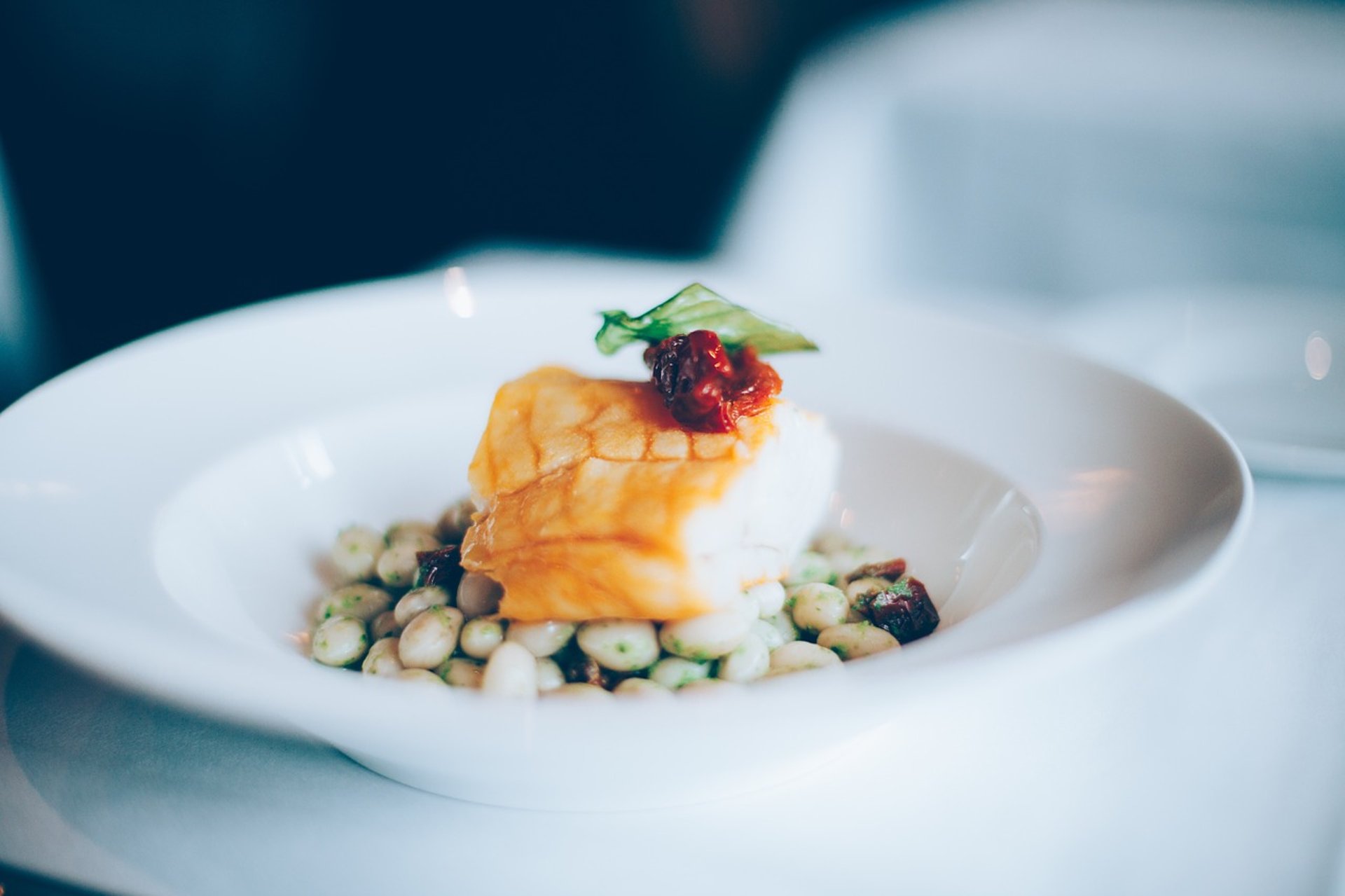 Suiteness Blog10 Best Fine Dining Las Vegas RestaurantsWritten by Divya MulanjurPublished October 6, 2015
The only place to book connecting hotel rooms and suites. Here's how.
Ranging from fabulous upscale gourmet to the hole-in-the-wall cafes, Las Vegas has a wide variety of dining options.  Las Vegas Restaurants have emerged as some of America's best, thanks to the thousands of restaurants mushrooming around the city, eager to please the diverse palates of the 41 million tourists who visit annually. Home to more celebrity chef owned and award-winning restaurants than any other city, Las Vegas brings the best tastes from around the world to your plate.
Top 10 Best Las Vegas Restaurants
Here are ten of Suiteness's favorite fine dining Las Vegas restaurants, each one of them exceptional in class, food and ambiance.
Nobu Restaurant | Japanese | Nobu Hotel
When a restaurant within a hotel becomes so renowned that a new hotel is established around it, you know you are dealing with something that can be summed up in one word: epic. The biggest Nobu restaurant in the world and the only one in the US that brings a Japanese steakhouse feel with teppan tables, the Nobu restaurant within the Nobu Hotel, within Caesars Palace also features vegetarian, vegan and gluten-free  items along with  imported Asian seafood and sushi rolls. Love for this beautifully designed Las Vegas restaurant, lined with bamboo columns, begins as you take a bite off the signature Miso black cod and follow it up with a yellow tail sashimi with jalapeño and squid pasta.
Joël Robuchon | French | MGM Grand
When it comes to pure indulgence and spectacular food, Joël Robuchon, named after the acclaimed French chef (Gault-Millau guidebook "chef of the century" and Michelin star award winner), is probably what comes to mind first. This beautiful Las Vegas restaurant is quiet and intimate with an unparalleled air of sophistication and the $425 per person tasting menu is a work of art. With an intricately designed dining area and impeccable service, Joël Robuchon at MGM Grand Las Vegas will undoubtedly be the finest dining experience of your life.
Picasso | French | Bellagio
Twice James Beard Foundation Award winner, Chef Julian Serrano brings fusion French, Spanish and Mediterranean flavors to Picasso at Bellagio. A thirteen-time recipient of the AAA Five Diamond Award and winner of the prestigious Michelin star award two times, Picasso not only offers remarkable food but perhaps is one of the most beautiful of all Las Vegas restaurants. No table is a bad table in this mini-museum that also happens to offer upscale dining: a window side table offers a romantic view of the Bellagio fountain, the outdoor patio is perfect for a Strip view, and a table anywhere else would be perfect to admire original artworks by the legendary Picasso. Enjoy roasted U-10 day boat scallops, lamb with truffle crust and medallions of fallow deer with a wine from their selection of more than 1500 bottles from the finest European vineyards.
Restaurant Guy Savoy | French | Caesars Palace
Offering best in class service and an upscale French gastronomy experience within its chic, minimally designed interiors, Restaurant Guy Savoy, exceeds even the highest expectations. Part of the charm is Chef Guy Savoy's attention to detail and dedication to create a memorable evening for his guests. For example, flowers are not part of the restaurant décor and employees aren't allowed to wear perfume, so that nothing interferes with the aroma of his rich cuisine. Up the ante by booking America's only Krug Chef's Table that offers an intimate view of the kitchen and a tasting menu exclusively curated to pair with Krug's prestige cuveé Champagnes. Considered a clone of the three Michelin star rated original restaurant in Paris because of the consistency of Guy Savoy's classics such as Soupe d'artichaut à la truffe noire and Brioche feuillellée aux champignons et truffles, this two Michelin star Las Vegas restaurant has one thing that the Parisian version cannot offer: a view of Eiffel Tower!
Sage | New American | Aria
Chicago-based renowned chef Shawn McClain creates magic by infusing global flavors to contemporary American cuisine. Walk into this charming restaurant ready to be surprised and impressed with its sustainable menu of farm-to-table, seasonal ingredients. Our idea of the perfect dinner at Sage would begin with a cocktail at the long bar – maybe the fruity concoction, 20 To Life, with juicy apricot and spicy ginger flavors, or one of the their 10 absinthe offerings? The foie gras custard brûlée would make for a unique appetizer, followed by the slow-poached organic farm egg or the Maine dazy boat scallops. For a romantic evening, ask for a spot at the alcove tables for two.
A 56th floor location on The Palms Casino & Resort and floor-to-ceiling windows, offering panoramic Vegas strip views grants the Michelin star Alizé an edge over other upscale Las Vegas restaurants, placing it high on the list of romantic upscale Las Vegas restaurants. But the restaurant's phenomenal French cuisine featuring signature dishes like the Dover Sole, a delectable creation of potato purée and spring vegetables with sauce Véronique prepared Amandine or Grenobloise, stands on its own. Guests are also encouraged to pair the amazing food with a selection from their award-winning wine list or cognac collection. Alizé boasts the largest cognac collection in the country and a wine cellar with an inventory of more than 8000 bottles, including magnums, double magnums and Jeroboams.
Highly reputed for its fresh ingredients, sourced straight from their naturally occurring locales, and cooked simply and masterfully so as to preserve the natural flavors and textures, Estiatorio Milos is a uniquely marvelous experience. Chef and owner Costas Spiliadis takes pride in his simple and authentically Greek masterpieces like the platter of meze or the juicy, char-broiled octopus. Fresh fish flown in from all over the world is cooked in the most subtle manner. Enjoy a supremely elegant dinner on one of the most stylish, glass-enclosed, terraced dining areas on The Strip.
Michael Mina Bellagio| Contemporary | Bellagio
Acclaimed San Francisco based chef Michael Mina brings Californian and Mediterranean ingredients to his namesake Las Vegas restaurant. The interiors are intimately designed and adorned with ceiling-to-floor pale-wood cabinets and brightly colored centerpiece flower arrangements. This Michelin star award-winning restaurant features a predominantly seafood menu, but Michael Mina Bellagio is one of the few restaurants on the Strip that offers a vegetarian tasting menu. Book a table here to indulge in a caviar parfait of Alderwood-smoked salmon with crème fraiche and shallot potato cake or a lobster pot pie that is served with baby vegetables and brandied-lobster cream. Wash it down with Master Sommelier recommended wine pairings from their American and European vineyard selections.
Aureole | New American | Mandalay Bay
A two-time Michelin star award-winning Las Vegas restaurant, Aureole serves seasonal, fresh-off-the-farm dishes like artisan dry-aged beef. The star attraction at Aureole Las Vegas is the grand, four-story, glass wine tower that houses over 10000 bottles of wine, all of which can be accessed and selected using the touch-screen wine list and are retrieved by acrobatic "Wine Angels". If you're feeling extra indulgent, you could also opt for the $4,500, 1961 bottle of Chateau Petrus! The restaurant also houses a romantic enclave called the "Swan Court", an area in the rear that overlooks an elegant swan-filled lagoon.
SW Steakhouse | Steakhouse | Wynn Las Vegas
If you have been told you have Kobe beef before, you probably have not. Wynn Las Vegas houses two of the only three restaurants in the United States that serves authentic Kobe beef. And that, almost entirely defines the unique appeal of SW Steakhouse with its entrees like the succulent chili-rubbed double rib eye, paired with Chef David Walzog's specialty sides like the seasonal, exotic black truffle creamed corn. The Forbes Travel Guide Four Star award-winning SW Steakhouse at Wynn is housed next to the beautiful Lake of Dreams, and makes for a delightful, truly upscale, American steakhouse fare.